[youtube=https://www.youtube.com/watch?v=-__0prJDlmY&w]
Loot Crate vs. Nerd Block – October 2014
Disclaimer: I know this post is horrendously late. Don't hurt me….
Loot Crate and Nerd Block are two very big subscription box companies. They both have a large fan base and they both consistently give out awesome product in their boxes. Loot Crate costs $13.37 a month plus shipping which comes out to be around $20 a month. Meanwhile, Nerd Block costs $20 a month but, since it ships from Canada, costs close to $30 after shipping. Regardless of which one you get, each box's content always adds up to be more than what you initially paid for. Another perk is that you get to collect nerdy t-shirts. Loot Crate will have a few t-shirts throughout the year in their boxes, while Nerd Block has a shirt in every box (this could be the reason for the more expensive price).
Without further adieu, let's check out our October haul!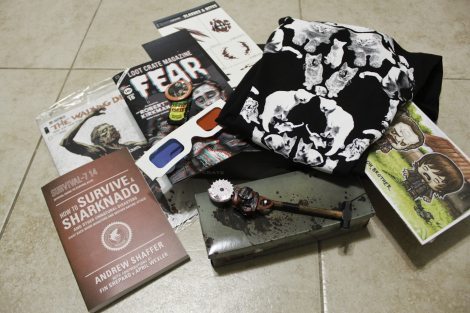 This month's theme for Loot Crate was Fear. So what exactly did they have in this box to induce fear? First off, the booklet this month is 3D hence the 3D blue/red glasses you get so you can see the zombies pop off the page. Next, there's a wicked cool chain saw/sledgehammer ballpoint pen. It's not going to saw through anything, but hell you could stab someone's eye out with the pen. With that pen you can take notes in your How to Survive A Sharknado book. It's a pretty fun read, for all types of beasts and "natural" disasters. After you're done reading, you can frolic around in your skull t-shirt made with cute kitties – death by kitty. The other items in the box include a mini drawing and exclusive comic book from Walking Dead. Last but not least you have tattoos of all different bite marks you can apply to your skin.
Retail Value: $45-55
Loot Crate Cost: $19.99
Rating: ★★★☆☆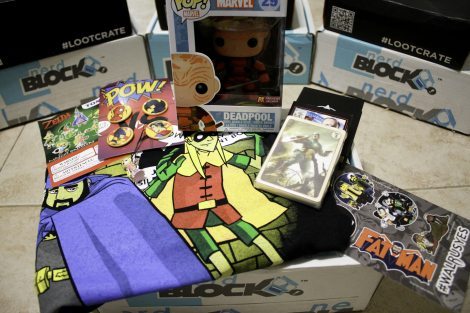 This month's Nerd Block had items picked out by Kevin Smith (who shaved his beard and now looks like a kid). First from the box, you get a t-shirt that has Jay and Silent Bob dressed as Batman and Robin, not bad. Then you have an awesome pack of cards that belonged to Agent Coulson (clean and bloodied ones). The cards are a prop replica and look great. Next you have some stickers of Jay and Silent Bob in various cartoon designs. After that there's a Zelda mystery bag of keychains, and I got Princess Peach! Just kidding…please don't kill me. I got Zelda herself. Finishing up the box you have some Marvel vs DC pins and a kick ass Deadpool Funko Pop figurine.
Retail Value: $50.00
Nerd Block Cost: $29.49
Rating: ★★★☆☆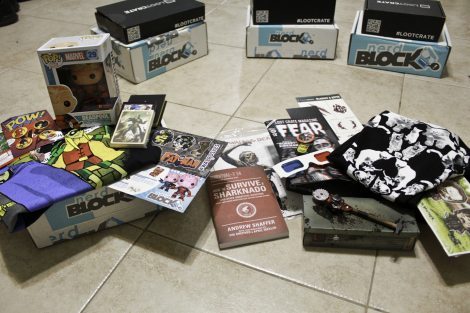 The Winner? I say it's a tie, but I liked he items in the Nerd Block more (the cards and Funko Pop). Nerd Block is supposedly going to get themes full-time starting in January, so that might even up the game more….who knows.
But hey! Don't just take my word for it.
Try both out, see which one you like. You won't be disappointed either way! (Or if you are you'll know which one was disappointing.)