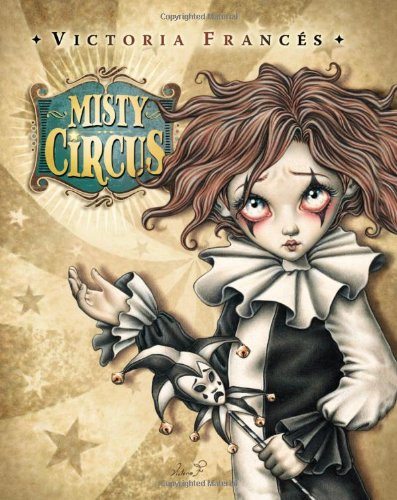 When I decided to read the Misty Circus I wasn't really sure what I was getting into. In a lot of ways it looked like the sort of gothic style that has made Tim Burton's movies and stories so popular. Granted, I should probably admit to you all and be up front and honest by saying that I do not like Tim Burton for the most part. But I like a few things he's done and I actually really liked his book of poems and stories, The Melancholy Death of Oyster Boy and Other Stories. So I figured I would give the Misty Circus a go.
The book was originally published in Spanish in Spain in two parts beginning with Misty Circus 1: Sasha, El Pequeno Pierrot in 2009. A year later it was joined by the second chapther, Misty circus 2: la noche de las brujas. The Misty Circus book being released here in the United States is a combination of the two being released together. Unfortunately  they are also the last installments in the Misty Circus story. Nothing new has been published related to the books since 2010.
Which is sad, really, especially if you're Victoria Francés's style of artwork. You just don't see a whole lot of this sort of gothic illustration in the mainstream market. It's not generally my favorite but I did think that the illustrations were beautifully done. You don't see books this good looking very often and it makes sense that it's  a company like Dark Horse publishing it.
The story follows a young orphan boy named Sasha who comes from a family of entertainers in Paris. When his parents die he is sent away to an orphanage but he runs away at the first chance he gets. While on the run in the woods alone and lost he finds a cat named Josh DeChat and the two of them become fast friends. After a while they come across a circus tent for the Misty Circus where they are met by a stoic ringleader and introduced to a magical world that neither of them could have ever imagined.
Honestly, the writing is a little awkward.
I'm not sure if this is meant to be a gothic cildren's story or just a story for anyone to read. But the word choices – even for an adult – are a little strange. 'Androgynous' in any sort of comic or illustrated story just seems a bit out of place most days. And it seems to end a bit abruptly. After meeting their new friend in the second chapter there seems like there is so much more story to be told. I don't know if Victoria Francés intended to write more or not but the Mystic Circus is something that could be expanded upon so much that I feel like I am actually quite sad that it didn't go on further.
But considering this is all of the Misty Circus we get for now you should certainly give it a look.