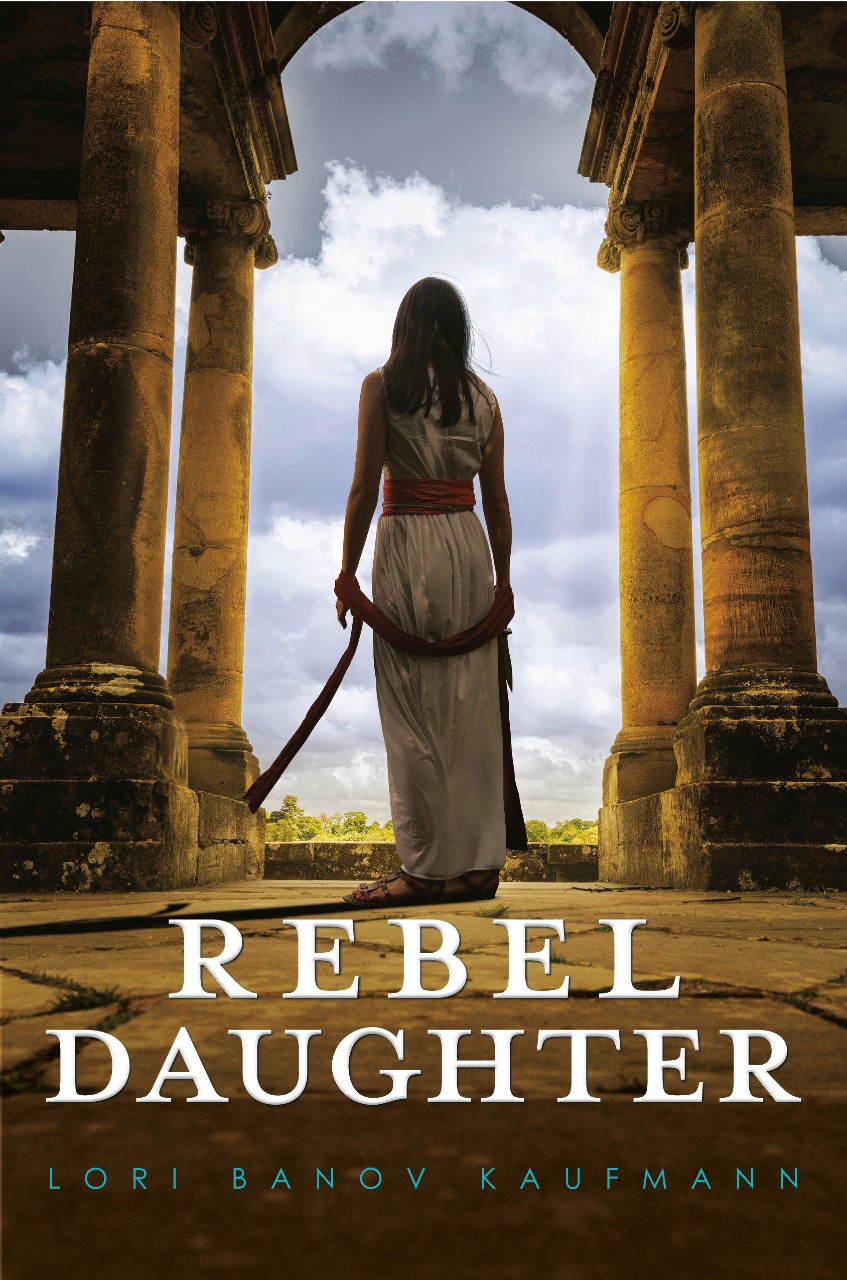 Title: REBEL DAUGHTER
Author: Lori Banov Kaufmann
Pub. Date: February 9, 2021
Publisher: Delacorte Press
Formats: Hardcover, eBook, Audiobook
Pages: 400
Find it: Goodreads, Amazon, Kindle, Audible, B&N, iBooks, Kobo, TBD, Bookshop.org
Rebel Daughter is an amazing feat of historical fiction that introduces readers to a period and events with which they may not have previously been familiar. Set in Jerusalem in the years leading up to the Siege of Jerusalem in 70 CE, Rebel Daughter follows a young woman named Esther as she navigates her family's expectations and her own dreams for the future. Rebel Daughter an incredibly captivating read that moves through history and events and the personal stories of Esther's family in a way that makes it hard to ever set the book down.
It has been a long time since I've been as drawn into a book as I was with Rebel Daughter. Esther is such a strong character and her strength despite all of the challenges and, honestly, terrible things that befall her is rather inspiring – and often heartbreaking. And yet the way Lori Banov Kaufmann tells her story keeps you hooked from the beginning.
I cannot recommend Rebel Daughter highly enough. Kaufmann highlights a period in Jewish history that most readers probably will not be familiar with and she takes great care to recreate the world in which Esther would have lived. Rebel Daughter mart, well written, and will appeal not just to young adult readers but adults as well. It's the perfect book for young adult fans who love to dabble in history!
About Rebel Daughter
A young woman survives the unthinkable in this tale of family, love, and resilience, set against the destruction of Jerusalem in 70 CE.
Esther dreams of so much more than the marriage her parents have arranged to a prosperous silversmith. Always curious and eager to explore, she must accept the burden of being the dutiful daughter. Yet she is torn between her family responsibilities and her own desires; she longs for the handsome Jacob, even though he treats her like a child, and is confused by her attraction to the Roman freedman Tiberius, a man who should be her sworn enemy.
Meanwhile, the growing turmoil threatens to tear apart not only her beloved city, Jerusalem, but also her own family. As the streets turn into a bloody battleground between rebels and Romans, Esther's journey becomes one of survival. She remains fiercely devoted to her family, and braves famine, siege, and slavery to protect those she loves.
This emotional and impassioned saga, based on real characters and meticulous research, seamlessly blends the fascinating story of the Jewish people with a timeless protagonist determined to take charge of her own life against all odds.
Based on an incredible true story!
AUTHOR NOTE AND HISTORICAL OVERVIEW:
Additional back matter includes an Author Note, which gives historical context and explains author's inspiration for the book. Included as well is an historical overview by an eminent scholar of the period.
CHARACTER DRIVEN HISTORICAL FICTION:
Fans of THE RED TENT and THE DOVEKEEPERS will appreciate this incredibly detailed and accurate depiction of historical events, woven within a richly told and emotionally complex story of growth.
STRONG EMPOWERED FEMALE HEROINE: 
Despite the constraints of society and the savagery of war, Esther is an independent thinker exploring her identity and her faith—and showing unimaginable strength in the face of trauma.
HISTORY BROUGHT TO LIFE:
The destruction of the Temple in 70 CE by the Romans is a crucial part of the Jewish story, but it's often lost amid more well known historical legends. The depiction of Esther's faith is realistic and moving to a modern audience.
FAITH: 
The role of faith and family obligation is explored in depth. 
The story will resonate with people who love Biblical history, Israel and stories about faith, courage and family bonds.
Reviews for Rebel Daughter
"Esther's remarkable, mysterious, and meticulously researched story is one that demands to be told."—Kirkus Reviews
"The writing is clear, smooth, and accessible. An engaging story for historical fiction fans."—School Library Journal
"Riveting!" Allegra Goodman, author The Cookbook Collector
Selected by the Junior Library Guild
Giveaway
2 winners will win a finished copy of REBEL DAUGHTER & Swag, International.
a Rafflecopter giveaway
About the Author
As soon as she learned of the discovery of the first-century tombstone that inspired Rebel Daughter, Lori Banov Kaufmann wanted to know more. She was captivated by the ancient love story the stone revealed and resolved to bring it back to life.
Before becoming a full-time writer, Lori was a strategy consultant for high-tech companies. She has an AB from Princeton University and an MBA from the Harvard Business School. She lives in Israel with her husband and four adult children.
Website | Twitter | Instagram | Facebook | Goodreads | Amazon
Tour Schedule
Week One:
Week Two:
Week Three:
Week Four: