Captain America:
Civil War [Blu-Ray]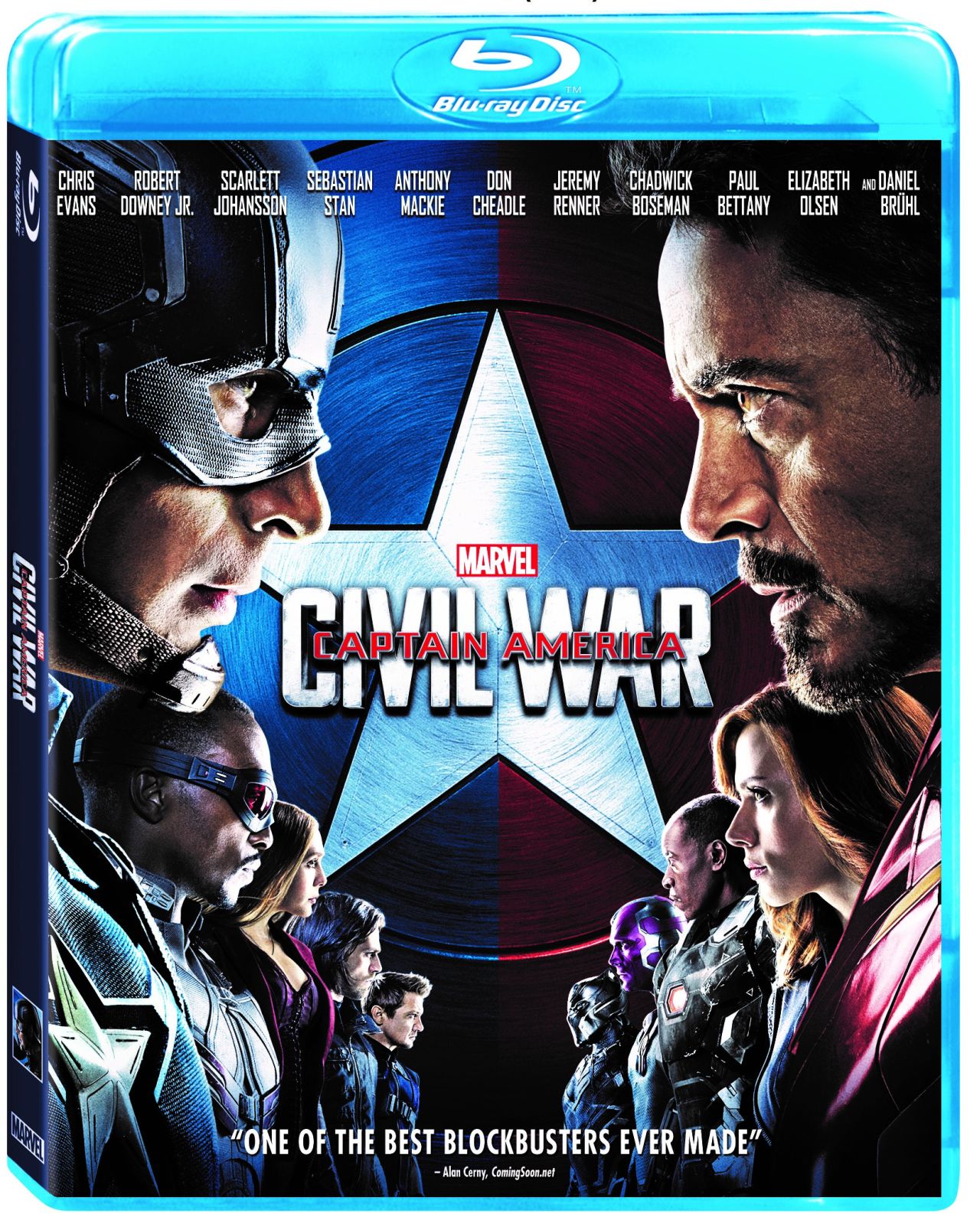 Release Date: September 13, 2016
Cast: Chris Evans, Robert Downey Jr., Sebastian Stan, Chadwick Boseman, Scarlett Johansson, Anthony Mackie, Don Cheadle, Paul Bettany, Elizabeth Olsen, Daniel Bruhl
Director: Anthony and Joe Russo
Studio: Marvel Studios
Genre(s): Adventure, Superheroes
Extra Feature Rating: ★★★★☆
Rating: ★★★★☆
Review Spoilers: High (in Special Features section)
Amazon | IMDB | Wikipedia | RT
The shared universe connecting Marvel's various films is probably the greatest example of an interconnected film franchise ever devised. In less than a decade the Marvel Cinematic Universe has become a complete and total phenomenon. Other franchises can only scramble in attempt to catch up with and emulate what Marvel has created. But as the shared cinematic universe has moved past individual origin stories for it's characters and into much more developed, often team oriented storytelling fans had to start wondering what could possibly come next.
From the moment the title for this third Captain America film was released, we knew we were in for something big.
When things became too complacent the Russo brothers came together to shake things up by embracing one of Marvel's greatest story arcs: Civil War. Now, other than the division between factions led by Iron Man and Captain America, the story in the comic and the story that we see now in the third Captain America film have very little in common. But the basic set up provides the groundwork for an amazing story with in the Marvel Cinematic Universe.
All of our favorite characters (with the exception of Hulk and Thor) are back and a few more find themselves getting pretty spectacular introductions. Black Panther's role in the film is both tragic and epic and Chadwick Boseman is incredible in the role both as hero and king. Meanwhile Tom Holland's first foray into the role of Spider-Man gives me faith that we finally might have a Spider-Man franchise that can last. At the end of Civil War everything has changed and the future of the Avengers – and the whole Marvel Cinematic Universe – remains in a weird state of uncertainty. Therese did a fantastic review of the film when it first came out and you should definitely give it a read.
Special Features
For those of you who have already seen the film and are wondering what the blu-ray release has to offer, I'm happy to say I was very pleased with the various special features included on the home release. Marvel did a great job preparing things for this one and I really enjoyed watching most of them.
Heads up folks, there will be some serious spoilers in this section of the review.
Probably the best special feature on the blu-ray release is the two-part behind-the-scenes featurette, Untied We Stand, Divided We Fall – The Making of Captain America: Civil War. It's about forty or so minutes of footage broken up in to two easy to watch segments. There used to be a time when behind-the-scenes featurettes were broken up with one focusing on special effects, another focusing on the actors, so on and so forth. But Disney has been bucking that trend for what become essential mini-documentaries on each of their films. If you read my Jungle Book (2016) review you'll notice they did something similar.
Everything you could want to know about how the film is generally covered at least to some degree in United We Stand, Divided We Fall. It's not too technical and it's a whole lot of fun. You get a lot of insight into the film as well as each of the characters and their development. My only complaint was that they didn't go too much into the original Civil War story arc – but considering that the two are hardly similar it makes sense. (The Marvel nerd in me is just a little sad.)
The two more character specific special features are pretty decent, too. Entitled 'Iron Man: The Road to Civil War' and 'Captain America: The Road to Civil War,' they focus on each character's journey prior to this film. The biggest part of this film is the division between these two characters. That's what makes it a Civil War. It's Captain America versus Iron Man – and everyone has to pick a side. These two short featurettes try to help flesh out each character's reasoning and how their backgrounds as well as the events of the various movies within the Marvel Cinematic Universe have helped shape their opinion things like government oversight and the Sokovia Accords. They're cool to watch – but not nearly as detailed as the United We Stand, Divided We Fall featurette.
If you're worried about missing out on the usual blu-ray special features, don't worry. They're here, too. There's an audio commentary for those who like them but I know what you're all interested in: gag reels and deleted scenes. While you're in luck. The gag reel is great. The deleted scenes are okay. There's an extended scene featuring Peggy Carter's funeral that's really great and a really cool (albeit short) fight sequence that got cut out of the larger airport battle.
The only special feature that feels out of place is Open Your Mind: Marvel's Doctor Strange Exclusive Sneak Peek. It's a cool look at the upcoming Doctor Strange film but I don't know how much new footage it really reveals. I'm sure people are going to enjoy it but the film comes out in less than two months. Did we really need a sneak peek in this blu-ray release? Honestly, it just doesn't really fit the Civil War feel. Doctor Strange seems like it is going to be a very different Marvel film than we've seen previously he wasn't even in this film. What would probably have been better to include is a short featurette on Tom Holland's casting, Spider-Man: Homecoming, and the return of Spider-Man in the Marvel Cinematic Universe – but I know they probably aren't ready to tell us too much about all that just yet.
So Doctor Strange it is!
If you watch any of these special features, it should definitely be both portions of Untied We Stand, Divided We Fall. And the gag reel of course!
Final Thoughts
Captain America: Civil War is a very momentous film. The effects of this movie are going to be felt in the Marvel Cinematic Universe for years to come. Just like Captain America: Winter Soldier devastated SHIELD and the core of the shared universe as a whole, the division of the Avengers is going to be seen and felt throughout the franchise – at least until Avengers: Infinity War. Basically, you can't skip this one. You can skip some of the individual films but you have to watch this one to understand what's to come.
If you do decide to pick it up, make sure you get the 3D blu-ray combo pack to get the most bang for your buck. It's only a little bit more expensive than the regular blu-ray version at most retailers and it comes with the digital code. Even if you don't have a 3D blu-ray player or enabled television it's worth it for that Digital HD code!
Captain America: Civil War came out on Tuesday so go pick it up today!

A REVIEW COPY OF CAPTAIN AMERICA: CIVIL WAR ON BLU-RAY WAS PROVIDED BY THE DISNEY AND FINGERPAINT MARKETING IN EXCHANGE FOR A FAIR AND HONEST REVIEW. NERDOPHILES WAS IN NO WAY COMPENSATED FOR THIS REVIEW. OUR OPINIONS ARE OURS AND OURS ALONE.