It's almost Christmas-time which means it's time to stock up on the Christmas books! It's been one of my family's longstanding traditions to always have a basket of Christmas picture books out around the holidays even when my sisters and I were well into our twenties. When I began fostering I made it a point to have my own basket out at the holidays and I still have it out – board books and all!
In keeping with tradition, I am happy to review a handful of board book offerings from Abrams Appleseed that I am really excited about. I love board books and early literacy is super important. Celebrate Christmas and help your little ones learn to love books with any of these books below.
Have you read any of them already? Let us know what you thought in the comments!
---
Merrytale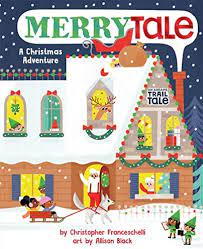 The second book in the Abrams Trail Tale series written by Christopher Franceschelli and illustrated by Allison Black, Merrytale follows quickly on the heals of Spookytale and this time tells a festive story perfect for the holiday season! Now, I'm going to be upfront with everyone here: Merrytale is a board book. But don't let that discourage you from checking it out even if you don't have toddlers at home. It's a very interactive book that even older kids will enjoy.
Merrytale follows two young siblings who are invited on a tour of Santa's workshop. The story is told in a long, unending sentence and unfolds with each flip of the page. Some of the pages have flaps that must be opened or the pages themselves need to be unfolded beyond the usual confines of the book. Others have windows that peak into the next page and blend Black's fantastical illustrations into one another as she develops the magical, wintry wonderland and Santa's workshop.
Black's illustrations really make this book shine. I loved how many details she manages to fit into each page. I especially loved how diverse her illustrations were. This book features siblings that are both people of color and the elves at the North Pole represent a wide variety of ethnicities and abilities. There are elves in wheelchairs, an elf with vitiligo, elves with glasses, and at least one with a hearing aid (which as someone with hearing impairment always makes me smile).
This is definitely a fun pick and I highly recommend it! (Check out Spookytale, too, for the Halloween season.)
---
Christmas is Awesome!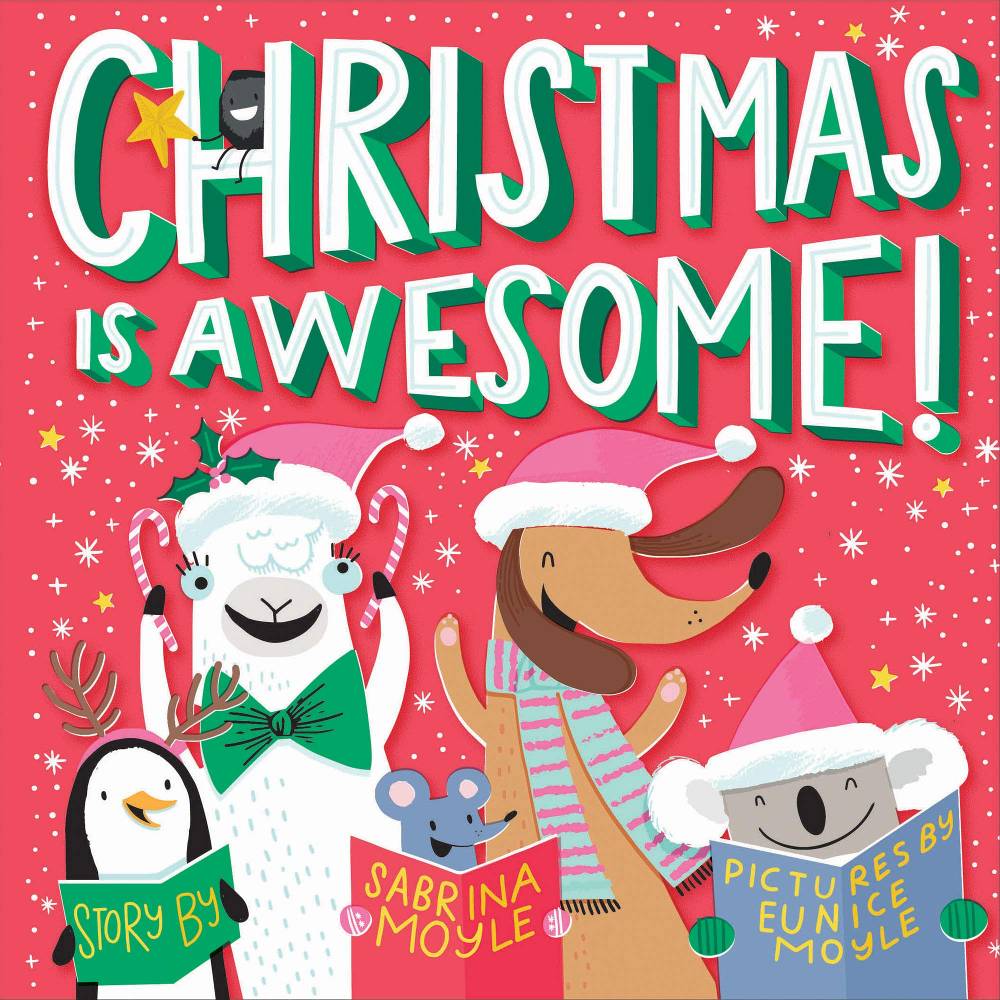 I am in love with everything Hello!Lucky so of course I loved Christmas is Awesome! Sabrina Moyle and Eunice Moyle are creating some of the best kids books and board books around and their Christmas board book is no different. Colorful, festive, silly, and fun, the characters you've come to recognize from other books are back for some holiday fun!
Probably the best part of this whole book is the way they shift the colors around. Instead of using red for Santa hats and such they use BRIGHT PINK while red becomes more of an accent color. You heard me right, Santa Claus is bright pink and it's amazing. The illustrations are wonderful and theres a fun little anthropomorphic piece of coal that joins you on each page as you celebrate the holidays with the rest of the characters. (The piece of coal's reactions are great – make sure you find it on each page!)
The prose that accompanies the book is fairly simple which is great for the toddler and preschool crowd. Featuring rhyming keywords to maximize Christmas cheer, Christmas is Awesome! really helps drive home that Christmas is, in fact, pretty awesome. This one is going to be a staple of our Christmas book basket for every little kiddo we have visit around the holidays. I can already tell!
---
My Magical Snowman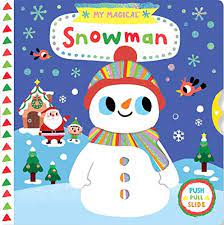 The My Magical series by Yujin Shin are some of the funnest interactive board books that I've had the joy of reading. We reviewed My Magical Dragon a couple of years ago back when there were just a few books in the series. Now there are nine of them with the most recent being My Magical Castle. But we're not here to talk about the rest of the books. It's Christmas-time and we're here to talk about My Magical Snowman!
My Magical Snowman is the perfect pick for the little ones in your lives this holiday season. It's a very sturdy book with very sturdy interactive elements. Like the other books in the series you will slide, pull, and move various parts of the book as you read through the story. As long as your little one doesn't enjoy just pulling things apart this book should hold up to repeated use and love.
My Magical Snowman takes place in the same "world" as the rest of the My Magical books so you'll recognize some familiar faces in the background as you go through like in all the other books. But since it's written for the one year old and up age range you obviously don't need to know anything else about the other books. But the adorable illustrations and nod to this expanded universe of characters will definitely lead you to want to check out more of them!
---
Is It Christmas Yet?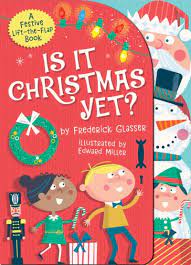 Last but certainly not least we have the more traditional life-the-flap book, Is it Christmas Yet? written by Frederick Glasser and illustrated by Edward Miller. Filled with fun, festive illustrations and rhyming prose, Is It Christmas Yet? is a fun read aloud book that is sure to appeal to the toddler age group as well as slightly older kiddos who ready to get excited about the holidays!
Is It Christmas Yet? follows a group of youngsters who are impatiently waiting for Christmas. Each two-page spread features a scene with classic Christmas icons in their endless pursuit of whether or not Christmas is truly on the way. I'm actually really impressed by the rhyming in this book. Each line rhymes in a way that doesn't feel at all forced which in and of itself is impressive. But some of the words – celebrations, decorations, expectations, etc. – were not at all what I expected and still they worked so well.
The illustrations are great, the interactive elements work well, and the story is fun enough to keep your little ones engaged until the very end. A great pick for a quick holiday bedtime read especially!