If you're anything like me then you're only just now realizing that, shoot, you still don't have a 2022 calendar. This somehow happens to me every year. Sometime around October or November I think, "Hmmm, I should really think about a calendar for next year." Then January rolls around and it's much more immediate. But it's still weeks before I even fully realize that we're in the new year.
This year, however, I had a review copies of a few of Workman Publishing's page-a-day calendars. Some friends of mine and I have been using them for the last couple of weeks and putting them through their paces if you will. The calendars we've been using are their A Year of True Crime Page-A-Day Calendar 2022: A Year of Murders, Misleads, and Fascinating Forensics, A Year of Ghost Stories Page-A-Day Calendar 2022: Indulge in a Year of Chills, Thrills, and Sheer Obsession with Daily Mystical Stories, Urban Legends, and More, and How to Survive a Zombie Apocalypse Page-A-Day Calendar 2022: Escaping the Undead One Day at a Time calendars.
I'll just cut to the chase: the true crime page-a-day calendar has been everyone's the favorite by far! But all of them are fun and obviously some folks are going to enjoy certain topics more than others. Workman also has tons of other page-a-day calendars which are still available (even if January is almost over already) that cover tons of different topics from inspirational sayings to crosswords, brain puzzles, cats, dogs, trivia, and more! You can check them all out at their website.
So, let's talk about the three calendars that I've had the pleasure of checking out.
---
A Year of True Crime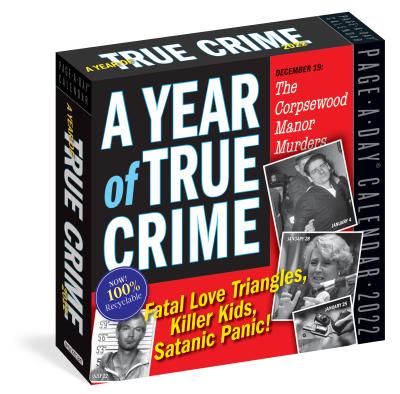 As I said before, A Year of True Crime has been the favorite page-a-day calendar by far. This calendar is packed with all kinds of true crime stories from across the world. Some of the stories will be familiar to true crime fans but there's definitely going to be ones in there that are new to them. Even the stories you may think you know may come with all new facts and angles. There's a new crime story for every day for the most part though some take multiple days to tell. Weekends are doubled up so there is only one crime for each Saturday and Sunday. If you're a true crime fan, I highly recommend this one!
A Year of Ghost Stories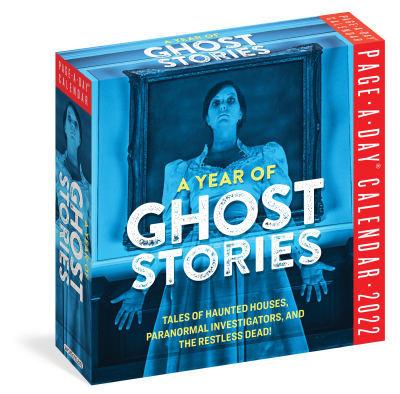 True crime not your thing? No worries – it's not for everyone. How about ghost stories? The A Year of Ghost Stories calendar has a similar format to the true crime one but instead of being about crimes it's about ghosts! (Though, to be fair, there is a bit of cross over between murder and ghost stories.) From ghost cows and dogs to haunted houses there are tons of great stories. There are also other fun little things like lists of particular types of ghost sightings, films, and podcasts – and more!
How to Survive A Zombie Apocalypse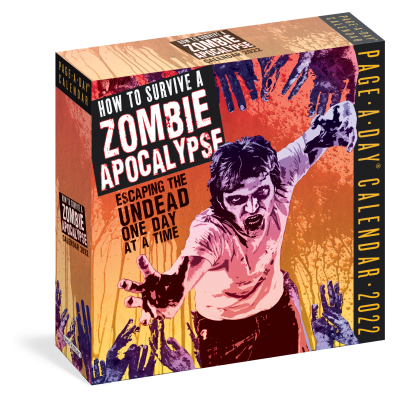 For the zombie fans out there, How to Survive A Zombie Apocalypse is the perfect calendar. The page-a-day selections range widely from tips on how to survive the zombie apocalypse to reflections on zombie films and more. It's can be an odd mix sometimes. For example, there are historical facts with slight zombie connections throughout. The tone shifts from taking the zombie apocalypse survival guide angle seriously and being funny about it. But over all it's a very fun calendar that zombie fans are sure to love!
---
So, now that we've told you about the fun we've had with these calendars, get out there! Find the right calendar for you! It's almost February – it's not too late to pick up a great calendar to get you through the rest of the year. (And as a bonus you get to read through a whole month of a page-a-day calendar straight away!)