Last year we were introduced to a brand-new, interactive board book series courtesy of Abrams Appleseed. Now 'My Magical Dragon' is joining his friends from My Magical Unicorn and My Magical Mermaid. You may remember from our initial series review that this isn't our first introduction to the dragon. He's appeared in the background of both of the previous books. But now we get to meet him properly!
My Magical Dragon follows the adventures of a castle dragon whose main job is to protect the magical kingdom we've already begun to explore in the other two books. He lives under a castle and throughout the book joins the prince and princess on their adventures. They go for a ride, make tea, and return home after a long day playing.
Much like you see in the other two books, familiar characters pop up all around. While this book may be about the dragon you will still see plenty of unicorns, mermaids, and more!
And, like the other books, there are lots of ways for kiddos to interact with the books. The majority of the interactions in this book involve pulling things up or down – or, in one case, over. But the best interaction is perhaps when you get to use the dragon's fire breath to heat up tea by turning a wheel! While the interactions seemed a bit simpler than pervious books the story is a lot more cohesive if short.
I really enjoy these books and even though my daughter is older than the target age range now she does, too! They are very bright and colorful and they feature some really fun and adorable fantasy world imagery. You can't go wrong with this series!
And we can't wait for My Magical Snowman this winter!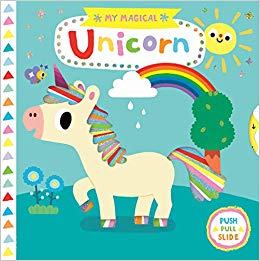 Title: My Magical Unicorn
Illustrator: Yujin Shin
Release Date: February 12, 2019
Publisher: Abrams Appleseed
GoodReads | Amazon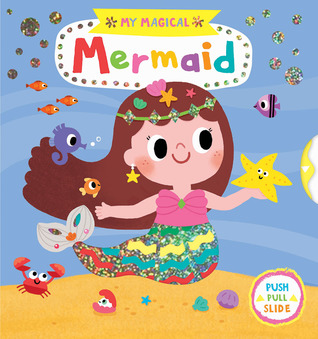 Title: My Magical Mermaid
Illustrator: Yujin Shin
Release Date: May 21, 2019
Publisher: Abrams Appleseed
GoodReads | Amazon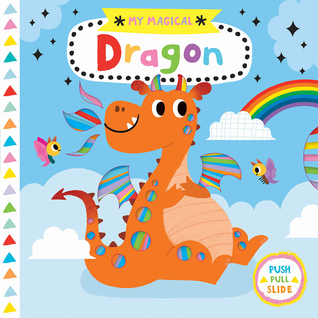 Title: My Magical Dragon
Illustrator: Yujin Shin
Release Date: October 8, 2019
Publisher: Abrams Appleseed
GoodReads | Amazon