I am thrilled to be hosting a spot on the NOTHING IS LITTLE by Carmella Van Vleet Blog Tour hosted by Rockstar Book Tours.
Nothing is Little is a fantastic book about a boy who finds himself and learns the true measure of his own character while trying to find out more about his biological father. For most of his life Felix's mother has avoided any mention of his father but when he has to start treatment for Growth Hormone Deficiency he finds out something important: his dad was short, too.
This little tidbit of information sends him on a journey to discover more. With the help of a new friend from his school forensics club he tries to find out more about his biological father all while his family prepares for another big change: the arrival of his little sister. Unsure of his place in his own family now, Felix feels an ever growing desire to find the father he's never known.
Nothing is Little is a great book about friendship and family. Felix embarks on a journey of self discovery and takes some wrong turns and makes some big mistakes along the way. But in the end he learns how courageous he can be and how important he is to the family and friends around him.
Check out my post to learn more and make sure to enter the giveaway!
About The Book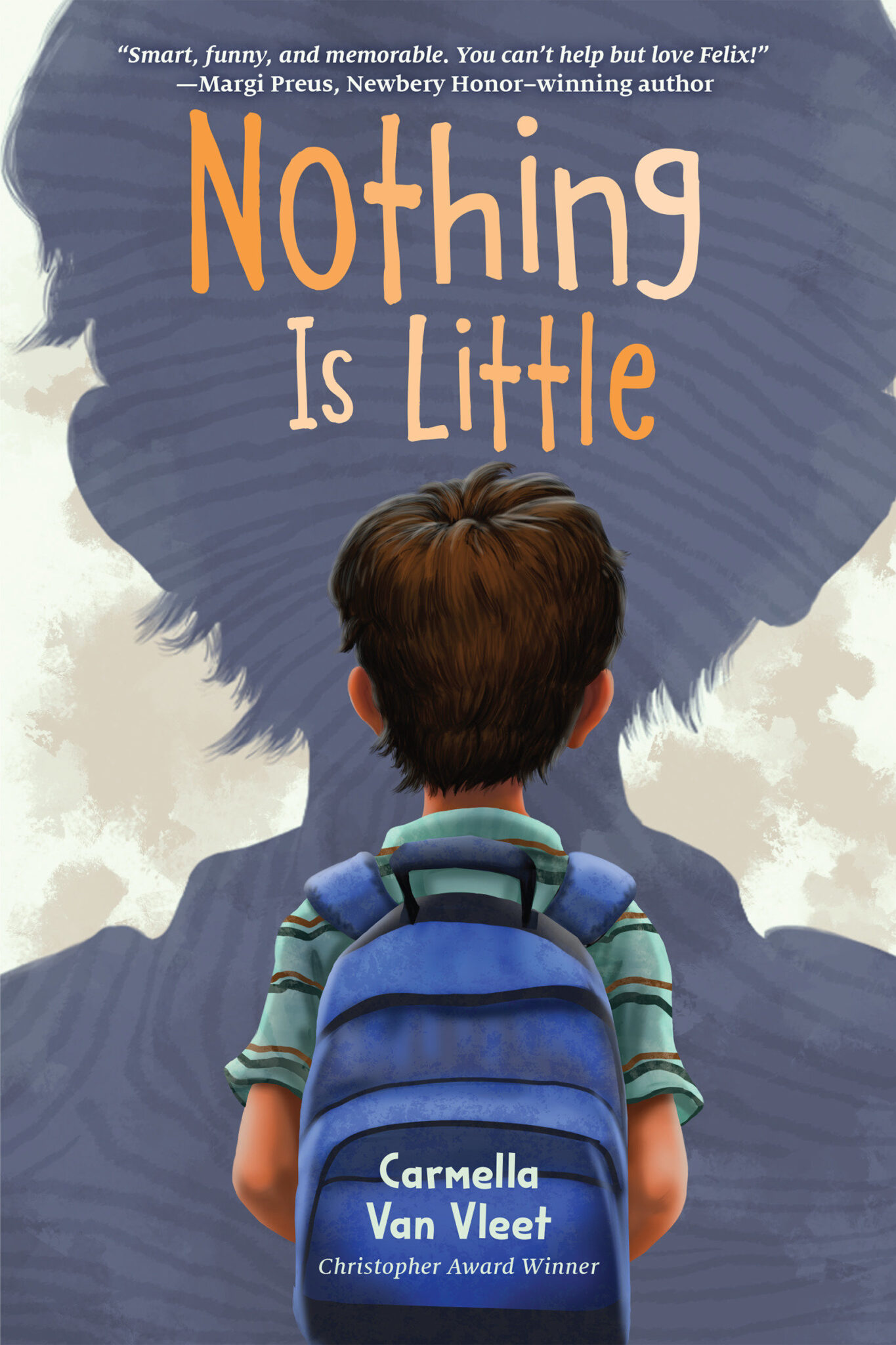 Title: NOTHING IS LITTLE
Author: Carmella Van Vleet
Pub. Date: July 19, 2022
Publisher: Holiday House
Formats: Hardcover, eBook
Pages: 224
Find it: Goodreads, Amazon, Kindle, B&N, iBooks, Kobo, TBD, Bookshop.org
The case of a missing father is hard to crack . . . even for Felix, a tiny kid with a huge heart and an eye for detail.
Eleven-year-old Felix likes being the smallest kid in school.
At least he knows where he fits in. Plus his nickname, "Short-lock Holmes," is perfect for someone who's killing it in forensic science club. To Felix, Growth Hormone Deficiency is no big deal.
And then Felix learns that his biological dad was short, too. This one, tiny, itty-bitty piece of information opens up a massive hole in his life. Felix must find his father. He only has a few small clues to work from, but as Sherlock Holmes said, "To a great mind, nothing is little."
The further Felix gets in his investigation, though, the more he starts to wonder: What if his dad doesn't want to be found? And what if Felix's family—his mom, his stepdad, the baby on the way—needs him right where he is?
Tender and uplifting, this warm novel from Christopher Award–winner Carmella Van Vleet celebrates little differences in us that can make a big impact.
A Junior Library Guild Gold Standard Selection
Reviews
"A captivating, humorous, and heartfelt story of friendship, family, and crime-solving."—Kirkus Reviews
"A fresh and funny read that sells itself, and it demonstrates that there is more than one way to grow."—Booklist
"The story keeps a steady pace as it alternates between school and home, giving a firsthand account of what it's like to be young and faced with decisions that are difficult to navigate. Engaging and heartfelt, Van Vleet's title delivers big on the feels. Anyone who's ever been made to feel small will benefit from hearing Felix's story."—School Library Journal
"Nothing Is Little offers powerful proof that little things can matter in a great big way. What a beautiful book! The most huge-hearted and heartwarming story you'll read this year."—Claudia Mills, author of The Lost Language
"Smart, funny, and memorable. You can't help but love Felix! He has big goals and a great big heart, and he'll live large in your memory long after the final page is turned."—Margi Preus, Newbery Honor–winning author
About Carmella Van Vleet
Carmella Van Vleet is a former kindergarten teacher and the author of numerous books for children, including To the Stars!, which was co-authored by astronaut Kathy Sullivan and named to the Amelia Bloomer list. Her debut children's novel, Eliza Bing Is (NOT) a Big, Fat Quitter, received the Christopher Award and was named to four state award master lists. Just like Eliza, Carmella loves tae kwon do—she has earned her black belt! She lives in Ohio and can be found online at carmellavanvleet.com
Website | Twitter | Facebook | Instagram | Goodreads
Giveaway
1 winner will receive a finished copy of NOTHING IS LITTLE, US Only.
a Rafflecopter giveaway
Tour Schedule
Week One:
Week Two: