Alcatraz Versus the
Evil Librarians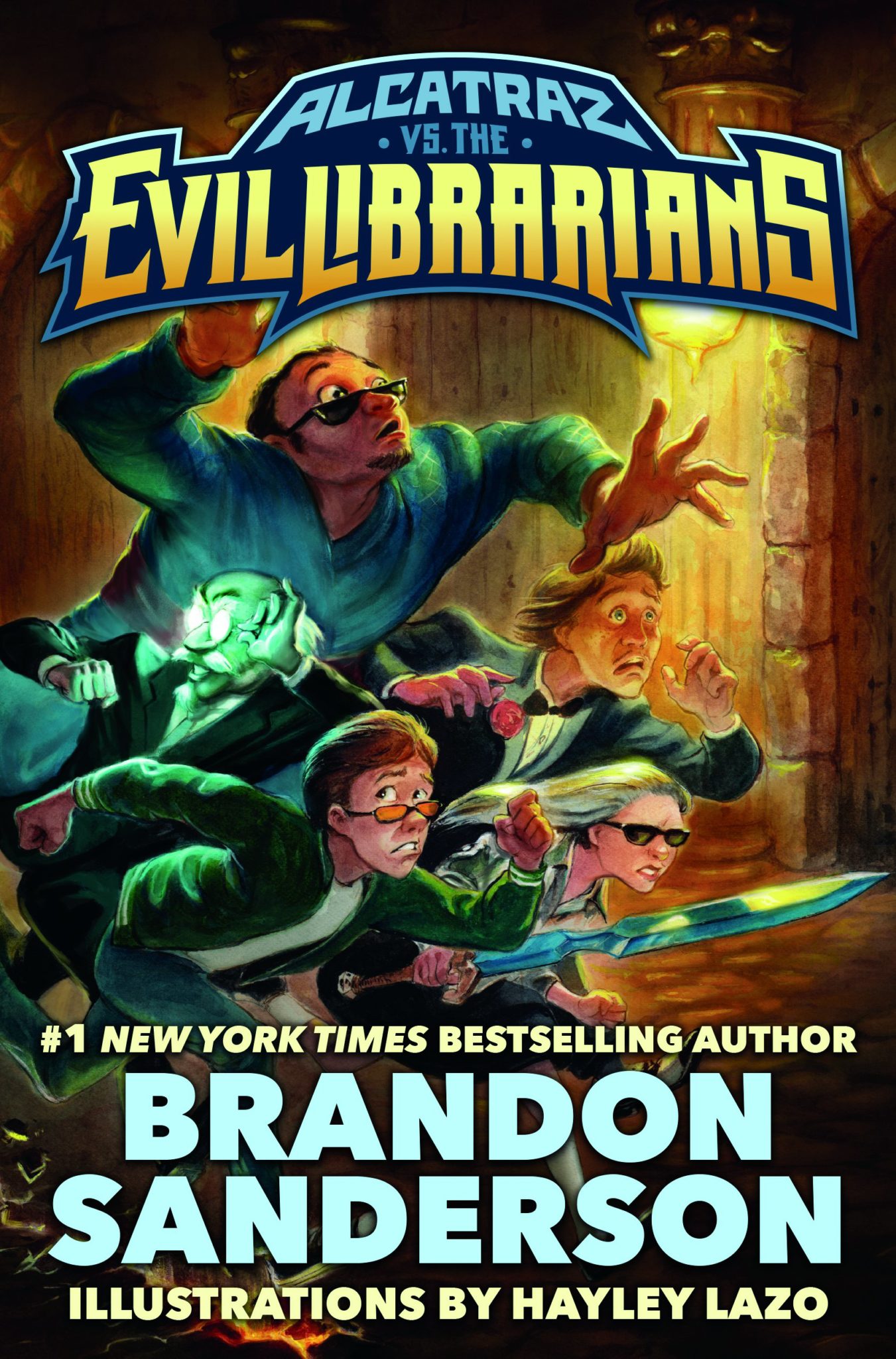 Author: Brandon Sanderson
Series: Alcatraz #1
Release Date: February 16, 2016
Publisher: Starscape (Tor Books)
Genre(s): Fantasy, Middle Grade
Rating: ★★★☆☆
Review Spoilers:  Low
GoodReads | Amazon
Brandon Sanderson is one of the greatest fantasy writers out there right now. He's a master of world building and he's used his talents across a variety of genres and reading levels. Having enjoyed the Reckoners series and the Mistborn books, I decided to give his middle grade series beginning with Alcatraz Versus the Evil Librarians a try. Originally released about ten years ago, it's actually a bit of a surprise that I hadn't heard of the series before.
But the new re-release of the was well worth the wait because the re-releases look amazing.
The cover designs by Scott Brundage are fantastic and quite eye catching. But the greatest addition to the series is the addition of Hayley Lazo as the illustrator. Her work appears throughout the new releases and it's fantastic. I love what she does with the various characters and the way she manages to capture all of them so perfectly. There's no doubt in my mind that no one else could have done it better. Lazo's illustrations really bring the books to life.
Granted, the books are very lively in their own right. Brandon Sanderson does a fantastic job in telling his story through Alcatraz Smedry's first person narration. Alcatraz and the Evil Librarians is the first in a series of five books and it serves as Alcatraz's origin story. Sanderson approaches the books as if Alcatraz is writing his autobiography.
These books exist in a world where the Evil Librarians have kept us all ignorant of the way the world really works. Alcatraz is an orphan who was raised in our world but he comes from a powerful, magical lineage and his ancestors have fought against the Librarians for generations using their own, unique talents. Or, rather, Talents. Alcatraz's Talent is an ability to destroy, break, and effectively deconstruct things. It's caused him a lot of trouble growing up in our world.
But on his thirteenth birthday Alcatraz learns the truth when his father sends him a seemingly ordinary bag of sand and his grandfather shows up shortly after to whisk him away on a wild and crazy adventure. He learns about the Librarians, his family, and a whole new world – literally – hidden right in plain sight. He meets family members he never knew about and learns all about not just Talents but lenses – magical glasses crafted to give Occulators like the members of his family different abilities.
Yeah, Brandon Sanderson makes glasses cool.
I'm not going to lie and say that I loved this book. As an adult it wasn't the easiest book to get into at first. I may love Brandon Sanderson but the book is much more suited to younger readers. The biggest hinderance to the reading experience is at times Alcatraz's narration. Each chapter starts off on a tangent which doesn't really worth when each chapter also tends to end on a cliffhanger. It's a bit distracting – at least for me. I just felt like the book at times the book gets a bit too outlandish and childish. There's a balance to be struck when building crossover appeal across age ranges and this book was much more catered to a younger audience.
And that's fine!
It was still an enjoyable read. It's fun and engaging. You want to know what happens next – even when Alcatraz gets a little overbearing as a narrator. By no means was the book slow or unentertaining. The story moves quickly and the world building is solid in true Brandon Sanderson fashion. While I thought we spent a bit too much time in our world I think the book did a good job of moving things along and hinting at what was to come. And what pacing issues I thought the book had are all pretty much fixed by the second one.
So if you're a fan of fantasy, Brandon Sanderson, and just goofy fun – I definitely recommend this book. If nothing else it's a great book to pick up for the kids and to read with them. But if you're going to pick up book one be prepared to pick up book two because it's even better. Seriously, check out my review for it once it goes live in a couple days!


A review copy of Alcatraz Versus the Evil Librarians was provided by the publisher in exchange for a fair and honest review. Nerdophiles was in no way compensated for this review. Our opinions are ours and ours alone.