I am thrilled to be hosting a spot on the THE STAR THAT ALWAYS STAYS by Anna Rose Johnson Blog Tour hosted by Rockstar Book Tours.
Set in the years leading up to the Great War, The Star That Always Stays is a lovely book based on the author's own family members and history. The book follows Norvia, a teenager of French Indian descent who grew up on the Great Lakes, who is thrust into city life when her mother divorces her father. Things become even more complicated when her mother marries a well-to-do man who brings her family into the home he shares with his son – a young man close to Norvia's age.
Norvia tackles the challenges of being of racism as well as societal opinions about divorce in the 1910s while also finding her way as a young woman in a changing world. The Star That Always Stays is a beautiful tale of family, friendship, love, and inner strength. Norvia is a compelling heroine with whom young readers will easily relate. And while the story itself is a fictionalized story of growing up in the early half of the 1910s, the characters themselves are very real people and the ancestors of the author herself.
It's a very personal, engaging read that fans of historical fiction are bound to love! Read on to learn more about the book and to enter a giveaway!
About The Book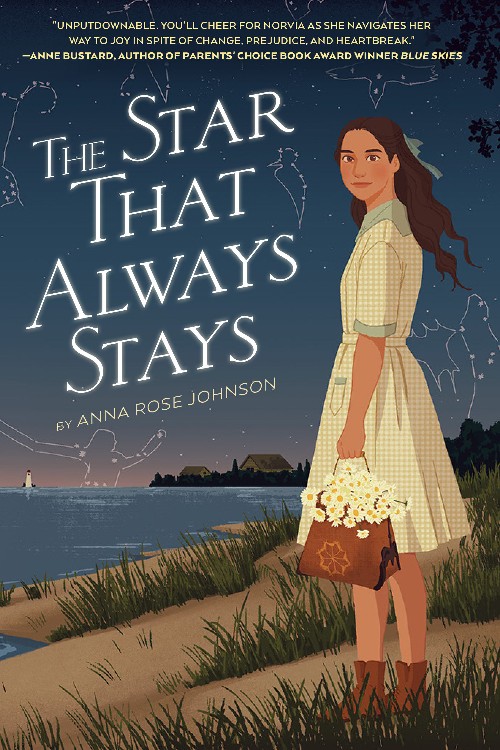 Title: THE STAR THAT ALWAYS STAYS
Author: Anna Rose Johnson
Pub. Date: July 12, 2022
Publisher: Holiday House
Formats: Hardcover, eBook, Audiobook
Pages: 224
Find it: Goodreads, Amazon, Kindle, Audiobook, B&N, iBooks, Kobo, TBD, Bookshop.org
When bright and spirited Norvia moves from the country to the city, she has to live by one new rule: Never let anyone know you're Ojibwe.
"INSPIRING."—Kirkus Reviews
A Junior Library Guild Gold Standard Selection!
A #1 New Release in Native American Children's Fiction!
A #1 New Release in Historical Fiction for Children!
A #1 New Release in Stepfamily Fiction for Children!
Growing up on Beaver Island, Grand-père told Norvia stories—stories about her ancestor Migizi, about Biboonke-o-nini the Wintermaker, about the Crane Clan and the Reindeer Clan. He sang her songs in the old language, and her grandmothers taught her to make story quilts and maple candy. On the island, Norvia was proud of her Ojibwe heritage. 
Things are different in the city. Here, Norvia's mother forces her to pretend she's not Native at all—even to Mr. Ward, Ma's new husband, and to Vernon, Norvia's irritating new stepbrother. In fact, there are a lot of changes in the city: ten-cent movies, gleaming soda shops, speedy automobiles, ninth grade. It's dizzying for a girl who grew up on the forested shores of Lake Michigan.
Despite the move, the upheaval, and the looming threat of world war, Norvia and her siblings—all five of them—are determined to make 1914 their best year ever. Norvia is certain that her future depends upon it… and upon her discretion. 
But how can she have the best year ever if she has to hide who she truly is?
Sensitive, enthralling, and classic in sensibility (perfect for Anne of Green Gables fans), this tender coming-of-age story about an introspective and brilliant Native American heroine thoughtfully addresses assimilation, racism, and divorce, as well as everygirl problems like first crushes, making friends, and the joys and pains of a blended family. Often funny, often heartbreaking, The Star That Always Stays is a fresh and vivid story directly inspired by Anna Rose Johnson's family history.
"INTIMATE."—Publishers Weekly
"UNPUTDOWNABLE."—Anne Bustard, author of Parents' Choice Book Award Winner Blue Skies
About Anna Rose Johnson
Anna Rose Johnson is a journalist, blogger, and seasoned correspondent for Inside Gymnastics. Anna is passionate about historical fiction, the Native experience, and writing for children. She is a member of the Sault Ste. Marie Chippewa Tribe; The Star That Always Stays is directly based on her great-grandmother. Find her at annarosejohnson.com.
Website | Twitter | Facebook Group | Instagram | Goodreads | Amazon 
Giveaway
1 winner will receive a finished copy of THE STAR THAT ALWAYS STAYS, US Only.
a Rafflecopter giveaway
Tour Schedule
Week One:
Week Two: