Classic Tales of Science
Fiction & Fantasy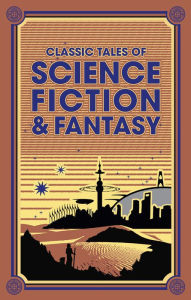 Release Date: November 8, 2016
Publisher: Candlewick Press
Genre(s): Science Fiction, Fantasy
Review Spoilers: N/A
GoodReads | Amazon

As science fiction has become more and more mainstream in recent years I've seen a lot of my friends becoming interested in the genre. The nice thing about embracing science fiction (and fantasy, too) at this point in time is that there is a lot of older material to work their way through while waiting for the next blockbuster film to hit screens or the next big-name book to be released. The problem for a lot of my friends, though, has been where to start.
After all, there are generations worth of science fiction and fantasy stories from the past to sift through.
Classic Tales of Science Fiction & Fantasy, the latest entry in the Canterbury Classics series from Candlewick Press does a pretty decent job of gathering together a number of those older works and introducing them to interested new readers. Primarily short stories and novellas, the works included range across the years from 1858 to 1928. Some of the stories presented earlier in the book even go on to inspire the authors and works that are present later in the book. It's a nice compilation of works – some of which are familiar and others which even the most dedicated nerds may have overlooked.
The stories presented in the book include:
The Diamond Lens by Fitz James O'Brien
A Journey to the Center of the Earth by Jules Verne
Looking Backward: 2000-1887 by Edward Bellamy
The War of the Worlds by HG Wells
A Princess of Mars by Edgar Rice Burroughs
The Lost World by Arthur Conan Doyle
The Scarlet Plague by Jack London
Herland by Charlotte Perkins Gilman
Armageddon 2419 AD by Philip Francis Nowlan
The Dunwich Horror by HP Lovecraft
Now, some of the stories anyone would likely recognize.
HG Wells' War of the Worlds and Jules Verne's A Journey to the Center of the Earth have been adapted into film in the last decade or so (though hardly in any sort of way that resembles the source material). Some readers may also be familiar less well-known stories like The Dunwich Horror by HP Lovecraft and Edgar Rice Burrough's A Princess of Mars.
But there are other stories hat may not be familiar. The inclusion of these older, lesser known stories helps to make the book more relevant even to those who might not otherwise think they need to revisit the classics.
The stories are organized by publication date and unfortunately little else. An introduction at the beginning of the book provides a little bit of background for each story as well as the author. Otherwise the stories run into one another. The book also ends without any sort of ceremony – at the end of The Dunwich Horror you find yourself facing the very back cover. I think that the formatting could have been much improved by moving some of these things around and introducing each story as you come to it.
But the book itself is solidly made.
It's leather-bound so it looks very nice and it should match up with any other leather-bound collections you may have – whether they come from the Canterbury Classics line, Barnes and Noble's classics line, or so on.
Classic Tales is a very large book so the binding feels a little bit delicate but I think that's generally true of all books that push a thousand pages. The pages are fringed in gold and there's a nice, blue ribbon included to help keep your place. The inside covers are show a very cool, alien landscape. It's a good looking book.
I think Classic Tales is a good book if you're looking to discover some really great short stories in the genres of science fiction and fantasy. It would also make a pretty decent gift for someone who has perhaps only recently embraced their nerdier side! Some of the stories are short; others are longer. But you'll get quite a bit of enjoyment out of them.
One of the nice things about these genres is that their stories are often timeless and if you're looking for a general overview of classic science fiction and fantasy, this book isn't a bad place to start.

A REVIEW COPY OF CLASSIC TALES OF SCIENCE FICTION AND FANTASY WAS PROVIDED BY THE PUBLISHER IN EXCHANGE FOR A FAIR AND HONEST REVIEW. THE REVIEW IS BASED ON THE HARDCOVER EDITION OF THIS NOVEL. NERDOPHILES WAS IN NO WAY COMPENSATED FOR THIS REVIEW. OUR OPINIONS ARE OURS AND OURS ALONE.