Much like my much beloved Sundance favorite of 2021, Playing with Sharks, Fire of Love once again features a young couple who have dedicated their lives to filming and documenting something extremely dangerous. But, instead of convincing me that sharks are basically the dogs of the ocean, Fire of Love educates not only on the beauty and science of volcanos but also their dangers and how the public should react to them.
All of Fire of Love is made up of the footage of Maurice and Katia Krafft, two pioneers in the field of volcanologists. The footage, found and brought together by documentarian Sara Dosa, emulates Dosa's French New Wave inspirations. While the Krafft footage is mesmerizing, Fire of Love is lyrical in its own way. Poetically telling the tragic tale of the Kraffts, from their beginnings with the scarlet lava rivers of red volcanos to their intrepid determination to document the dangers of grey volcanos.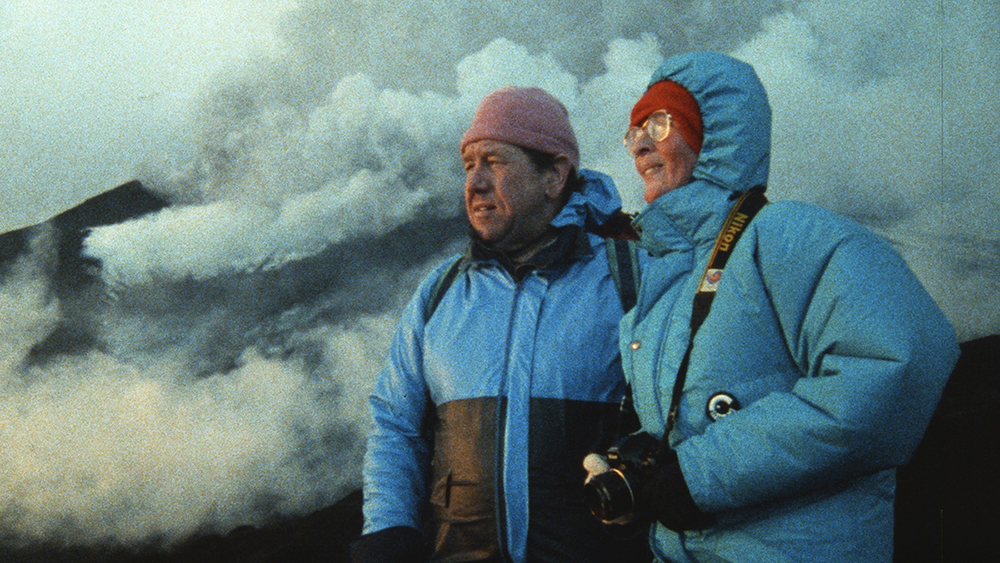 It's impossible not to be affected by Maurice and Katia's determination and passion. Maurice is an explorer, wanting to canoe down the flow of a lava river and paddle through an acid lake. He once proudly proclaimed that he if could eat rocks, he would never leave a volcano. Katia is an observer, her photographs of the quiet details of the volcano and its landscape offer an intimate look at a daunting world. Much like Playing with Sharks, Maurice and Katia got into the business of documenting with film and photography to pay for their study of volcanos. In order to survive and make a living doing what they loved, they had to document everything.
Of course, that means that all of their films put us right into the shoes of these daring volcanologists. The first half of the film shows us the rather gentle red volcanos, so named for the slow flow of magma, the result of tectonic plates shifting apart. Though much of the footage is simply wordless it is no less interesting. For anyone who has ever been fascinated by a tidal wave or a tornado or a natural disaster, there is a fatalistic attraction that comes with looking at the glowing red lava as it bubbles and gurgles.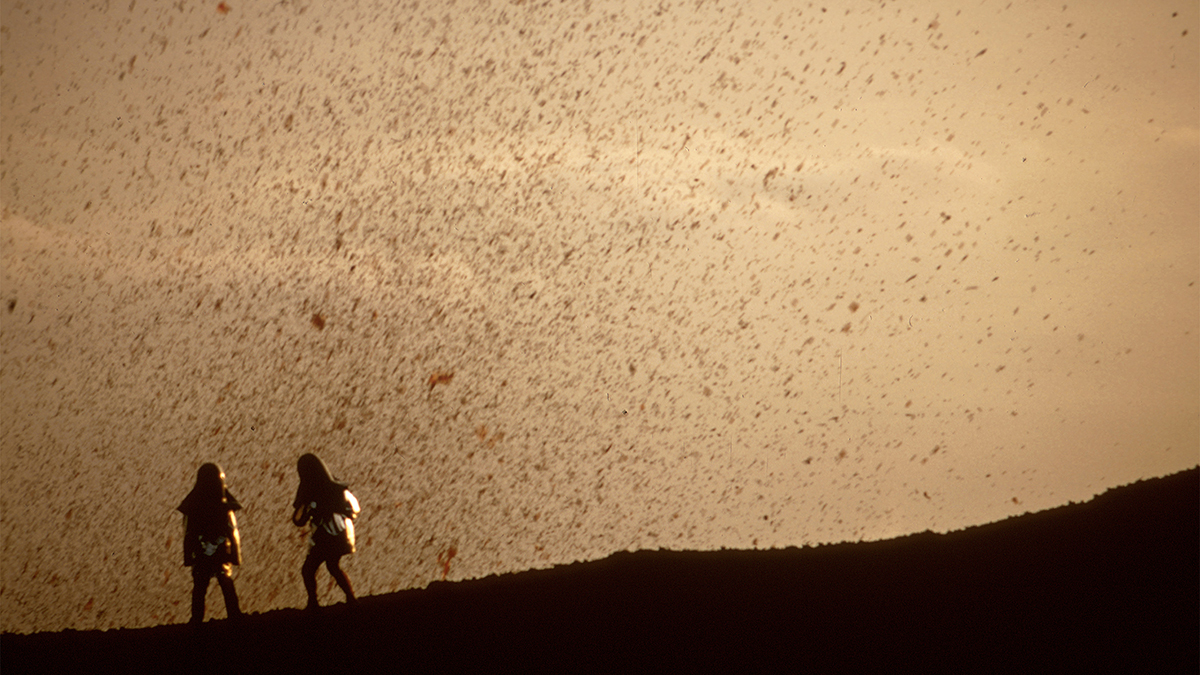 The second half of the film takes a turn away from the otherworldly to the devastation, as the Kraffts turn their attention to studying grey volcanos, the ones that explode and expel dangerous ash, the result of tectonic plates crashing into each other. A far more dangerous task, the film reveals a story that is all too familiar and all too tragic. The Kraffts and their fellow volcanologists study a volcano that they predict will explode soon and inform local officials there is a 100% chance that the explosion will cause mudslides and floods that will kill the neighborhood villages. The officials deem them as too reactionary and ignore their warnings. The land is devastated as thousands die.
While there is hardly a strong political slant to Fire of Love, it's moments like this, these moments of disbelief in the science or ignorance of science, that leave you feeling infuriated, and that anger is felt by the Kraffts as well. Their dedication to the study and educating of grey volcanos ultimately lead to their death but their efforts went on to save countless lives.
Fire of Love is inspiring for anyone who has a passion, and Sara Dosa's vision with the Krafft footage pulls together a charming and tragic story that is both an informative nature documentary and also playful and witty in the style of Wes Anderson. By the end, Maurice might not convince you to love volcanoes as much as he and Katia, but he will convince you that their sacrifice was worth it and that they truly went out doing what they were meant to do.
This film review was based on the premiere at Sundance Film Festival 2022. Photo courtesy of Sundance Institute.