The sad reality is that there is so much to love about Black Widow, but absolutely nothing in the film justifies its release in 2021 and not in 2016 after the release of Captain America: Civil War. Natasha, on her own, shines much brighter than in the shadow of any of her previous roles as support. Fans have been clamoring for years for a Black Widow movie and after killing off Natasha in Endgame, the announcement of this standalone film hit differently for many fans.
Slotting in between Civil War and Infinity War is the two-year period that Natasha, Steve Rogers, and Bucky Barnes went on the run after their cataclysmic fight. While running from Secretary Ross, Natasha split from her fellow avengers to go back to her roots, and this is where Black Widow begins. Scarlett Johansson, who has so often been completely lackluster to me as international spy Natasha Romanoff, manages to play Nat with surprising depth. Even as a person who is openly critical about Johansson's controversial past (I won't forgive her for whitewashing characters or supporting Woody Allen), her performance as Natasha managed to make me look past some of it.
Yes, I am still very glad we are done with Johansson, but it's surprising how strong Natasha is without the Avengers. I'd even go so far as to say that Avengers have been holding her back. Natasha herself even admits it. On her own, Nat is able to navigate the world better. She has her own story arc, her own struggles, her quirks, her own backstory. And what a backstory it is. The general gist puts her as the older sister in a nuclear family back in the mid-90s. Flashbacks show Ever Anderson playing young Natasha with perfect ferocity and tenderness with Violet McGraw playing Yelena Belova, her sister figure and soon-to-be Black Widow. In fact, the title of the movie isn't just in reference to Nat's title as Black Widow, but to all the Widows.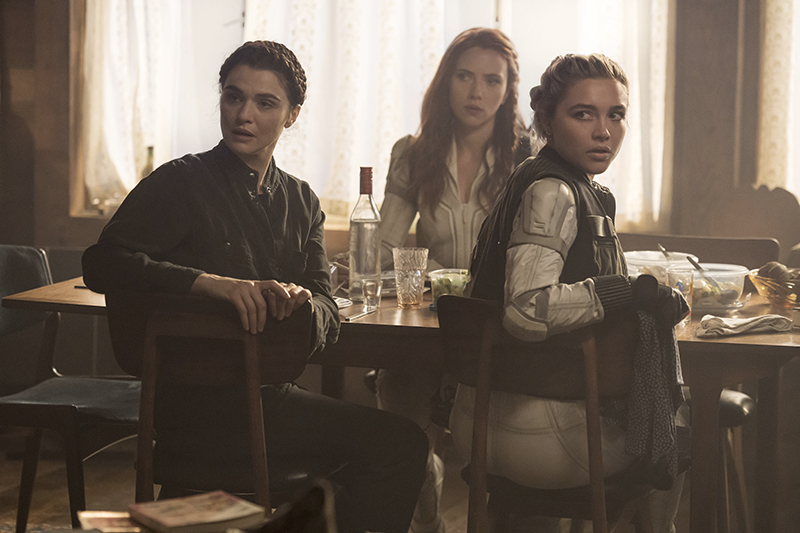 The core relationship around which the movie revolves is between Yelena and Natasha and Florence Pugh plays easily off of Johansson as the two have instant rapport and chemistry. Supporting that relationship is their complicated relationship with Alexei Shostakov, their father figure, aka the Red Guardian, a Soviet super-soldier a la Captain America, played by David Harbour. They also have their relationship with Melina Vostokoff, a Red Room scientist and fellow Black Widow, and their mother figure, played by Rachel Weisz. The heart of Black Widow is in the dynamic between the family, and the actors are fantastic in their roles. Harbour's gregarious Alexei clashes with Melina's stoicism while Yelena's playfulness plays off of Natasha's snark. It's actually a pity that we won't be able to see Natasha interacting with them again.
As far as tone, this is easily one of the darker films within the MCU. Ant-Man this is not. The film quite literally starts with a tragic scene of young girls being trafficked and processed before entering the Red Room. This scene plays out to the haunting cover of "Smells Like Teen Spirit" by Think Up Anger. It is well known that Natasha has one of the most tragic origin stories, along with her fellow Black Widows. They are taken as children, turned into fighters and killers before they are forcefully sterilized so that they never have "future complications". And if you thought that was bad, Black Widow proves that it has only gotten worse.
Although there is some levity in Black Widow, as per the Marvel formula, I do wish they'd leaned further into the insidious nature of the Red Room. A growling Ray Winstone plays the perfect villain as Dreykov, the head of the Red Room, who also has control of the terrifyingly formidable Taskmaster. His presence as this man obsessed with control and power doubles down on his villainy, but certainly, there are other people involved in using the Widows as their killer? I want to see the institution torn down, not just a single man.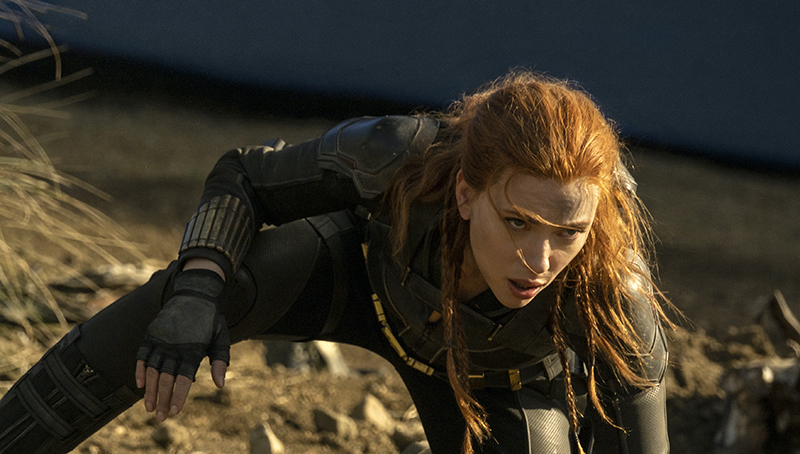 Ultimately, there is nothing exactly new when it comes to Black Widow. The story is a character piece, one that has less impact knowing its titular character is already dead. Unlike Loki, there is no opportunity for her to return by some twist of fate. Instead, it uses its platform to launch a new Black Widow, as presumably, Yelena will take on the official mantle. But, does this mean we will have to wait more years before Yelena gets her own movie series? In many ways, Black Widow serves Marvel in the worst ways. It appeases a rowdy fanbase and it launches off the next character to fill the shoes of the superhero mantle without her own promised series. Yelena is as much of a supporting character as Natasha was for all of her previous movies. Will we have to wait until Yelena dies before we see a movie starring her? And before you say we already got her backstory, I'd like to point to Disney+ current most popular show Loki and say that he was once a supporting character too.
I enjoyed Black Widow, but does it restore any of the faith that I have in the Marvel Cinematic Universe? No. It follows the Marvel formula and I would even say director Cate Shortland fell into the trap of the male gaze a couple of times in this film. It's good. Johansson is surprisingly good. But does it in any way break the mold? Absolutely not. But did anyone expect it to? Absolutely not.
Black Widow debuts in theatres and on Disney+ with Premier Access starting July 9th!