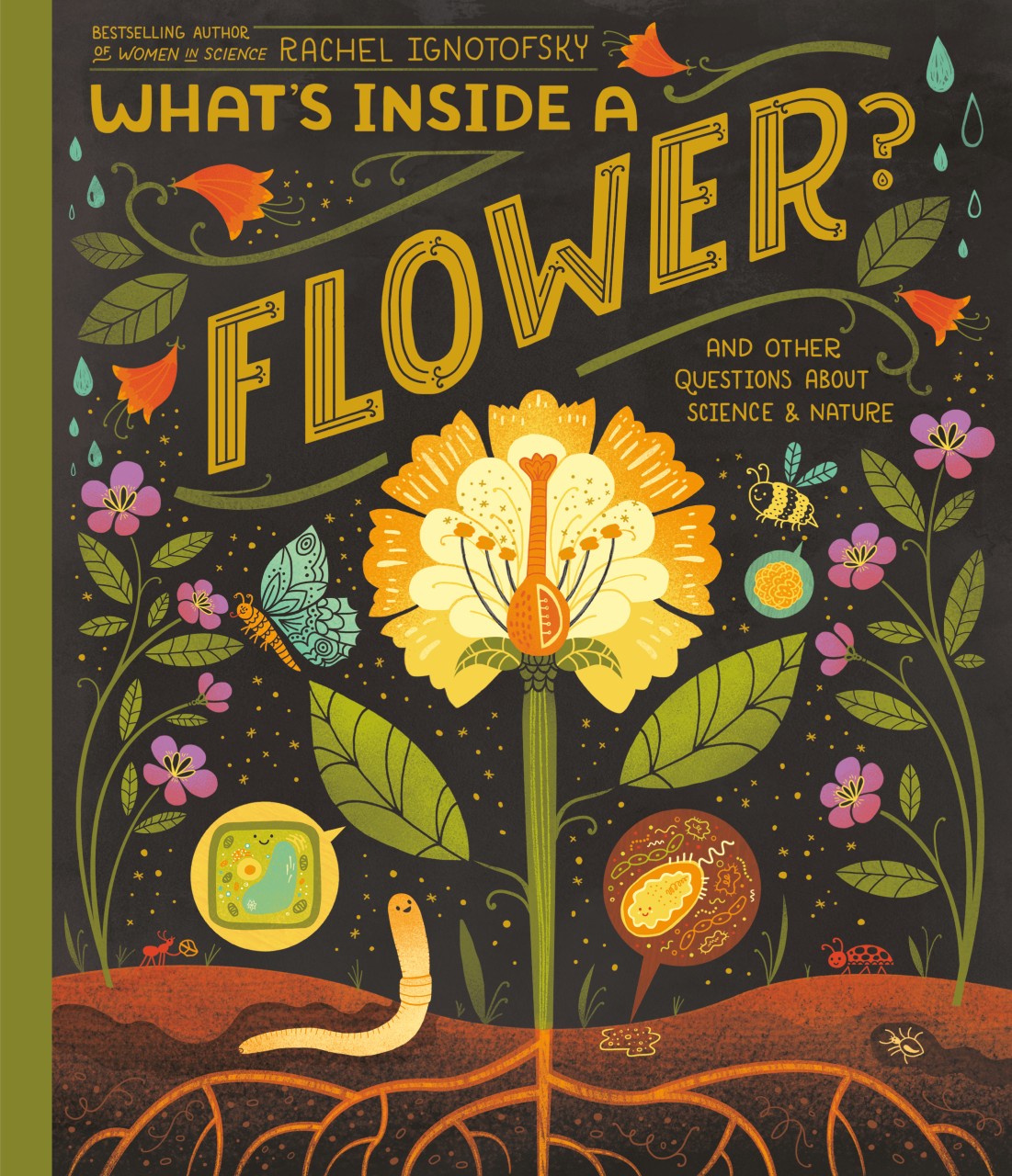 Title: What's Inside A Flower: And Other Questions About Science & Nature
Author: Rachel Ignotofsky
Pub. Date: February 2, 2021
Publisher: Crown Books for Young Readers
Formats: Hardcover, eBook, Audiobook
Pages: 48
Find it: Goodreads, Amazon, Kindle, B&N, iBooks, Kobo, TBD, Bookshop.org
If you've got a curious little one who loves to ask questions about the world around them then you're about to discover your new favorite picture book series! Rachel Ignotofsky has already a released a ton of amazing, inspiring non-fiction books and now she's tackling the natural world beginning with What's Inside A Flower.
I cannot overstate how much I loved this book. It's is absolutely amazing. The pictures are stunning and each page seems better than the next. Ingotofsky mixes so many facts and so much information into even some of the most innocuous of places. Flowers on pages in various illustrations are joined with their names. Animals, organisms, and the like are identified. And a little bee friend accompanies readers through much of the book.
The diagrams are thorough but also accessible to young readers. Parts of flowers and processes are explained simply but honestly in a way kids can understand. Many pages also have extra information outside of the main prose that you can choose to share as you read (or explore as they grow older and re-read). Each page is just teaming with facts and information.
This really is the perfect non-fiction picture book. Fun to read with illustrations young readers (and adults) alike will love to pour over, What's Inside A Flower is a wonderful exploration of flowers and the natural world. We can't wait to see what topics Ingotofsky tackles next!
About the Book
From the creator of the New York Times bestseller Women in Science, comes a new nonfiction picture book series ready to grow young scientists by nurturing their curiosity about the natural world–starting with what's inside a flower.

Budding backyard scientists can start exploring their world with this stunning introduction to these flowery show-stoppers–from seeds to roots to blooms. Learning how flowers grow gives kids beautiful building blocks of science and inquiry.

In the launch of a new nonfiction picture book series, Rachel Ignotofsky's distinctive art style and engaging, informative text clearly answers any questions a child (or adult) could have about flowers. 
"The lush, geometric illustrations are the superstars of this adventure, drawing in readers from the front endpapers to the rear . . . A beautiful bloom for the nature shelf." – Kirkus Reviews

"There's an abundance of detail in this attractive first work in the "What's Inside" series, but it's never overwhelming . . . The pages overflow with life." – Booklist
Giveaway
3 winners will win a finished copy of WHAT'S INSIDE A FLOWER, US Only.
a Rafflecopter giveaway
About the Author
Rachel Ignotofsky is a New York Times Best Selling author and illustrator, based in beautiful Santa Barbara. She grew up in New Jersey on a healthy diet of cartoons and pudding and graduated from Tyler School of Art in 2011.
Now Rachel works for herself and spends all day and night drawing, writing and learning as much as she can. Rachel is a published author with 10 Speed Press and Random House Kids. She is always thinking up new ideas. 
Check out her books:
What's Inside A Flower?
The Wondrous Workings of Planet Earth 
Women In Science
Women in Art
Women In Sports
Her work is inspired by history and science. She believes that illustration is a powerful tool that can make learning exciting.  She has a passion for taking dense information and making it fun and accessible. Rachel hopes to use her work to spread her message about scientific literacy and feminism.
If you like what you see and would like to have it for yourself, please visit her shop.
Website | Twitter | Instagram | Facebook | Tumblr | Pinterest | Goodreads | Amazon
Book Tour
Week One
Week Two