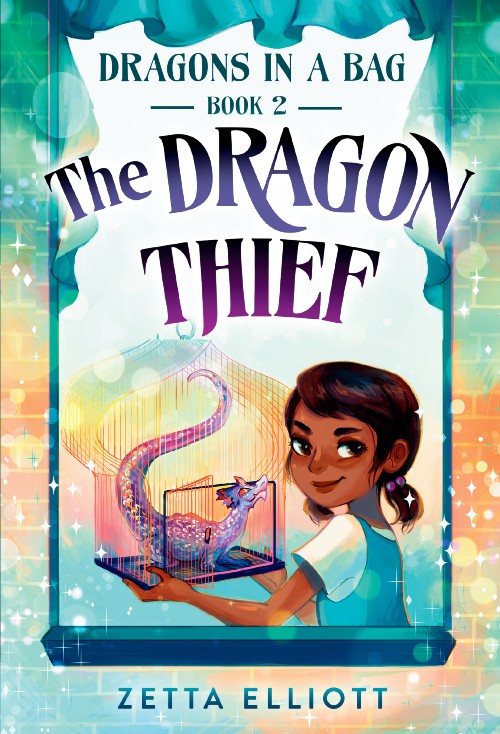 Title: The Dragon Thief
Series: Dragons in a Bag #2
Author: Zetta Elliott
Illustrator: Geneva B
Pub. Date: January 12, 2021
Publisher: Yearling Books
Formats: Hardcover, Paperback, eBook, audiobook
Pages: 176
Find it: Goodreads, Amazon, Kindle, Audible, B&N, iBooks, Kobo, TBD, Bookshop.org
What starts out as a rather tumultuous day for Jaxon and his mother turns into the greatest adventure of his life in Dragons in a Bag. Left alone with 'Ma,' a fictive relative who helped raise his mother, Jaxon is introduced to a world of magic that he never could have imagined existed alongside his Brooklyn neighborhood. Soon he's accompanying Ma and an eclectic collection of characters (and talking animals) on travels through time and space and beyond.
Tasked with delivering a trio of newborn dragons to the magical realm, Jaxon has to rely on his friends as well as newfound family members he's never met before — and some talking animals, too. It's a thrilling read full of adventure, family secrets, and most importantly, magic. Unfortunately, things don't go smoothly in Dragons in a Bag as you can surmise from the title of The Dragon Thief...
It seems like a great time to say SPOILER ALERT! if you haven't read The Dragon Thief.
With one of the baby dragons now missing and "stolen" by Jaxon's bestfriend Vikram's younger sister, Kavita, he finds himself in a tough spot. He's got to find the missing dragon who just keeps on growing and growing – a hard thing to hide in the city! Split between the perspective of Jaxon and Kavita, we see the two go on their own adventures assisted by those closest to them and new friends alike. It's a fitting continuation of a very magical journey!
One of the things that really sets Dragons in a Bag and The Dragon Thief apart is the story's emphasis on diversity both in it's characters and their communities. Diversity in children's fantasy is something that has remained rather lacking even with the increasing call for #OwnVoices and diverse stories. Author Zetta Elliott brings magic to the Brooklyn neighborhood she speaks so highly of in her acknowledgements and brings young readers – especially young readers of color – the kind of stories of Black magic and adventure that they deserve.
About the Book
STEALING A BABY DRAGON WAS EASY! HIDING IT IS A LITTLE MORE COMPLICATED, IN THIS SEQUEL TO REVIEWER FAVORITE 'DRAGONS IN A BAG'.
Jaxon had just one job – to return three baby dragons to the realm of magic. But when he got there, only two dragons were left in the bag. His best friend's sister, Kavita, is a dragon thief!
Kavita only wanted what was best for the baby dragon. But now every time she feeds it, the dragon grows and grows! How can she possible keep it a secret? Even worse, stealing it has upset the balance between the worlds. The gates to the other realm have shut tight! Jaxon needs all the help he can get to find Kavita, outsmart a trickster named Blue, and return the baby dragon to its true home.
Grab the other book in the series!
Dragons in a Bag
Giveaway
3 lucky winners will win a finished copy of THE DRAGON THIEF, US Only.
a Rafflecopter giveaway
About the Author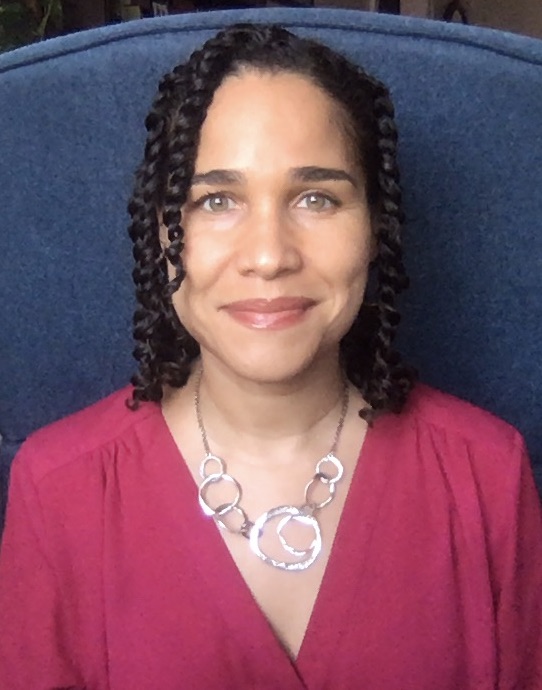 I'm a Black feminist writer of poetry, plays, essays, novels, and stories for children. I was born and raised in Canada, but have lived in the US for over 20 years. I earned my PhD in American Studies from NYU in 2003; I have taught at Ohio University, Louisiana State University, Mount Holyoke College, Hunter College, Bard High School Early College, and Borough of Manhattan Community College. My poetry has been published in New Daughters of Africa, We Rise, We Resist, We Raise Our Voices, the Cave Canem anthology The Ringing Ear: Black Poets Lean South, Check the Rhyme: an Anthology of Female Poets and Emcees, and Coloring Book: an Eclectic Anthology of Fiction and Poetry by Multicultural Writers. My novella, Plastique, was excerpted in T Dot Griots: an Anthology of Toronto's Black Storytellers, and my plays have been staged in New York, Cleveland, and Chicago. My essays have appeared in School Library Journal, Horn Book, and Publishers Weekly. My picture book, Bird, won the Honor Award in Lee & Low Books' New Voices Contest and the Paterson Prize for Books for Young Readers. My young adult novel, A Wish After Midnight, has been called "a revelation…vivid, violent and impressive history." Ship of Souls was published in February 2012; it was named a Booklist Top Ten Sci-fi/Fantasy Title for Youth and was a finalist for the Phillis Wheatley Book Award. My YA novel, The Door at the Crossroads, was a finalist in the Speculative Fiction category of the 2017 Cybils Awards, and my picture book, Melena's Jubilee, won a 2017 Skipping Stones Honor Award. I received the Children's Literature Association's Article Award for my 2014 essay, "The Trouble with Magic: Conjuring the Past in New York City Parks." I am an advocate for greater diversity and equity in publishing, and I have self-published numerous illustrated books for younger readers under my own imprint, Rosetta Press; 3 were named Best of the Year by the Bank Street Center for Children's Literature, and Benny Doesn't Like to Be Hugged was a first-grade fiction selection for the 2019 Scripps National Spelling Bee. Dragons in a Bag, a middle grade fantasy novel, was published by Random House in 2018; the Association for Library Service to Children (ALSC) named it a Notable Children's Book. Its sequel, The Dragon Thief, was named a Best Middle Grade Book of 2019 by CBC Books. Say Her Name, a young adult poetry collection, was published by Little, Brown Books for Young Readers in January 2020; A Place Inside of Me: a Poem to Heal the Heart from FSG was named a 2021 Notable Poetry Book by the National Council of Teachers of English. I currently live in Evanston, IL.
Click here if you're not sure how to pronounce my name.
I'm represented by Johanna Castillo of Writers House.
Photo credit: me!
Tour Schedule
Week One:
Week Two: