After an explosive season of television, no one left a stronger impact than Dianne Doan as "Mai Ling" in Cinemax's Warrior. Based on both Bruce Lee's script treatment and the Tong Wars of the late 1800s, Season Two of the Cinemax show saw Mai Ling rising to the top of the Long Zii Tong.
But that wasn't the only thing she did, Mai Ling made some questionable decisions this season. From allying with the chaotic Fung Hai to blackmailing the nefarious Buckley, she's got a lot of pokers in the fire. Nerdophiles talked with Dianne Doan about her reaction so some of these twists along with her experience shooting the sophomore season.
On her favorite scene to shoot of the season:
"So in [Episode 5], I open the episode up with Joe [Taslim]. And it's that guilt that comes over me and he calls me out on it. He calls me out on me not necessarily being present; there's something else on my mind. I think that scene between Joe and I was really emotionally charged, and I love the outcome how it shows, how it came out.
"And then, you know, one of our few scenes in the season, [Andrew] Koji and I in a bar waving that flag, [saying] I just want you on my side, I apologize for everything I've done. That emotion came out of nowhere, I mean, it was him and I working together. We didn't plan for it to be this heated, emotionally charged scene. I love Liv [Olivia Cheng] and I, that scene of our first meeting, that was such a fun scene to do. There are so many, I can't choose a favorite."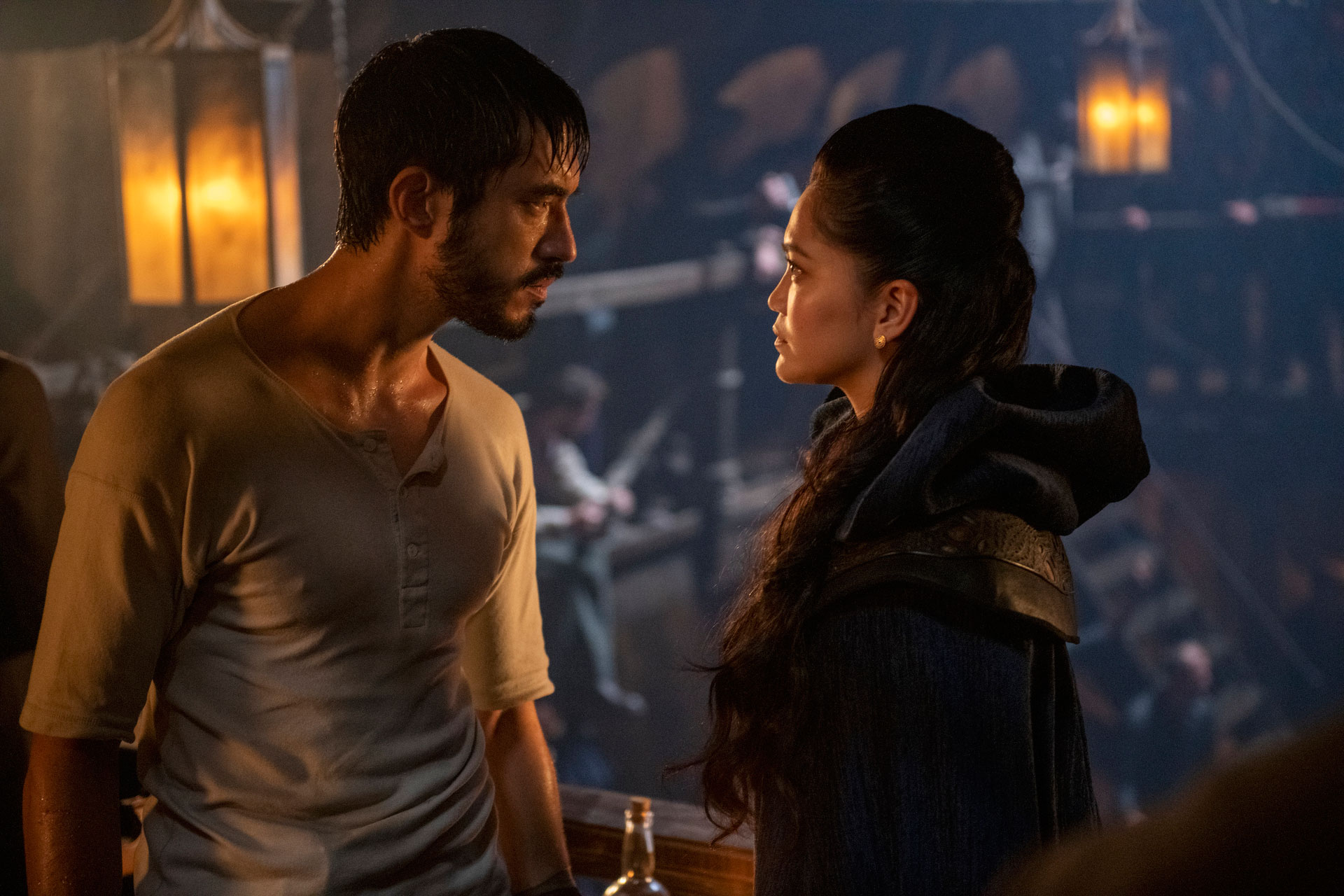 On Mai Ling making her deal with the Fung Hai:
"Dustin's [Nguyen] Tong — they're so you know they're so unpredictable, they're unmanageable. The reason why I pair up with him is a sense of control in my head going into and it's like, well, because I'm so much more powerful than you, and [I have] resources. And then I have this power over you if you want to partner with me. Of course, Li Yong objects to it, and it causes such a rift between Mai Ling and Li Yong. And that's why that storyline is important, because this makes them question Mai Ling, for the first time, arguably. Is she too greedy at this point? Is she crossing a line that we can't come back from, that we can't recover from?
"I'm very instinctual, I just go with my gut right away, I don't think about it. I think that happens a lot with Mai Ling this season. I'm just trying to keep that power that I worked so hard to get. [I have] to come into this new situation and making a name for myself. Young Jun goes through that as well  When he [tries to] make a name for himself outside of his father and it doesn't necessarily work out the way he thinks. Same thing; it's quite paralleled in that way."
On her secret connection to Buckley:
"For Mai Ling, being behind the scenes for so long, it helped her to hide the fact that she can speak English, not many people know that. I think the audience forgets that so that's almost a weapon that she uses. And within season two, you find out through Buckley in Season One that she has that language power.
"That's an interesting one, because, her relationship with Buckley, I always questioned and as well. Like, how did that happen? How did she get a meeting with the mayor's right-hand man? How did that even happen? And I feel like both of them are using each other. And she knows that, so she is treading very lightly. That really is not a safe space, in that carriage. Ever. It's very transactional; there is no partnership, as much as the audience would think so."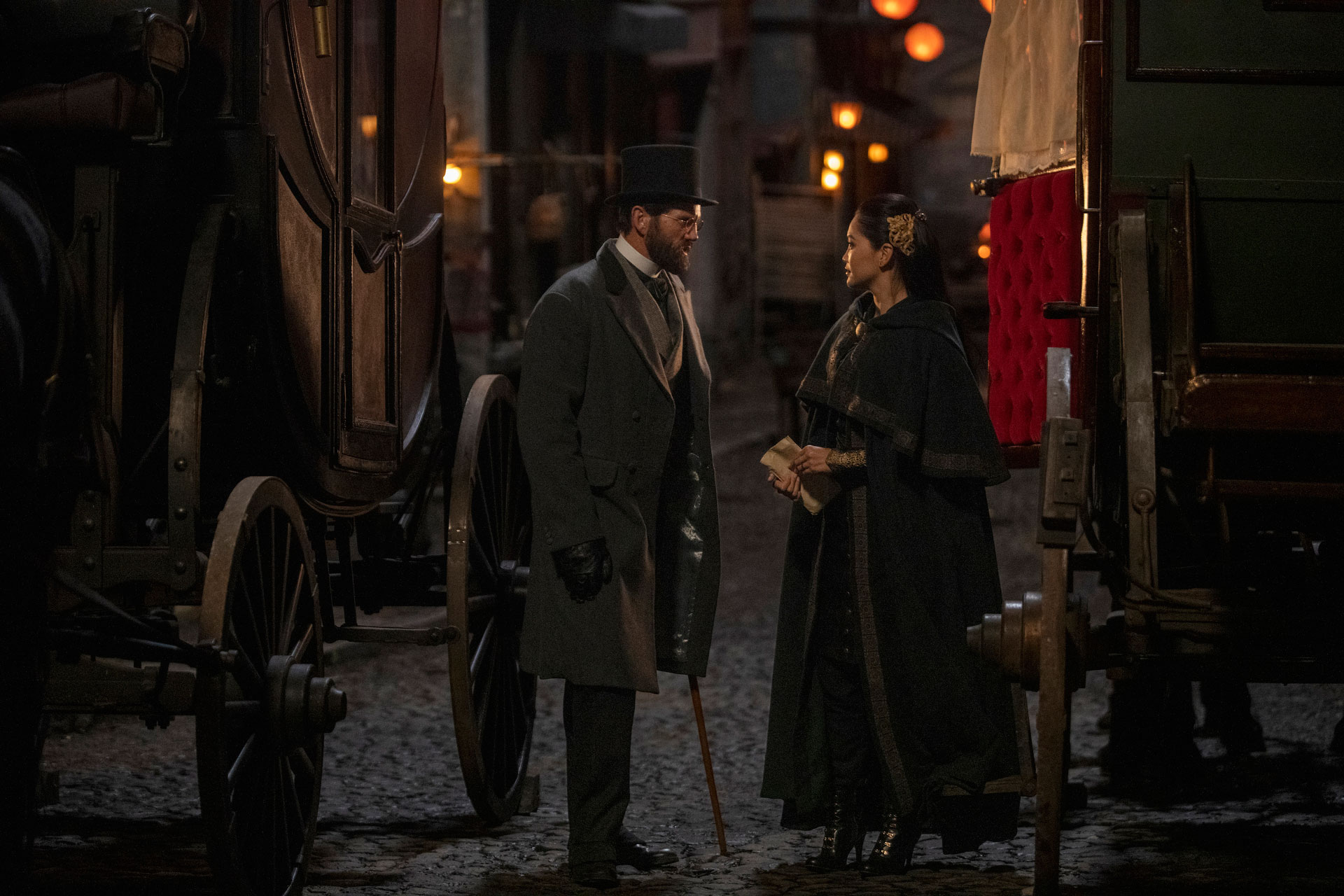 On Mai Ling during the massacre and the riots and helping Ah Toy: 
"You know, she's always been someone to cause the chaos, like that calculated mess that she makes. She knows she can cause damage. But to have that [damage] put on her and not see it coming, this riot — she's not in control of this. I feel like you can see that fear and Chao (Hoon Lee) sees that fear. Deep down, she's still a human. She's a woman who can't protect herself the way that she thinks she can. That's why she has all those men behind her. That's why she has Li Yong.
"So, I feel the second that riot comes and you can hear it, when she turns to run, that is survival mode at it's best. That's fight or flight. And it's flight. I feel like that was a big moment in [her] relationship [with Chao,] as well, for him to see that vulnerability in her. You know, that's a lot of deep-down actor's work. It doesn't look like that on the show right away.
"But then she walks into Ah Toy's. I think it was Episode Five was the first time Ah Toy and I meet during a celebration and there is that awkwardness, that passive-aggressive, that power play, you know who's in power. That's out the door when someone, a woman, of that stature, Ah Toy, is hurt. I just feel like we connected as women.
On Mai Ling revealing the truth of Ah Sahm's relationship to her in the finale:
"My favorite reveal-scene was in Episode 10 when I walked into the Hop Wei and I spill that Ah Sahm is my brother. Young Jun thinks I'm going to apologize —  which I do — I think that was my initial reason to go in there, apologize for my wrongdoings as a leader. That's the beauty of Mai Ling's character, you just don't push her. Don't question her. [And] Li Yong knows this. He was like that's a card that we want to keep close to us, don't rock that boat. That was such a fun scene to film. That was the first time I really worked with Jason [Tobin] in a scene. He and I, we've stood in scenes together, but for us to go off each other, that was really fun."
The season finale of Warrior airs tonight, Friday, December 4th at 10pm EST/11pm PST exclusively on Cinemax.