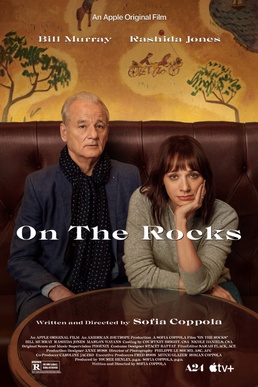 Release Date: October 1, 2020
Director: Sofia Coppola
Cast: Rashida Jones, Bill Murray, Marlon Wayans, Jessica Henwick, Jenny Slate
Studio: American Zoetrope
Distributor: A24
Spoilers: None
IMDB| Rotten Tomatoes | Wikipedia
Rating: ★★★★★
It's ironic how cozy On The Rocks felt since it's a story about stagnation and uncertain infidelity inside a marriage.
Laura (Rashida Jones), connects with her jet-setting, art-dealing, womanizing father, Felix (played by the incomparable Bill Murray), and speculates whether her husband Dean (Marlon Wayans) is cheating on her.
The evidence stacks against Dean: he came home from a business trip and kissed Laura awake, then suddenly seemed to realize Laura wasn't who he thought she was; he also has a women's toiletry bag packed inside his luggage. When Laura confronts Dean about these incidents, he has perfectly harmless explanations.
Cue Felix. Felix is a self-proclaimed expert in male behavior- namely infidelity- having lived a playboy lifestyle and ruining his own marriage to Laura's mother by cheating. And Felix is determined to get to the bottom of things one way or another.
The movie follows Laura and Felix through a hilarious private-investigator adventure in New York City tailing Dean to try and catch him cheating. Murray's old boy's club globe-trotting connections, historic cars, and martinis all feature prominently in laugh-out-loud funny ways.
The writing is stellar. Murray's one-liner comedy chops as a lovable womanizer are on full display. He commands the film with a series of best lines sprinkled throughout the movie (mostly outrageous theories about women's subservience to men's biological desires). Laura's quiet exasperation with her father and mundane struggles with being in a rut with her domestic life mesh perfectly with Murray's larger-than-life, glam, bon-vivant demeanor. The dynamic between the two creates a story that feels so fresh and comforting.
The way On The Rocks is filmed, it feels like an old noir. I felt wrapped up in the warm, romanticized version of New York City and the quiet, soft domesticity of Laura's life. Everything felt comfortable, like being inside at night during a rainstorm, even though the film was about potential infidelity.
Everything here works so well. The mood, the low-drama response to a high-stakes problem, the spot-on performances, and the sharp writing. Coppola even pulls off a brilliant commentary on women's roles that leaves audiences chewing on uncertainty and what happiness really looks like. I highly recommend curling up with this one on a Friday night with a bottle of wine to make the world feel a little funnier and a bit cozier.
On The Rocks will stream on Apple TV+ on Friday, October 23rd, 2020.