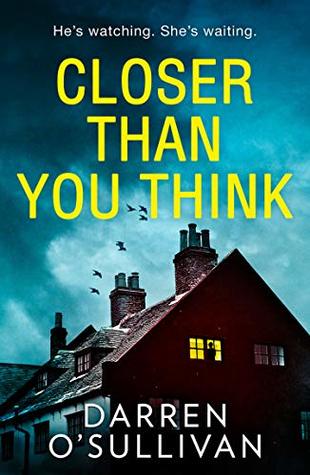 Title: Closer Than You Think
Author: Darren O'Sullivan
Pub. Date: March 15, 2019
Publisher: HarperCollins Publishers
Pages: 277
Formats: Paperback, eBook
Find it: Goodreads, Amazon, B&N
Rating: ★½☆☆☆☆
A review copy of this book was provided to Nerdophiles by the publisher for a fair and honest review.
Synopsis:
He's watching. She's waiting.
Having barely escaped the clutches of a serial killer, Claire Moore has struggled to rebuild her life. After her terrifying encounter with the man the media dubbed The Black-Out Killer, she became an overnight celebrity: a symbol of hope and survival in the face of pure evil. And then the killings stopped.
Now ten years have passed, and Claire remains traumatised by her brush with death. Though she has a loving and supportive family around her, what happened that night continues to haunt her still.
Just when things are starting to improve, there is a power cut; a house fire; another victim found killed in the same way as before.
The Black-Out Killer is back. And he's coming for Claire…
Nerdophiles Review:
Oof. Let me confess upfront- I wasn't able to finish this book.
I got a solid 50 pages or so in, detected a pattern, and then decided to skim the rest to see if the pattern held.
It did.
Unfortunately, this book was absolutely not for me. It followed a woman (Claire) who survived a brutal serial killer, trying to overcome her anxiety, PTSD, and survivor's guilt.
She struggles every day. She can't take a shower by herself, and going out to the market induces panic attacks.
Even though she's a survivor, she still feels constantly victimized.
It gets worse when the killings start again, in the exact same pattern as her serial killer's.
The book alternates between Claire's perspective and that of her would-be killer. The killer follows Claire and writes her letters he plans to give her at a later date.
I found reading the perspective of the serial killer to be disturbing, and I quickly got mired down in anxiety myself reading Claire's struggles.
I really hoped that the book would empower Claire, breaking the pattern of constant re-victimization. I hoped she would start investigating the murders and fight to reclaim her life, but unfortunately, that shift didn't happen in a meaningful way.
The author makes an attempt to establish Claire as a 'fighter' in the epilogue, but it doesn't feel authentic when she's been acting (rightfully!) traumatized and scared the rest of the book.
Overall, I found this book to be too much for anxiety – with Claire's lack of proactivity and the creepy machinations of the serial killer, Closer Than You Think was way off the mark.