I never would have thought that a series about hockey, baking, and romance would be one of the best reads of my 2020 quarantine and yet I couldn't get enough of Ngozi Ukazu's Check, Please! I don't know how I wasn't aware of this series sooner. Originally started as a webcomic, Check, Please! is also available in two paperback volumes from First Second – which is how I read them!
The series follows a young man named "Bitty" – short for Eric Bittle – throughout his four years of college as a Samwell University hockey player. Obsessed with baking and vlogging, he struggles to adapt not just to being in college but to moving from the world of junior figure skating to the much rougher world of collegiate hockey. Told through a series of "vlogs" and short "episodes," we watch as Bitty learns to fit in with the rest of the guys, overcome his fears of being checked, struggle with coming out to his team and those close to him, and more.
Over the years, Bitty finds himself in the way that many readers who have been through the college experience will understand. Everything develops very naturally as the books go along. His friendships and relationships grow. He goes from being a mere freshman to a irreplaceable leader amongst the team as he mentors underclassmen as an upperclassman himself. And he deals with the concept of growing up and graduating just as many of us have.
Then, of course, there's Bitty's relationship with Jack.
What starts out as a bit of a slow burn in the first volume really flourishes in the second. Without giving away too many spoilers, it's an incredible progression that mirror's Bitty's college experience in a lot of ways. Things become a lot more real and complex as they get older. We move from the "will they, won't they" of the first volume into a second volume we see their relationship tested as they deal with some very real issues.
Through it all, you really can't help but feel all kinds of warm and fuzzy. Check, Please! is just such a cute, fun series full of friendship and romance and the kind of positive LGBT experiences that you wish every kid got to experience.
Check Please! is a very real book that I immediately connected with as a reader. Ukazu recreates the college experience in a way that had me pining over my own college days. The adorable illustrations and very grounded, personal stories kept me reading page after page. I was invested in Bitty's life, his friendships, his relationships with his parents, and, of course, his relationship with Jack.
If you're looking for a fun, light-hearted read to get you through the doldrums of the COVID-19 quarantine then I highly recommend Check, Please! I loved every moment of it and the two paperback volumes come complete with all kinds of bonus features like extra stories, Bitty's Twitter feeds, and more. There's ton more hockey, romance, and friendship to he had!
For the hands down best LGBT romance comic about hockey and baking, look no further than Check, Please!
---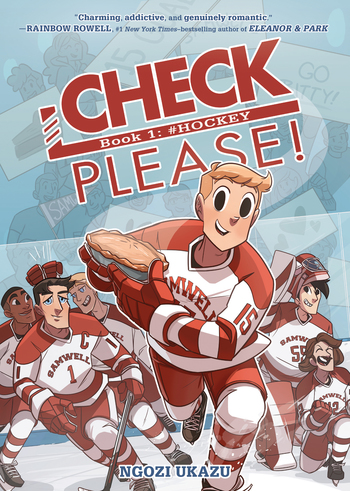 Title: Check, Please! Book 1: #Hockey
Author: Ngozi Ukazu
Release Date: September 18, 2019
Publisher: First Second
Review Spoilers: Low
GoodReads | Amazon | BN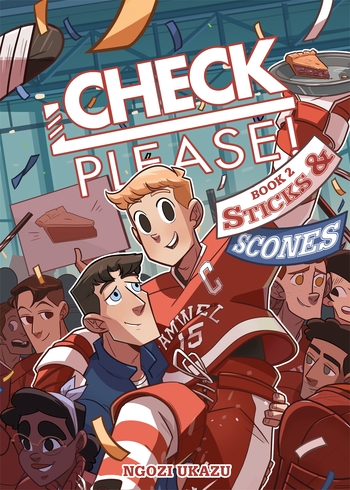 Title: Check, Please! Book 2: Sticks & Scones
Author: Ngozi Ukazu
Release Date: April 7, 2020
Publisher: First Second
Review Spoilers: Low
GoodReads | Amazon | BN