I am thrilled to be hosting a spot on the CHUPACARTER by George Lopez & Ryan Calejo Blog Tour hosted by Rockstar Book Tours. I love middle grade books and the idea of George Lopez and Ryan Calejo writing about a preteen chupacabra hooked me immediately. I am so glad I jumped on this one because it's one of my favorite middle grade books of the year.
ChupaCarter tells the story of two boys who find themselves sort of out of place together. The title comes from the name of our main character's friend Carter who happens to be a chupacabra. Jorge meets him after being shipped off to New Mexico from Los Angeles after his mother decides she can't deal with his behavior at school. Living with his grandparents and dealing with a new school isn't easy – but then Jorge meets Carters and everything changes.
It's a book with a lot of heart. It's relatable, comedic, and easy to read. Pretty much everything you'd hope from a book that has a chance to reach out to a wide variety of readers. It's fairly highly illustrated, too, which is great. I hate to use the term "reluctant readers" at times but this is definitely the kind of book you want to get into the hands of kids who maybe aren't the biggest fan of books. It's such an easy, fun, and engaging read.
One of the things that I loved the most about the book is how authentically it was written. Jorge and Carter both come from Spanish speaking backgrounds and have Latinx heritage. The book is steeped in Spanish folklore and the Spanish language. It's immersive in the sense that the Spanish comes without translation which I absolutely loved.
ChupaCarter is a must-read middle grade book! I hope to see it on best of lists in the next month or so. And I think it'll be a great choice for a stocking stuffer as we come up on Christmas!
Check out my post and make sure to enter the giveaway! 
About the Book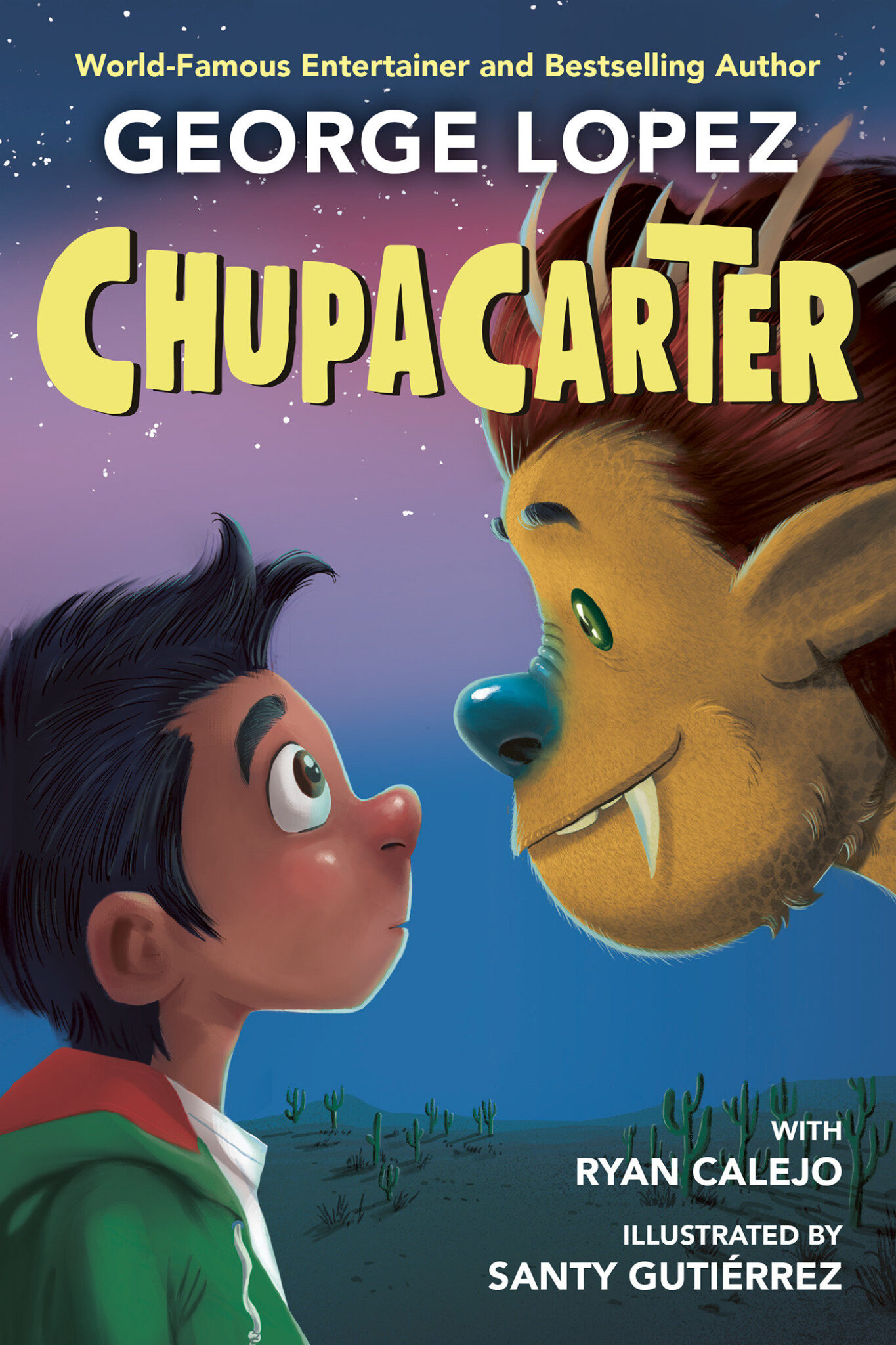 Title: CHUPACARTER
Author: George Lopez, Ryan Calejo, & Santy Gutiérrez(Illustrations)
Pub. Date: August 30, 2022
Publisher: Viking Books for Young Readers
Formats: Hardcover, Paperback, eBook, Audiobook
Pages: 26
Find it: Goodreads, Amazon, Kindle, Audible,B&N, iBooks, Kobo, TBD, Bookshop.org
With his signature laugh-out-loud humor, world-famous comedian George Lopez launches a fantastical middle grade series inspired by his own colorful childhood and Latinx folklore.

In this illustrated contemporary fantasy, twelve-year-old Jorge is lonely and resentful after being sent to live with his grandparents. His first day at his new school doesn't go well after catching the attention of his belligerent principal and the school bullies, so Jorge might be a little desperate for a friend.

But the only kid who shares his interest in junk food and games turns out to be a young chupacabra—a legendary monster whose kind is known for being bloodthirsty livestock killers. The truth is, Carter is anything but savage—he's kind, a good listener, and has great taste in sneakers. Being friends with a mythical creature should be amazing, but when local cattle turn up dead and his principal suspects the truth, Jorge is torn. Should he trust that his friend is innocent and protect him from exposure, or reveal his dangerous existence and change the world forever?
Reviews
"ChupaCarter is an uproariously good time, full of humor, heart, and unexpected friendships."
—Zoraida Córdova, award-winning author of Valentina Salazar Is Not a Monster Hunter

"A narrative punctuated with wisecracks and flavored with Spanish phrases and slang…Frights and fun in equal measure."—Kirkus Reviews

"Gutierrez's lively b&w illustrations expertly render Jorge and Carter's occasionally over-the-top, adrenaline-filled adventures. Actor/comedian Lopez and Calejo offer a rollicking tale brimming with Latinx folklore and culture about finding one's home in the unlikeliest of places that never takes itself too seriously."—Publishers Weekly

"Some good and gross humor…in this fantasy-infused tale."—School Library Journal
About George Lopez
George Lopez is a New York Times bestselling author, stand-up comedian, actor, and talk show host. He made waves as the star of the most successful English-language prime-time television series about Latin Americans in recent history. His successful stand-up comedy showcases his idiosyncratic point of view and impeccable comedic timing. He lives in Los Angeles.
Website | Twitter | Facebook | Instagram | TikTok | Goodreads | Amazon
About Ryan Calejo
Ryan Calejo is an award-winning author born and raised in south Florida. His critically acclaimed Charlie Hernández series has been featured on half a dozen state reading lists and is a two-time gold medal winner of the Florida Book Awards.

Follow him on Twitter and Instagram @RyanCalejo.
Simon & Schuster Webpage | Twitter | Instagram | Goodreads | Amazon
Giveaway Details:
2 winners will win a finished copy of CHUPACARTER, US ONLY.
Ends December 6th, midnight EST.
Tour Schedule:
Week One:
Week Two:
Week Three:
Week Four:
Week Five: