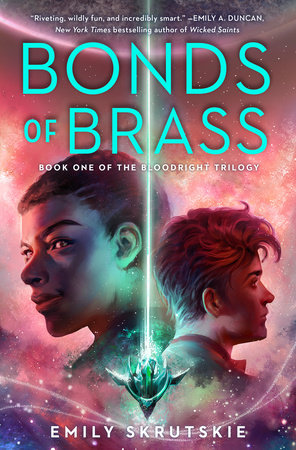 Title: Bonds of Brass
Series: The Bloodright Trilogy #1
Author: Emily Skrutskie
Release Date: April 7, 2020
Publisher: Del Rey
Review Spoilers: Low
GoodReads | Amazon | BN
While I may have put "so far" in the title, there's a good chance that we'll be able to confidently say by the end of the year that Emily Skrutskie's Bonds of Brass was our all-time favorite sci-fi novel of the year. I haven't been as sucked into a story as I was this one in a long time and I cannot wait to see what the future holds for this trilogy. There wasn't a moment in this book where I wasn't waiting with baited breath to see what would happen next.
Bonds of Brass is an epic space opera that takes place in a galaxy full of imperial conquest. Ettian and Gal are two seemingly everyday cadets at a military academy at the heart of a conquered empire. But the truth quickly comes out after Gal survives an assassination attempt and is outed as the heir to the Umber empire. Soon he and Ettian are off on a crazy adventure trying to stay one foot ahead of the traitors and enemy forces that would either capture or kill them.
There is never a dull moment as the two do their best to stay alive. But even in the quieter moments when the action stops the ever changing relationship between Ettian and Gal keeps things interesting. Both boys share feelings for one another but after the truth of Gal's lineage comes out how could there ever be a future for them? And after years of being roommates and best friends how can Ettian look past such deception?
It doesn't help that Ettian's loyalties are torn between the defeated empire that was his home as a child and the future that Gal could bring to the Umber empire he's spent so many years learning to serve. There is a constant battle in Ettian's heart throughout and just as war drums sound on the horizon for the galaxy as a whole. Readers will be just as torn as they wait and wonder what will happen next not just between Gal and Ettian but to everyone as the story progresses. And they'll be rewarded time and time again by huge moments and incredible twists.
You won't be able to put this one down, trust me!
It's hard to articulate just what I loved about this book because there are so many great things about it. Skrutskie's world-building is impecible and the history of this galaxy and characters – from the fall of the Archon Empire to all the different elements of the intergalactic political struggles – feels very realistic. The characters are phenomenal from our leading men to the cast of supporting characters that surround them.
Bonds of Brass is action-packed, fast-paced, and incredibly well written. It's the perfect blend of drama, romance, and suspense. It's fun for long-time science fiction fans just as it is fans who may be newer to the genre. It also has great cross-over appeal for both young adult and adult sci-fi readers similar to other great sci-fi hits like Pierce Brown's Red Rising series.
If you're a fan of science fiction you'll want to check out Bonds of Brass immediately!