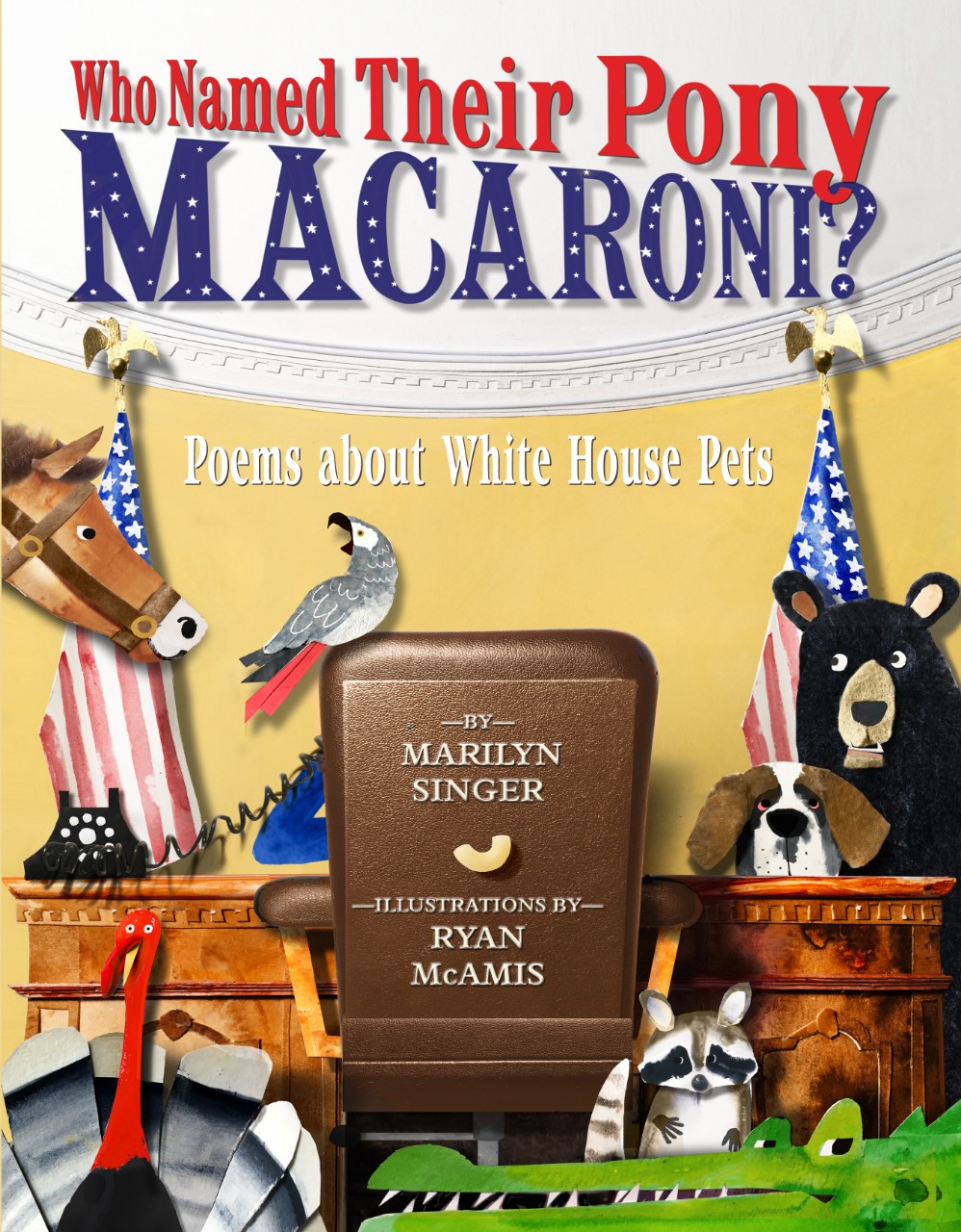 Title: Who Named Their Pony Macaroni?
Author: Marilyn Singer, Ryan McAmis (Illustrations)
Pub. Date: October 1, 2019
Publisher: Disney-Hyperion
Formats: Hardcover, eBook
Pages: 48
Find it: Goodreads, Amazon, Kindle, B&N, iBooks, Kobo, TBD
In our politically charged present it's hard to think of anything fun about American politics. But author Marilyn Singer manages to find a topic that everyone can enjoy – White House pets! Animals are something everyone can appreciate and they're an easy way to get kids talking about the presidency. And with a hotly contest election year coming up this book is pretty timely.
Singer highlights a number of memorable White House pets through a series of poems – some humorous, some more serious. Beginning with with George Washington's fox hounds, we're introduced to the wide variety of normal and not-so-normal pets owned by subsequent presidents and their families. From dogs to cats to alligators, lions, and turkeys there have been a pretty crazy number of pets roaming the halls of the White House!
As fun as the poems can be, though, Ryan McAmis's mixed media illustrations were my favorite part of the book. The images accompanying the tales are generally adorable and they seem to pop off the page, giving them extra dimension.
I think kids and teachers especially will enjoy the poems in Who Named Their Pony Macaroni? I know as a kid I had books about Socks the White House Cat and Millie Bush and absolutely loved them. Singer's far reaching book has everyone from the famous 'Checker speech' to FDR's beloved Fala and Andrew Jackson's foul mouthed parrot. So there's tons of fun to be had!
Read on to learn more about the book, the author, and to enter for a chance to win your own copy!
About the Book
A family of mice. A runaway goat.
A mischievous snake.
A shocking parrot.
A pardoned turkey.
A pampered raccoon.
A ghostbusting dog.
A celebrity cow.
The White House housed more than presidents and First Families–who could forget the furry, scaly, feathered friends who impressed the press, guarded their charges, and kept them company through all the ups and downs of their respective terms?
Marilyn Singer's compelling poems will delight readers with stories of the creatures who sat beside our country's leaders, as she draws intriguing connections between the animals and the administrations they accompanied. Mixed-media illustrations by Ryan McAmis lend humor and vivacity, and detailed back matter explores each president's pet history in more depth.
Giveaway
a Rafflecopter giveaway
About the Author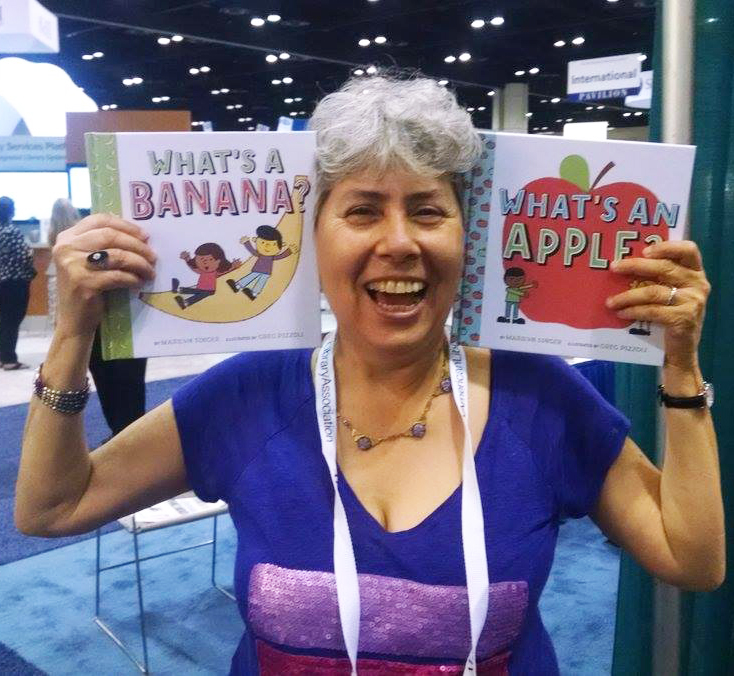 Marilyn Singer was born in the Bronx (New York City) on October 3, 1948 and lived most of her early life in N. Massapequa (Long Island), NY. She attended Queens College, City University of New York, and for her junior year, Reading University, England. She holds a B.A. in English from Queens and an M.A. in Communications from New York University.
In 1974, after teaching English in New York City high schools for several years, she began to write – initially film notes, catalogues, teacher's guides and film strips. Then, one day, when she was sitting in the Brooklyn Botanic Garden, she penned a story featuring talking insect characters she'd made up when she was eight. Encouraged by the responses she got, she wrote more stories and in 1976 her first book, The Dog Who Insisted He Wasn't, was published by E.P.Dutton & Co.
Since then, Marilyn has published over seventy books for children and young adults. Her genres are many and varied, including realistic novels, fantasies, non-fiction, fairy tales, picture books, mysteries and poetry. She likes writing many different kinds of books because it's challenging and it keeps her from getting bored. She has won several Children's Choice and Parents' Choice Awards, as well as the following: the Creature Carnival, Lee Bennett Hopkins Poetry Award Honor Book, 2005; I Believe in Water: Twelve Brushes with Religion, New York Public Library's "Best Books for the Teen Age," 2001; Stay True: Short Stories for Strong Girls, Popular Paperbacks for Young Adults, 2000 (YALSA); On the Same Day in March, Booklist's Top Ten Science Books of 2000; NCSS-CBC Notable Book, 2000; Deal with a Ghost, finalist, YA category, Edgar Award, 1998; It Can't Hurt Forever, Maud Hart Lovelace Award, 1983; The Course of True Love Never Did Run Smooth, ALA Best Book for Young Adults, 1983; Turtle in July, NCTE Notable, N.Y.Times Best Illustrated and Time Magazine Best Children's Books of 1989; Turtle in July was also a Reading Rainbow review book.
Marilyn currently lives in Brooklyn, NY, with her husband Steve; their standard poodle Oggi, a cousin of their beloved and recently departed poodle Easy, seen in the home page photo; a cat named August ; two collared doves named Jubilee and Holiday; and a starling named Darling. Her interests include dog training, reading, hiking, bird-watching, gardening, meditation, playing computer adventure games and going to the movies and the theatre. She's also a major Star Trek fan.