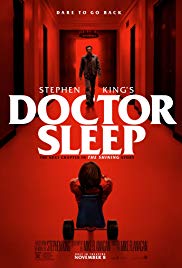 Release Date: November 8, 2019
Cast: Ewan McGregor, Rebecca Ferguson, Kyliegh Curran, Cliff Curtis
Director: Mike Flanagan
Studio: Intrepid Pictures, Vertigo Entertainment
Distributor: Warner Bros. Picture
Spoilers: Low
IMDB| Rotten Tomatoes | Wikipedia
Rating: ★★★★☆
Danny Torrance has had a rough go of it. As a kid, Danny's dad took on a caretaker job at a haunted hotel in the mountains, went mad, and tried to kill Danny and his mother (The Shining). Danny has psychic powers – called the Shine – and it attracts evil entities like the ghosts from the Overlook Hotel, who want to feed on it. Now he's a recovering alcoholic, having spent his years trying to dull the Shine, trying to get his life back on track.
Elsewhere, a group of psychic vampire monster people lead by Rose the Hat (Rebecca Ferguson) are hunting across the country. They've found their next target, a powerful girl named Abra (Kyliegh Curran).
Doctor Sleep has an unenviable task ahead of it. Doctor Sleep was released in 2013 as a sequel to the book The Shining, but in making the transition to film it has to follow up an iconic piece of film by Stanley Kubrick, differences between the versions be damned. So, Mike Flanagan, hot off his smash success Netflix series The Haunting of Hill House, had to walk a fine line between being a worthy sequel to the horror classic while also adapting the book faithfully.
And, folks, he does it!
Stephen King's Doctor Sleep is a surprisingly enthralling flick. Fans of The Shining may be a little disappointed, it is much less a horror film and more a thriller, but, as long as you are fine with that you'll be delighted. In true Stephen King fashion the world building is second to none. The complex mythology and relationships of the 'Shine,' 'Steam,' and the gang of long-lived villains with names like Crow Daddy – if you are into this kinda stuff, you are going to dig Doctor Sleep.
The physical representation of these psychic manifestations is great. The ways Rose the Hat tracks down Abra, their confrontation in dreams, or Danny's means of trapping hungry spirits – all of it is done in such a smooth, fantastical way – visualizing the impossible feats within the mind is no easy task but Doctor Sleep does so compellingly.
One… criticism? Maybe its a criticism, I'm not too sure just yet. The film casts new actors in the roles of the Torrance parents. Wendy Torrance is in the beginning of the film a bit and the actress (Alex Essoe) playing her is just two shades away from Shelley Duvall. It's almost unnerving how alike they are. The same for Jack Torrance (Henry Thomas), he's not Jack Nicholson, but you know that's what they are going for.
This gives the scenes featuring those characters a strange, almost play-like feel, that the actors aren't playing Jack and Wendy Torrance but instead they are Jack Nicholson and Shelley Duvall as Jack and Wendy Torrance. It's a necessary bit of recasting, but it can be a bit strange.
Stephen King's Doctor Sleep is a more than worthy follow up to The Shining, taking the world in new directions and diving deep into the Shine (more than Kubrick's film, in fact). A cool new story that stands completely on its own, while honoring what came before. If you like The Shining, psychic powers, and weird worlds – check it out.
Doctor Sleep is in theaters everywhere.