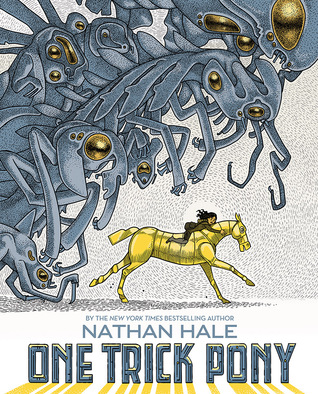 Author: Nathan Hale
Release Date: March 14, 2017
Publisher: Amulet Books (ABRAMS Kids)
Review Spoilers: Low
GoodReads | Amazon

Nathan Hale has made quite the name for himself with his middle grade graphic novel series
Nathan Hale's Hazardous Tales.
Informative and fun, they are a graphic novel retelling of various events throughout history. Topics that Hale has covered include: The Alamo, the Donner Party, Harriet Tubman, and more.
But his latest book, One Trick Pony, is not a part of this series. Instead, this time around he's telling his own story – a story he not only wrote but also illustrated.
One Trick Pony takes place in a post-apocalyptic world where humanity struggles to survive after an alien invasion has left everything in ruins. These strange, alien creatures called Pipers effectively consume electricity, which means technology is basically off limits. They're drawn to it – and so people have to survive without it as best as they can or at the very least hide what little they've managed to salvage.
The main character, Strata, her brother, and their friends are scavengers and one fateful day they find a mechanical horse left behind in a dormant state inside an otherwise untouched, secret laboratory full of robots and technology. Strata takes to the horse, called Kleidi, almost instantly. But when they find the horse they also call the Pipers to them and Strata and her friends have to somehow find their way back to safety.
Of course, this is a dangerous world and with aliens and other deviant scavengers on their tail, they may never make it back to their families. But when the opportunity arises, Strata and Kleidi might just have a chance to strike back at the Pipers and save the world once and for all.
Nathan Hale tells a phenomenally unique story with One Trick Pony. His world building is great and he comes up with some truly menacing aliens in the Pipers. They literally take chunks out of things and collect robots and technology in strange bubble like structures. And they're basically a mechanical mix of bugs and octopods. If they were chasing me I definitely wouldn't be as brave as Strata and her friends.
Now I will say that the story gets a little weird towards the end. But all great science fiction stories tend to get at least a little bit weird at some point. For the most part everything comes together really nicely and the book owes most of that to it's pacing. The pacing in this book is really great.
It's hard to believe that Nathan Hale fits as much story into this book as he does – especially considering the fact that the book clocks in at just over 120 pages. The story breaks off into multiple strands at certain points and yet nothing feels rushed. We get enough background on the characters and their community and the way this world came to be so that we aren't lost. The focus really remains on the story at hand.
If you're looking to check out a great, standalone science fiction graphic novel then you can't go wrong with One Trick Pony! Excellent world building and engaging storytelling coupled with great pacing make this a really fun read and one that's definitely worth checking out.