Sometimes our littlest readers need a little help getting engaged in books and that's where interactive stories come in handy! My Magical Mermaid and My Magical Unicorn are two new interactive board books full of sparkly pictures, flashy colors, wheels to spin, tabs to pull, and more. My pre-schooler loved them but she also loves mermaids and unicorns so that was a given!
Both books take place in an interconnected fantasy land and some of the unicorns from My Magical Unicorn can be seen in one of the backgrounds in My Magical Mermaid. And both feature the dragon from the upcoming My Magical Dragon. Each book tells a very short story since the extra thick pages that allow the more interactive elements limit the page number. But the stories keep a fun, rhyming rhythm with short verses that don't distract from the next tab that needs to slid or pulled.
My Magical Unicorn was probably our favorite out of the two books that have been released so far. There's no other reason for that other than the rainbow toward the end that you can make appear and disappear. That's a hot commodity for a little one.
As the spines promise, these books come with plenty of things to push, pull, and slide. They're bright, colorful, and sparkly which can't go wrong with any itty bitty reader. They books are very sturdy and the moving pieces seem like they can put up to quite a bit of abuse. (We'll certainly put them through their paces!) They're great for curious little hands and would make great gifts or bedtime, read-along stories for your tiny readers!
My Magical Unicorn is out now. My Magical Mermaid will be released in May with My Magical Dragon coming out this fall!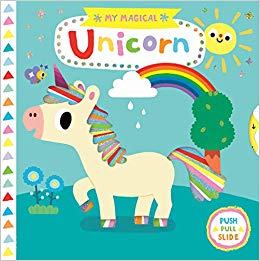 Title: My Magical Unicorn
Illustrator: Yujin Shin
Release Date: February 12, 2019
Publisher: Abrams Appleseed
GoodReads | Amazon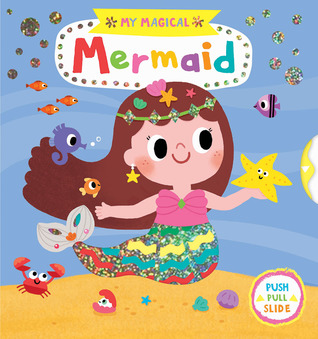 Title: My Magical Mermaid
Illustrator: Yujin Shin
Release Date: May 21, 2019
Publisher: Abrams Appleseed
GoodReads | Amazon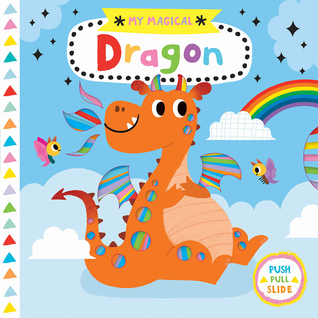 Title: My Magical Dragon
Illustrator: Yujin Shin
Release Date: October 8, 2019
Publisher: Abrams Appleseed
GoodReads | Amazon