Nerdophiles caught up with Terri Lubaroff, COO of Legion M, the first fan-owned entertainment company. Launched in 2016,  Legion M's unique business model allows people to contribute as backers to content and entertainment. Legion M partners with independent filmmakers and Hollywood studios to produce digital content that is representative to fan culture. 
Legion M has produced two horror films, that include Mandy, an outlandish horror film featuring Nicholas Cage, and The Field Guide to Evil.  They also have slated other upcoming projects like Girl With No Name, Tolkien, and the Jay and Silent Bob Reboot.
Q: I saw the previews for Mandy, but I'm a wimp and am afraid to watch it. How did that project come about?
A: It's a bonkers movie. We actually created a sub-label, Legion M Midnight, to explain why we were involved in a movie like Mandy because it was ultra-violent. We are friendly with Elijah Woods' production company SpectereVision, and they came to us with the script.  Nicholas Cage and Panos Cosmators, the director of Beyond the Rainbow, were attached to the project. At the time, we were interested but didn't have the financing. We asked them to reserve it for us and come back to us once we had financing. Most companies wouldn't do that, but they did. They showed us some of the footage that they shot, which was amazing. We loved it and decided to jump in. 
Q: Mandylooks like it is wonderfully shot and a great horror movie. Is it as scary and gory as the previews make it appear?
A: It is! It's not my personal favorite genre, but of that material, it is one my favorites to watch. Every frame of the film could be a frame of art on the wall, and Nick Cage is Nick Cage. He really leans into the creepy. The more I watch it the more I like it; it's like a fine wine. The first time you watch it you're like, "Oh my gosh, this is crazy and amazing." There's a really intense part of the movie where Nicholas Cage comes back to his house and there's a commercial for Macaroni and Cheese. The mascot is the Cheddar Goblin and the way he makes Macaroni and Cheese is by throwing it up all over you. The Cheddar Goblin has become this internet meme and t-shirts. The artist drew pictures and it sold out immediately. It has simply been amazing to see.
Q: Legion M has seen a lot of growth in the last year with a lot of content. One of the titles that drew me to Legion M was The Girl with No Name (GWNN) and I am really excited about the movie and comic. What was the driving force behind that project?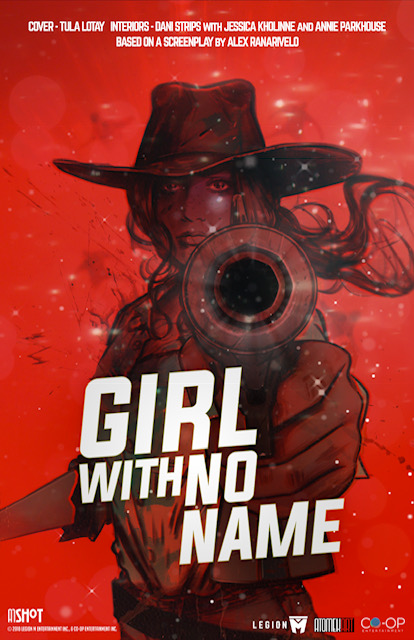 A: Yay! That project was a confluence of amazing events. We have a members-only Facebook group and we encourage them to tell us what they are thinking and a thread kept coming up as a female-driven western. I am a woman who is trying very hard to push inclusivity in the industry. With the position I am in, I have the ability to do that. Our VP of Development, David Baxter, had a relationship with Tanya Waller and Laura Ivy. They were talking about projects and the Girl With No Name was discussed.  There is not a huge appetite for those types of movies overseas and they tend to be very expensive to make. Their intention with the movie was to build a grassroots foundation and they thought a comic book was a good way to do that. It was perfect timing and we loved the story and the team.
Q: Is Legion M looking to have more female driven projects?
A: We are looking to do projects that represent our society and in those terms, what it looks like in front of and behind the camera. We want to include the point of views of diverse characters and the differing point of views. Everyone has a great story, but if you have a different perspective it turns the story on its head in a unique and different way. We are looking for stories like that. 
Q: It is really refreshing to see a more inclusive content and seeing characters that are more well rounded, how does Legion M continue to find ideas and stories that include that?
A: You know effect delta? When we read scripts I always ask, did we pass? If we didn't, there is usually something else that is affecting that, and that's fine. But I am always looking to see how this affects women, minorities, and do things in a way that we are representing all parts of society and not just one perspective.
Q: I feel like that is really important, especially when reaching out to fans at WonderCon and Comic-Con because these conventions are already inclusive and want to keep up that momentum.
A: It really is; the fans here are so inclusive and passionate and everyone here is my favorite thing and I really appreciate it.
Q: What other projects do you have coming up? I know that Tolkien is one and that you are providing tickets for a screening, but what else is upcoming?
A: We partnered with Searchlight to help with the production of Tolkien. Legion M is all about fandom and the fandom of LOTR and The Hobbit could not be any more amazing. To learn more about Tolkien's young life and what influenced him as a writer was refreshing and the cinematography was amazing. Field Guide to Evil is a horror anthology from around the world, where filmmakers took a piece of local lore from their country and produced a horror version of that. It's really good. It's in theaters and VOD. It was a micro-budget film two years in the making and we really hope that it does well. And then…we have the Jay and Silent Bob Reboot! 
Q: How did Legion become involved with the Jay and Silent Bob Reboot?
A: Stan Lee was a huge supporter of Legion M and a good friend. We shot a pilot with him called Icons: Face to Face, and asked Stan Lee who the number one person to interview would be and he chose Kevin Smith. We approached Kevin and asked if he would be willing to interview Stan, and he said of course. Since then, Kevin has been a huge supporter of Legion M and even did the handprint ceremony with Stan Lee. We asked him a year ago, "You've done so much for us what can we do for you?" He said, "Well, I have this little movie I'm thinking about doing…"  which turned out to be the Jay and Silent Bob Reboot. We couldn't say no, it's Kevin Smith! We want to work with amazing and nice people and Kevin fit the definition of who you want to work with."
Q: What upcoming projects would you like to highlight for Legion M?
A: Pre-sale for Girl with No Name is on Kickstarter right now. They are doing really well and they have 20 days left. I would like to encourage people to support it if they can. They can get pre-sale of the book and merchandise, but there are also opportunities that not a lot of people have access to. For instance, if you are an artist who is interested in working in the comic book industry, you can get your portfolio reviewed by our editor and art director. You can also have a script read and reviewed by myself or Laura Ivy and the director of GWNN is willing to sit down with someone and talk about how to be a director in Hollywood. This is a really unique opportunity that isn't seen with a lot with other Kick Starters. 
The other thing is, this is what Legion M is all about. People that are a part of the Kickstarter are able to participate in the development meetings and we talk about casting and the vision of the film. We will open that to the Kickstarter supporters and they will have an influence in where the movie goes.
Q: Where do you hope Legion M will go in the future?
A: Our goal is to bring fans together and accomplish something in entertainment that allows them to feel like they are apart of a community. As long as we are accomplishing that goal we will be successful, because it's about building a community that is passionate and feels listened to and taken care of. If we are satisfying that community and that need I feel like we wont be stopped.