The Kid Who Would Be King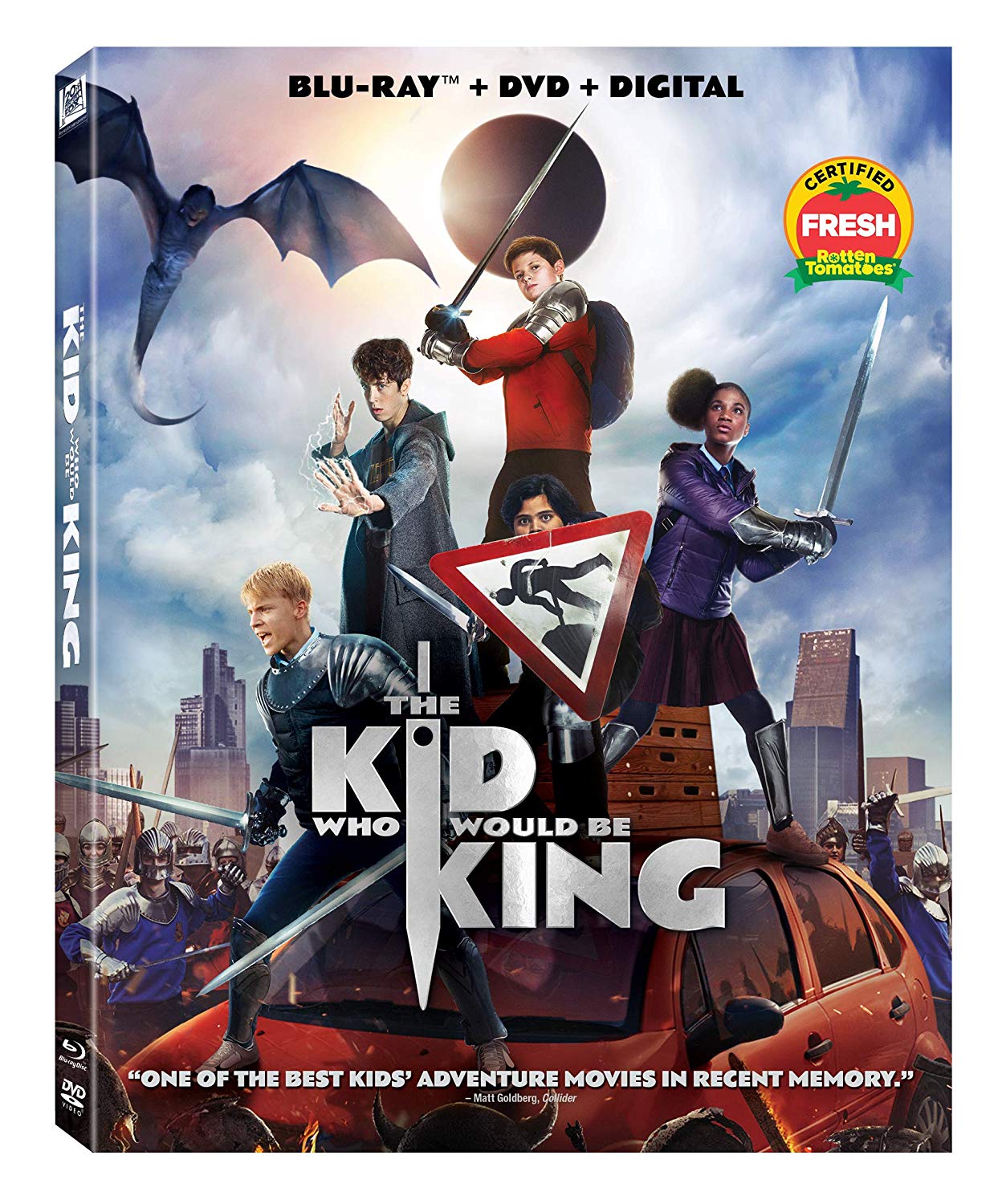 Release Date: April 16, 2019
Cast: Louis Ashbourne Serkis, Dean Chaumoo, Tom Taylor, Rhianna Dorris, Angus Imrie, Rebecca Ferguson
Studio: 20th Century Fox
Extra Feature Rating: ★★★★☆
Rating: ★★★★☆
Review Spoilers: Low
Amazon | IMDB | Wikipedia | RT
When I first heard of The Kid Who Would Be King I didn't expect to like it as much as I later would. The trailers made it look a little bit silly when in reality it's a classic example of a fun-for-all kids' movie the likes of which we don't see nearly enough any more. I grew up on movies like The Goonies, Hook, Hocus Pocus, and Jumanji. The Kid Who Would Be King feels cut from a similar cloth.
The Kid Who Would Be King is a fast-paced, exciting film full of humor and action-packed moments. It's the kind of movie you can sit and watch with kids of any age without needing to worry about things being too scary, too obscene, or too out there.
At it's heart, The Kid Who Would Be King is – obviously – a modern version of the legend of King Arthur focusing on the 'future king' portion of the 'Once and Future King' title. A young man named Alex Elliot finds Excalibur on a construction site while trying to run away from bullies and suddenly finds himself unwittingly tasked with saving the world.
His best friend, Bedders, joins him on the journey as do two bullies who have tormented him relentlessly since the beginning of the school year. Merlin shows up, too, to guide the inexperienced youngster in the guise of a young man himself (at least most of the time). Together they take on dark, demonic forces and work to save the world from the return of Morgana.
Alex is a hundred percent a stand-in character for any child (or adult, really) watching which is one of the reasons the movie works so well. He could be anyone. What's funny, though, is that he knows it. There's a moment where the fact that his mysterious relationship and now claim to Excalibur came on just as unexpectedly or suddenly as something from Harry Potter or Star Wars.
The rest of the cast is fantastic and Bedders is by far my favorite character. The encouraging, loving best friend refuses to let Alex give up even when faced with some very disappointing revelations. He frequently invokes the names of beloved character partnerships like Frodo and Samwise and Han and Chewie. Basically he's the biggest nerd and I love him.
Now, as much as I love this movie I will say that at almost to hours it is long. While it's perfectly suited for viewers of all ages you may want to think about how much patience the kids in your life may have. If they aren't ready to sit through nearly two hours then you may want to wait a few years. But for kids in elementary and middle school this movie is absolutely perfect for a family movie night! And it may just get kids interested in reading the original King Arthur legends if they haven't before.
As far as special features go, the most entertaining one for my twelve year old came in the blu-ray comb pack case itself. The Kid Who Would Be King 'includes 4 Activity Sheets' which include a short, guided work out as well as other activities. Probably the most entertaining was a Mad Libs style create-your-own proclamation that we had a lot of fun making a silly as possible.
On the disc and the Movies Anywhere app, though, you can find several other special features. Heads up, parents. They are long. Awesome. But also long.
Origins of a King is a great behind-the-scenes featurette is really fun to watch and just the right length to keep kids interested, too. It talks a lot about the initial idea behind the film which Joe Cornish apparently had in his head ever since he was thirteen. They also talk a lot about casting the various characters, filming, and more. It's pretty great to see just how into the whole thing Joe Cornish was but that's to be expected when you're working on a dream you've had since you were a kid!
Young Knights focuses primarily on filming with the young actors who brought The Kid Who Would Be King to life. They also talk about the various characters and what drives them which is fun – but at just over twelve minutes it might be a bit much some younger viewers. Knight School – which talks about the training the kids underwent to swordfight with demons, ride horses, and more – may be a better choice (though it's long, too)!
There are a handful of other special features that focus on other topics. Two Merlins and Meet Morgana focus on their titular characters. Meanwhile Movie Magicfocuses more on the making-of the film, filming on set, special effects, and more.
There's also a few deleted scenes and some costume and make up tests to check out as well!
I really enjoyed The Kid Who Would Be King and it's worth watching if just for the final, epic battle scene. If you have kiddos at home or want a nostalgic, kid-friendly adventure like the ones you grew up with you can't go amiss with this one. The Kid Who Would Be King is fun and fast-paced and doesn't necessarily feel like the nearly two hour kids' epic that it is.
The Kid Who Would Be King is available today on blu-ray combo pack and Digital HD!