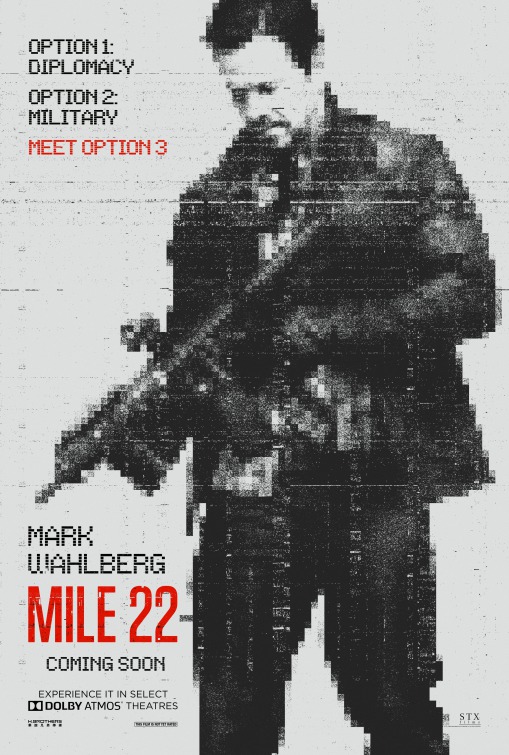 Release Date: August 17th, 2018
Cast: Mark Wahlberg, Lauren Cohan, John Malkovich, Iko Uwais, Ronda Rousey, and CL
Director: Peter Berg
Studio: STX Films, H. Brothers
Distributor: STX Films
IMDB | Rotten Tomatoes | Wikipedia
Spoilers: Low
If you had asked me a year ago the likelihood of liking the next Peter Berg-Mark Wahlberg movie, I would have said slim. The pair had been on quite the tear of hoo-rah America! flicks. Not bad, but surely declining in quality as they lost steam.
First it was Lone Survivor, then Deepwater Horizon, then Patriot's Day. They weren't the worst movies I'd seen, but they definitely had their moments. There's something about the 'True American Hero Story' that can rub the wrong way.
Mile 22, working off a screenplay from Lea Carpenter, returns to an entirely fictional plot and the movie is better for it, letting the plot get wild, visceral, and less jingoistic.
Mark Wahlberg is Silva, a special ops guy with ADHD (sort of like Ben Affleck's The Accountant) who runs a team doing what needs to be done. When a source comes to the American Embassy and begs for extradition in exchange for the location of missing bomb materials, it is up to Silva and his team to take him the 22 miles to safety. As you'd imagine, things don't go the way they'd like.
First and foremost, this movie is action packed, and keeps to a tight 94 minutes. Those two things matter because, that's about all this movie offers. There's no heady plot, moral contemplation of right or wrong (though scenes of Wahlberg discussing the nature of war seem to suggest it), just ass kicking and explosions the whole way through.
For once, Wahlberg is hardly the main deliverer of these beat-downs, that role instead being given to The Raid: Redemption star Iko Uwais who brutally battles people throughout. The fist fights are reminiscent of that action that came before. To be sure, Wahlberg and his crew (Cohan, Rousey) are no slouches either and the gun-play is furious.
The plot winds and weaves before reaching a satisfactory… I hate to say conclusion because the movie certainly suggests there is more to come. And I'm… kinda on board? I'd definitely watch it. Because this movie was better than the marketing, or Berg/Wahlberg's past efforts had me expecting.

While the movie uses the, by know quite familiar 'The bad guy wanted to be caught!' trope, it uses it in a more effective manner than most. It isn't a second act stepping stone, instead we see that here the bad guys were much more prepared and capable than we gave them credit for and it spurs on the final tense scenes.