Title: ARROWHEART
Author: Rebecca Sky
Pub. Date: June 14, 2018
Publisher: Hodder
Formats: Paperback, eBook
Pages: 384
Find it: Goodreads | Amazon | TBD

Kiss the boys and make them cry…
The gods are gone.
The people have forgotten them.
But sixteen-year-old Rachel Patel can't forget – the gods control her life, or more specifically, her love life.
Being a Hedoness, one of a strong group of women descended from Greek God Eros, makes true love impossible for Rachel. She wields the power of that magical golden arrow, and with it, the promise to take the will of any boy she kisses. But the last thing Rachel wants is to force someone to love her . . .
When seventeen-year-old Benjamin Blake's disappearance links back to the Hedonesses, Rachel's world collides with his, and her biggest fear becomes a terrifying reality. She's falling for him – a messy, magnetic, arrow-over-feet type of fall.
Rachel distances herself, struggling to resist the growing attraction, but when he gives up his dream to help her evade arrest, distance becomes an insurmountable task. With the police hot on their trail, Rachel soon realizes there are darker forces hunting them – a group of mortals recruited by the gods who will stop at nothing to preserve the power of the Hedonesses – not to mention Eros himself, who is desperate to reverse the curse . . .
Rachel must learn to do what no Hedoness has done before – to resist her gift – or she'll turn the person she's grown to love into a shadow of himself … for ever.
Nerdophiles Review
Arrowheart is a spunky, fresh take on Greek gods interfering in everyday life. This book reminded me a lot of Leigh Bardugo's Wonder Woman: Warbringer adaptation because it has a strong, young heroine with superpowers struggling to find her place in the world and going on an adventure, all while gods pull strings behind the scenes. I didn't particularly enjoy Warbringer but I did like Arrowheart.
The book is centered around Rachel, a teenage hedoness who isn't cool with using her powers to enslave men. When boys start disappearing and things spiral out of control with local law enforcement, Rachel tries to find a way to keep her family safe. Along the way, she meets and falls in love with Ben, an aspiring policeman and faces a moral dilemma: can she ever really have a romantic relationship with a man when her power erases his free will?
The concept felt new and author Rebecca Sky doesn't allow the action to get too mired down by Rachel's defeatist self-loathing. Both Rachel and her friend are written realistic and age-appropriate for teenage girls, and the plot soars along nicely with equal bits of lore and action.
My only complaint is that I wish I had a warning that this book was the first in a new series. There isn't anything worse than getting to what you think is the end of a self-contained book and having any sense of closure ripped away to be continued in the next novel. Arrowheart's ending did exactly that: it teased a grand finale, and then deus ex machina whisked the characters away into the shadows of a nefarious, elite secret world order.
Other than the ending, this book is a charming YA read. I highly recommend it for fans of Greek mythology and who enjoy an age-appropriate YA romance. Sky's world is delightful and multi-layered, and her characters make you alternately root for them and get frustrated with them and ultimately understand them in a way that's truly lifelike.
Arrowheart captures the emotion of being a teenaged girl and discusses the struggles of friendship and popularity along with big moral questions about the differences between love and lust — and it delivers beautifully on all fronts.
About Rebecca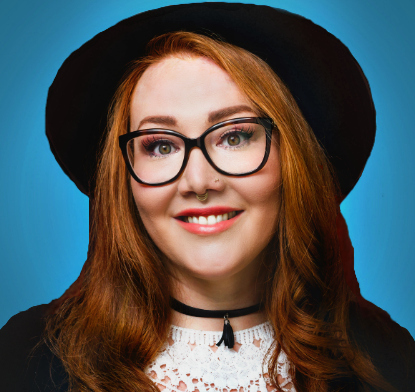 After graduating high-school, Rebecca Sky set out on a five-year, 24 Country exploration to find herself. She slept in a hammock in the Amazon Jungle, skinny-dipped off the West African Coast, ate balut and climbed the chocolate hills in the Philippines, and fell in love in Cuba (then again in Brazil, and a final time to a Rocker from Canada). Rebecca returned home to the West Coast captivated by the world and ready for another adventure.
So she did what every wanderer does when standing still—began writing. Her work has since garnered over 20 million reads on Wattpad, and she's had the opportunity to partner with some really great brands. She was featured in The New York Times and The Boston Globe, (check out those articles here). Her debut Arrowheart, book one in THE LOVE CURSE series is published by Hodder Children's Books a division of Hachette Book Group.
Website | Twitter | Instagram | Wattpad | Goodreads
Giveaway Details
1 winner will win an Owlcrate Book Subscription Box.
Rafflecopter link: https://www.rafflecopter.com/rafl/display/441692971/?
Tour Schedule
Week One:
7/16/2018- BookHounds YA– Interview
7/16/2018- Writer of Wrongs– Excerpt
7/17/2018- CoffeeCocktailsandBooks Blog– Review
7/17/2018- For the Love of KidLit– Guest Post
7/18/2018- Do You Dog-ear?– Review
7/18/2018- Fall Into Books– Excerpt
7/19/2018- Here's to Happy Endings– Review
7/19/2018- The Cover Contessa– Interview
7/20/2018- Wonder Struck– Review
7/20/2018- The Cozy Reading Corner– Guest Post
Week Two:
7/23/2018- Lauren is Reading– Review
7/23/2018- Rhythmicbooktrovert– Review
7/24/2018- Nerdophiles– Review
7/24/2018- Christen Krumm– Interview
7/25/2018- The Heart of a Book Blogger– Review
7/25/2018- Book-o-Craze– Review
7/26/2018- Snark & Squee– Review
7/26/2018- To Be Read– Review
7/27/2018- Belle's Book Blog– Review
7/27/2018- Daily Waffle– Excerpt
Week Three:
7/30/2018- Buttons Book Reviews– Review
7/30/2018- The Reading Corner for All– Interview
7/31/2018- Adventures in Literature– Review
7/31/2018- Confessions of a YA Reader– Excerpt
8/1/2018- The Desert Bibliophile– Review
8/1/2018- Book Dragon Lair– Review
8/2/2018- Sincerely Karen Jo– Review
8/2/2018- Don't Judge, Read– Review
8/3/2018- Two points of interest– Review
8/3/2018- Eating Between The Lines– Review