I am thrilled to be hosting a spot on the MOONGARDEN by Michelle A. Barry Blog Tour hosted by Rockstar Book Tours. It's an enthralling read set in a future where mankind has had to adapt to life away from a hostile Earth. It's a future where magic and science exist together.
Young readers are introduced to this new world through the eyes of Myra, a clever outcast who doubts herself and her place in society. Struggling to fit in at her new school and afraid that she can't live up to expectations, Myra unexpectedly makes a discovery that could change everything. Young readers will love Myra whose own self doubt and ultimate journey is likely to resonate with the target audience. After who hasn't felt like the outcast and hoped to someday save the world?
This is a great book for kids who love harder science fiction with a bit of fantasy thrown in. It blends a lot of genres that kids will love and you can't go wrong with a great cast of characters and such a relatable, likeable main character! Check out my post and make sure to enter the giveaway! 
About The Book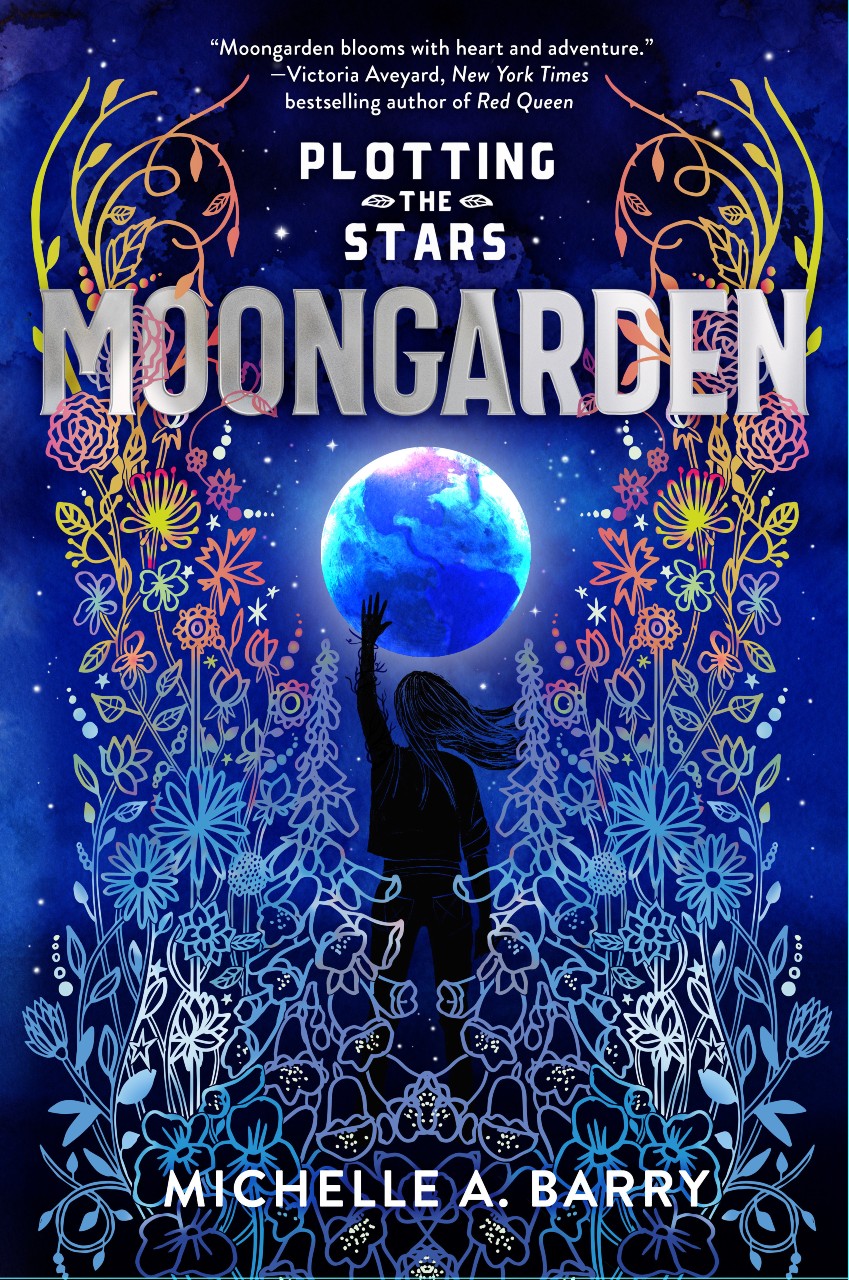 Title: MOONGARDEN (Plotting the Stars #1)
Author: Michelle A. Barry
Pub. Date: November 1, 2022
Publisher: Pixel+Ink
Formats: Hardcover, eBook
Pages: 368
Find it: Goodreads, Amazon, Kindle, B&N, iBooks, Kobo, TBD, Bookshop.org
"Moongarden blooms with heart and adventure. A stellar update of The Secret Garden, woven with a little science fiction, a lot of magic, a vibrant heroine, and a plucky robot sidekick to rival R2-D2." —Victoria Aveyard, New York Times bestselling author of Red Queen
The Secret Garden meets The City of Ember. Failed climate change policy, an intergalactic conspiracy, and the magical, unlikely heroine who could unearth it all. An explosive STEAM-inspired series starter perfect for young change makers.
Centuries ago, Earth's plants turned deadly, and humanity took to space to cultivate new homes. Myra Hodger is in her first year at an elite school on the Moon, and she's crumbling under the pressure. She doesn't fit in and, worse, the tattoos that signal her Number Whisperer magic aren't developing. In her heart, she knows she doesn't have a Creer, and soon everyone else will, too.
Wandering the halls while cutting class, she discovers a secret lab hidden behind one of the unused classrooms and, beyond that, a secret garden overflowing with plants. Dangerous toxic plants.
As she learns more about the garden, Myra begins to wonder if she does have a Creer after all—one that died out when the Earth did. One that could help solve the food shortages the government doesn't want anyone to know about.
Re-envisioning The Secret Garden for a new generation, Moongarden weaves together STEAM themes and intense social pressures in a stunning series starter, and introduces a dynamic heroine who might just grow a revolution.
About Michelle A. Barry
Michelle A. Barry grew up in Springfield, Massachusetts, and was later cajoled over the border into Connecticut by her future husband. She has worked as a newspaper reporter, freelance writer and editor, and marketing professional. She currently lives in Connecticut with her charming husband and their two delightful children. Moongarden is her first novel.
Website | Twitter | Instagram | Goodreads | Amazon 
Giveaway
1 winner will receive a finished copy of MOONGARDEN, US Only.
End November 8th, midnight EST.
a Rafflecopter giveaway
Tour Schedule
Week One:
Week Two: