A Wrinkle in Time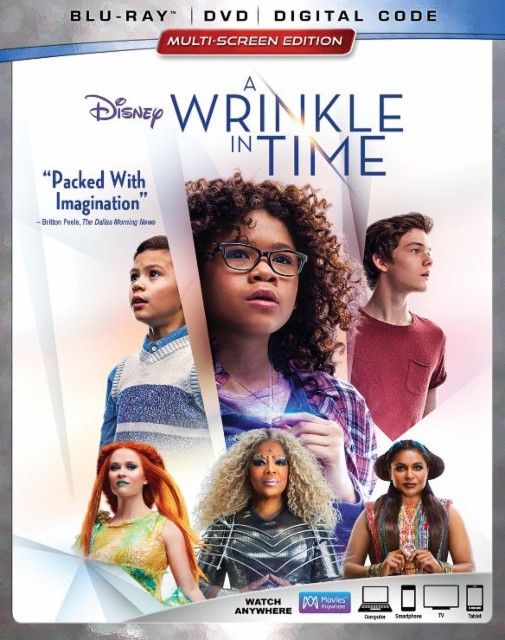 Release Date: June 5, 2018
Cast: Storm Reid, Levi Miller, Deric McCabe, Oprah Winfrey, Reese Witherspoon, Mindy Kaling, Chris Pine, Gugu Mbatha-Raw
Studio: Walt Disney Studios Motion Pictures
Extra Feature Rating: ★★★☆☆
Rating: ★★★☆☆
Review Spoilers: Moderate
Amazon | IMDB | Wikipedia | RT
Madeleine L'Engle created a masterpiece in her classic novel A Wrinkle In Time. It has been fascinating young readers and students for decades and it was only inevitable in this era of adaptations and remakes that we would see a modern interpretation of this novel. But instead of some cookie cutter adaptation director Ava DuVernay truly made this story her own.
In our original review, Cody Eastlick stated that A Wrinkle In Time was "visually astounding, [but] it isn't particularly deep." And I agree with his assessment that this is okay. A Wrinkle In Time is an amazingly beautify and stunning film that amazes at every turn. DuVernay and the production team really do some awesome things throughout and A Wrinkle In Time will always have a special place as a truly gorgeous film.
The story can be super compelling at times and it shines when it focuses on the relationship between the characters. While the different worlds it envisions are stunning their use is a little less effective than it could have been and was in the original source material. (Even the original miniseries I think used the locations and scenes better — though it has been a long time since I've last seen it.) But the cast does such an amazing job and the film looks so good that it's hard to hold all that against the film.
Seriously, everyone in this movie is amazing.
I couldn't imagine a better casted film than this and I want to shout from the rooftops how much I love them all. Storm Reid, Levi Miller, and Deric McCabe absolutely killed it. They have some incredible talent and did a fantastic job carrying the story among the number of big names that joined them on screen. The casting for Mrs. Which, Mrs. Whatsit, and Mrs. Who was absolutely inspired and you will never convince me to see them as anyone else ever again. And I would pay to see Chris Pine and Gugu Mbatha-Raw play adorable parents time and time again. Even the supporting characters and their respective actors are great.
In short, it's an amazing looking and incredibly well-cast film that may not be an instant favorite but that will still provide a great experience.
Special Features
There are a surprisingly small number special features on this release but they cover a lot of ground. These days a lot of home releases opt for a handful of short, sometimes not very substantive making-of featurettes. A Wrinkle in Time, instead, puts most of it's behind the scenes coverage in one half hour feature that is more than worth watching for fans of the film, A Journey Through Time. They do a fantastic job of covering a lot of the aspects of the film — from adapting the novel to the filmmaker's unique vision to costuming and more.
The rest of the special features round out the basics. A Wrinkle in time has four deleted scenes that help fill in some parts of the film. There is also an audio commentary, bloopers real, and a couple of music videos for some of the original songs featured in the film.
It's a bit sparse admittedly. It would have been nice if they had thrown in something highlighting the importance of the film
Final Thoughts
A Wrinkle In Time is one of those perfect family movie night films. It's a gorgeous movie with a stellar cast that can appeal to a wide range of viewers. It's a science fiction movie to it's core so you'll probably want to make sure you watch it with fans of the genre. But even if you're not usually into the science fiction or fantasy it has some really redeeming qualities that make it a film anyone can at last sit down and enjoy.
A Wrinkle In Time is out today on blu-ray combo pack!