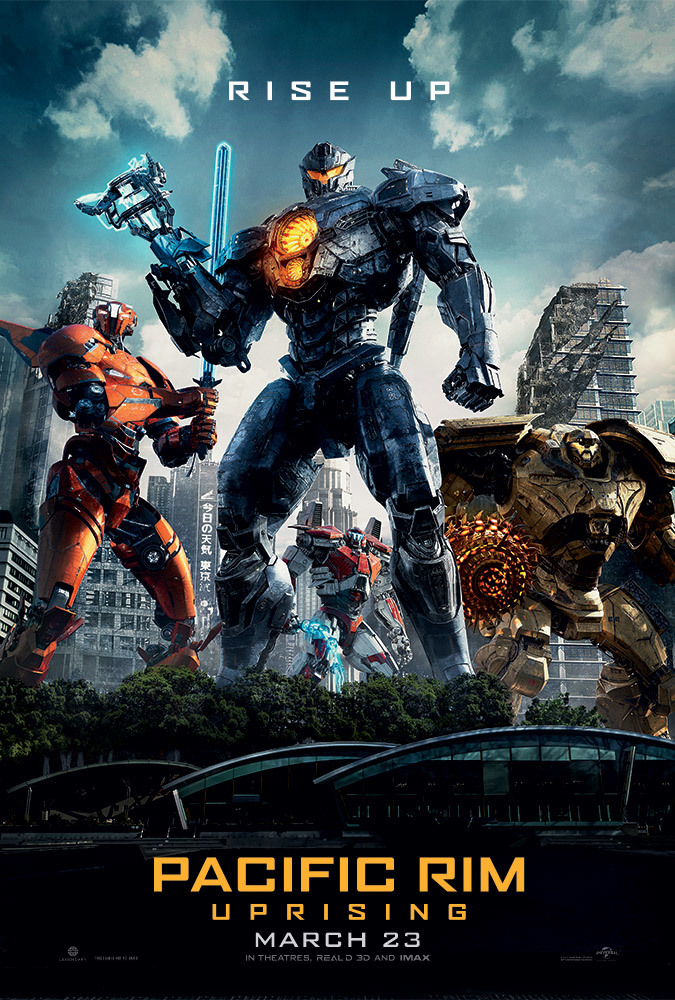 Release Date: March 23, 2018
Cast: John Boyega, Scott Eastwood, Cailee Spaeny, Jing Tian, Adria Arjona and Zhang Jin, with Rinko Kikuchi, Charlie Day and Burn Gorman
Director: Steven S. DeKnight
Studio: Legendary Pictures, UpperRoom Entertainment Limited, DDY
Distributor: Universal
IMDB | Rotten Tomatoes | Wikipedia
Spoilers: Mild

We here at Nerdophiles are unapologetic
Pacific Rim
junkies. We
love
Guillermo del Toro's 2013 love letter to mecha anime for all of its action-packed, cheesy glory. So when it was announced there was going to be a sequel, but it wasn't going to be del Toro, you can imagine our fluctuating excitement and worry over the years as the project came to fruition.
So. Here it is.
And you know? It ain't terrible! Luckily! The movie very much shares the same DNA as the original Pacific Rim. There are moments that will have you rolling your eyes with their absurdity, but give the movie about five minutes and it will offer something cool to make up for it.
Don't get us wrong, just like the first one, those cool moments can also be a little absurd. There is a smaller robot rolling around like an armadillo, there are new jaegers, new enemies, jokes! All sorts of good stuff.
Pacific Rim: Uprising owes the original Pacific Rim quite a bit. Del Toro's film did such incredible world-building and plotting that it left plenty of room for folks to play in (even though at the end of the movie the breach was sealed). And so when Uprising picks up, it is in a world that has begun to move on from the threats. But not too far on.
Businesses are planning the next phase of defense. Using research and science from Charlie Day's Newt, who is now dressed a bit like Hannibal Chau from the original, the Shao corporation wants to make Earth defense and jaeger piloting into a drone program. Mako Mori recruits Jake Pentecost to keep the Ranger program alive. All of that changes when a rogue Jaeger attacks.
As much as Pacific Rim: Uprising's success is based on the original, it is disappointing to see so little of the original carried into it. Aside from Day and Gorman, there isn't much from our original favorites in Mako or Raleigh, who is noticeably absent and no real excuse is given.
But the Jaegers are fun. The weapons are cool. Again, everything is fun even if it is a little dumb at times. This is not surprising from a movie that swaps its unique personalities for a majority of a kid-cast. Scott Eastwood is doing his usual, playing rough, tough military guy. Boyega, on the other hand, is a delight. He is allowed to lean into his goofy personality and the movie plays with it, making it clear that he isn't meant to be Stacker Pentecost 2.0.
And that's something! The movie presents a theme for itself even if it doesn't do the best job following up on it. That these children, these characters, and the movie itself, is not the same as its forebearers. It will be different, but it will do its best to make them proud.
Pacific Rim: Uprising is fun, even if it doesn't quite recapture the surprising delight of the original. It has its low moments, but it keeps chugging along despite them and makes up for those missteps. If you're a fan of the original Pacific Rim then you owe it to yourself to catch this. Just keep your expectations in check. It's hard for anyone to match the passion and creativity of Guillermo del Toro.