Star Trek: Starfleet Academy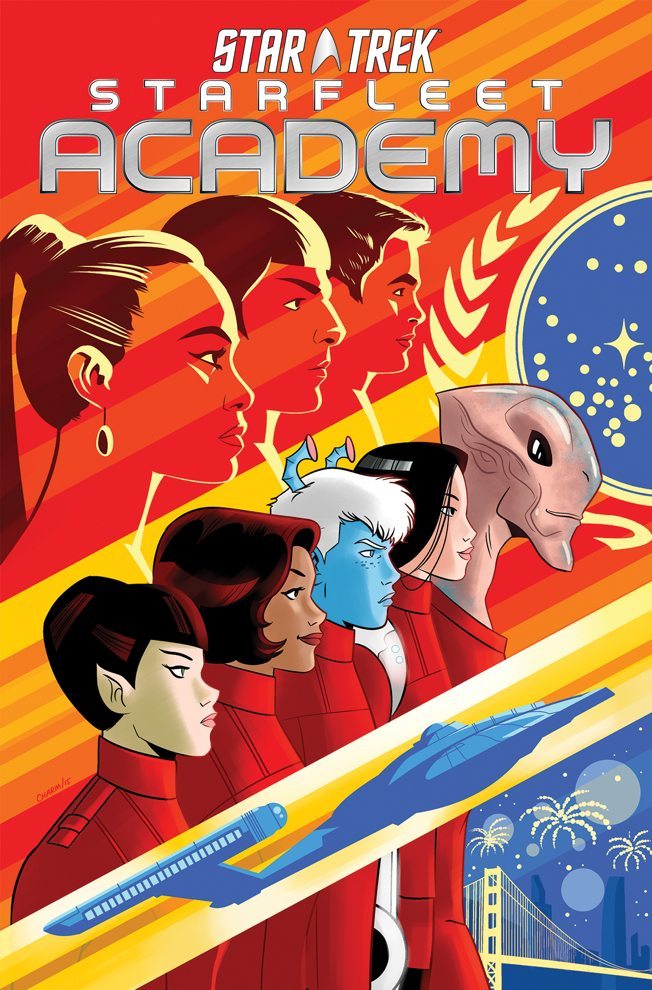 Writers: Mike Johnson and Ryan Parrott 
Artist: Derek Charm
Release Date: August 16, 2016
Publisher: IDW Publishing
Genre(s): Sci-Fi, Media Tie-In
Review Spoilers: Mild
GoodReads | Amazon 

For generations of
Star Trek
fans, Starfleet Academy has had a sort of Hogwarts-like allure. Imagine a place where you could go to learn just about anything your heart desired in preparation for a career in one of the most hopeful, inter-planetary organizations ever devised. While the numerous television series have spent a relatively short amount of time exploring the storytelling potential of Starfleet Academy, the institution has garnered a lot more attention in the numerous tie-in novels, comics, and more.
Starfleet Academy has also featured fairly prominently in the reimagined Star Trek film series beginning with Star Trek (2009) and this is where we pick up in IDW's Star Trek: Starfleet Academy. Set in the same alternate timeline as the recent film franchise, Star Trek: Starfleet Academy is a fantastic place for new fans to jump into the Star Trek comics. While there is an on-going Star Trek comic book series currently being released, Star Trek: Starfleet Academy was a short, self-contained series that ended earlier this year.
I'm so sad that it ended after just five issues because it was thoroughly enjoyable, it's a great first volume for people to check out.
The series follows two groups of Starfleet Academy students. The first include the characters we already know and love who end up becoming the crew of the USS Enterprise. The second is a group of students attending the academy a few years later. A common mystery is uncovered by Uhura as a student binds the two groups together. The comic jumps back and forth from these two sets of students. While Uhura tries to solve her mystery with the help of a few familiar faces, the other group is preparing for an academic competition against a group of other galactic academies.
I loved the new characters and found them all to be very compelling. Chief among them was T'Lann, a Vulcan survivor who began attending Starfleet Academy the day her planet was destroyed. She's intending to leave and return to New Vulcan to help her people build their new home and rebuild their species – but with a little encouragement from a faculty member she gives the Academy one last shot and enrolls in this competition. She had a hard time fitting in at the Academy but despite their differences, the team really comes together.
It's a lot of fun getting to know T'Lann – and the others, too. That's the primary reason I wish this was an on-going series. I'd love to see what else they get up to in their next few years at the Academy!
Star Trek: Starfleet Academy is a really fun read that basically offers everything I could ever have wanted. You have an awesome group of new, diverse characters. You get to see some familiar faces. And you get to see the resolution to a century-long mystery stretching back to the earliest days of the Federation. If you're looking for a good, quick Star Trek-related comic to read then this one is perfect! Check it out if you get the chance. If nothing else it'll pass the time until the Star Trek Beyond DVD comes out in November!

A REVIEW COPY OF STAR TREK: STARFLEET ACADEMY WAS PROVIDED BY THE PUBLISHER VIA NETGALLEY IN EXCHANGE FOR A FAIR AND HONEST REVIEW. NERDOPHILES WAS IN NO WAY COMPENSATED FOR THIS REVIEW. OUR OPINIONS ARE OURS AND OURS ALONE.