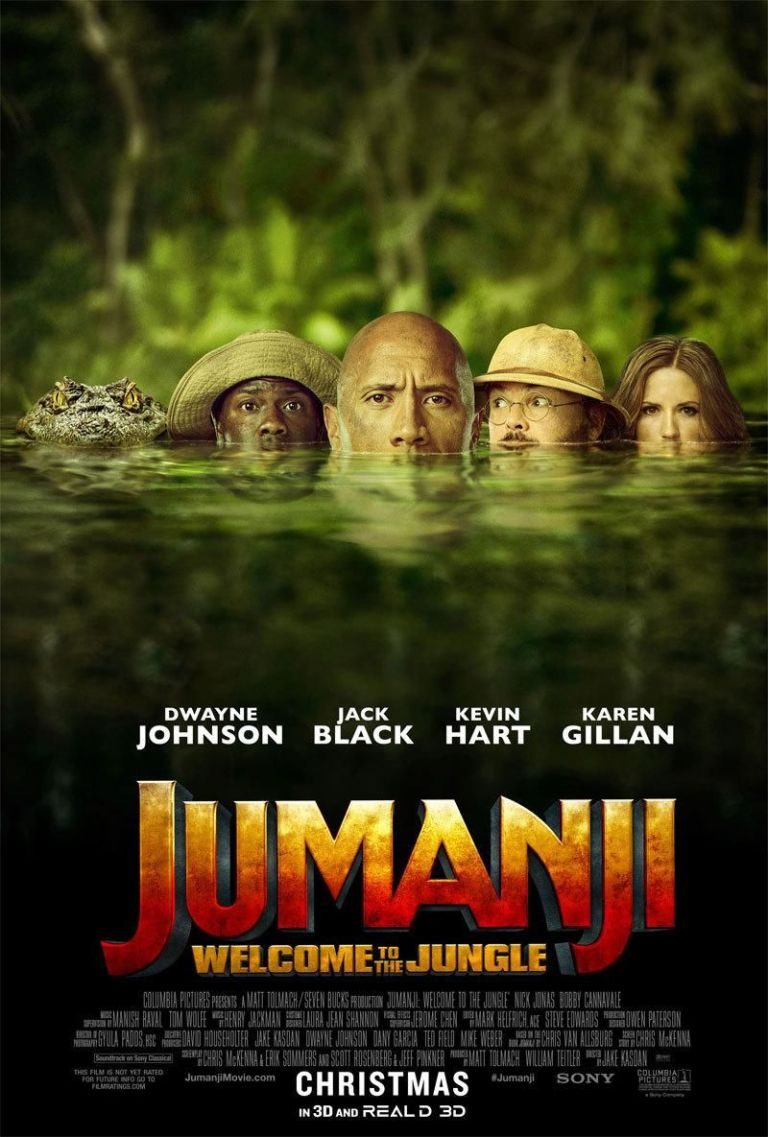 Release Date: December 22, 2017
Cast: Dwayne Johnson, Jack Black, Kevin Hart, Karen Gillan, Nick Jonas, Bobby Cannavale
Director: Jake Kasdan
Studio: Columbia Pictures, Seven Bucks Productions
Distributor: Sony Pictures Entertainment
IMDB | Rotten Tomatoes | Wikipedia
Spoilers: Mild
The latest reboot/sequel take on a beloved 90s kid's flick is here with
Jumanji: Welcome to the Jungle
, and you know what? It is better than I could have ever expected. Directed by Jake Kasdan (
Walk Hard, Bad Teacher, Sex Tape
) and written by Chris McKenna (
Spiderman: Homecoming, The LEGO Batman Movie
) this movie has comedy in its blood that serves it well.
The movie begins 20 years ago, right where the 1995 Jumanji left off, with the board game washing up on a beach somewhere. A man takes it home to his metalhead youth who has no interest in board games. Through mysterious and unexplained magic Jumanji the board game becomes Jumanji the retro video game, claiming the first soul. Jump to modern day where we meet our cast of kids: Spencer the Video Game Nerd, Fridge the Jock, Bethany the Popular Girl, and Martha the Book Nerd.
Through various circumstances they find themselves sucked into the game of Jumanji, where they will have to learn to work together to survive, lest they run out of lives!
The cast on the poster then takes over. Jumanji '17 is a far different beast from Jumanji '95, but that doesn't make it bad. Where the original is magical and dark, as the board game comes to the real world attacking the whole town, the newer film is much more concerned with fun, as the cast get sucked into the game like Robin Williams' character in the original.
There they work to recover and return a lost artifact to win the game and the right to go home. As a send-up of video games, they get a few lives, strengths and weaknesses, and abilities to toy around with.
The Rock and Kevin Hart's chemistry continues to serve as a focus as they play the Freaky Friday swapped versions of Spencer and Fridge. The Nerd becomes The Rock, while footballer Fridge turns into the diminutive Hart. The real legwork gets done by Jack Black. Black plays Bethany as Dr. Shelly Oberon, the cartographer. What we get is a vain, but misunderstood, teenage girl in the body of a plump middle-aged man with the usual jokes you'd expect.
The jokes you wouldn't expect that bring about a great number of laughs are the dick jokes. Yeah. Dick jokes. Coming out of left field, we are given a few of the cruder low brow humor and they all land stupidly well, not too gross, not too vulgar. It took me by surprise.
The plot is the usual: learn to work together, become friends again, understand each other high school story we have seen time and time again. It works well in Jumanji because of the body swapping conceit, allowing for the characters to have to know each other's interior selves, but the movie never really gets that deep.
Jumanji: Welcome to the Jungle is the comedic sequel of a 90s children's movie we didn't know we wanted, put together by a bunch of comedic goons who get the angle of those who grew up with it. It is better than expected, but not nearly as magical as the original.
Jumanji is in theaters now.