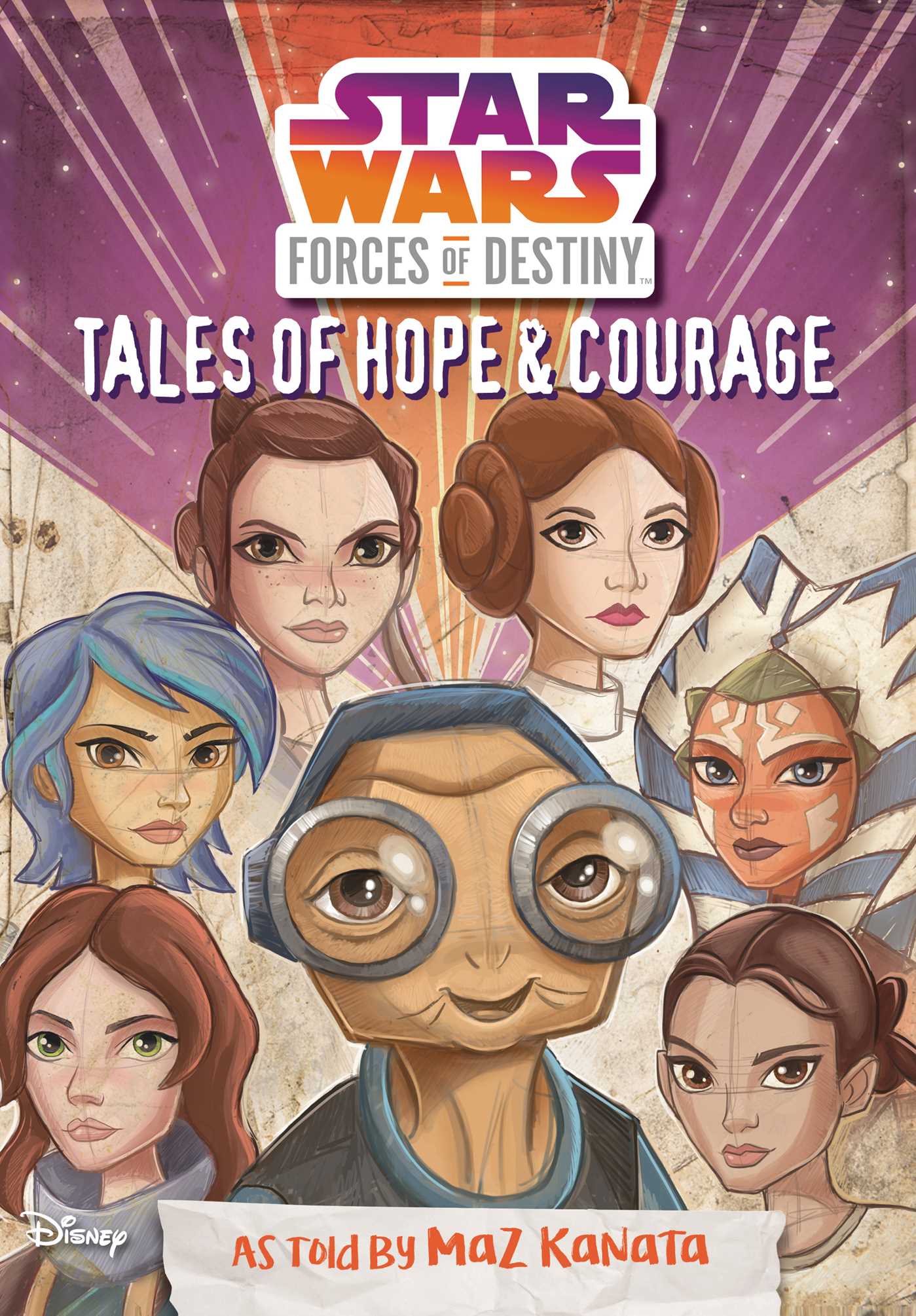 Title: Forces of Destiny: Tales of Hope & Courage
Author: Elizabeth Schaefer
Illustrator: Adam Devaney
Release Date: October 17, 2017
Publisher: Studio Fun International
Review Spoilers:
GoodReads | Amazon

The
Star Wars
franchise has always had some pretty strong, awesome female characters but they've really been called to the forefront in recent years.
The Forces of Destiny campaign in particular has sought to highlight these heroic characters for a new generation of young fans. Tales of Hope & Courage shares stories about six of the greatest heroines from across all of the Star Wars eras including General Leia, Rey, Sabine Wren, Ahsoka Tano, Padmé Amidala, and Jyn Erso.
The book is told from Maz Kanata's point of view and is told as if she is writing a journal or diary that she fully expects someone else to find. It features an introduction that's very similar to the animated YoutTube shorts that first launched Forces of Destiny. In fact, each of the stories Maz tells is essentially a re-telling of one of those previously released shorts.
Young fans will recognize the characters and situations but Maz delves a bit further into the stories in this book. There are a few extra scenes thrown in and she provides a little more background for the characters and their relationships.
Maz's narration also gives young readers an idea of how each of the young women feels as these situations play out. We hear about how anxious Sabine is as she tries to rebuild her friendship with Ketsu. We see how lonely things can be for Padmé as she spends her days surrounded by older bureaucrats rather than friends her own age.
Young readers are then prompted to empathize with the characters. They're asked about times that they too may have felt anxious or lonely or afraid to do the right thing. Tales of Hope and Courage doesn't just show these characters as heroes but discusses with readers what it is about their actions and choices that makes them so heroic. It then encourages them to act similarly in their own lives.
I really enjoyed the stories and I liked that they were expanded beyond the scope of the original shorts. The Forces of Destiny tales are great in that they give young readers some brand-new, original stories about their favorite characters. Unfortunately, this book (and really the whole series) limits Rey's actions to those after BB-8 joins her. And if anyone is hoping to see Padmé being her awesome self they will probably be disappointed (as I was) that her particular story is more or less just a second Ahsoka Tano tale.
Still, it's an entertaining read and the stories are great.
Every story is accompanied by a series of illustrations and at least one (usually two) larger pull-out pages. The illustrations are intentionally meant to feel a little rough and unfinished since the book is supposed to be Maz Kanata's personal journal. You'll see the line work still showing through the otherwise finished images. It gives the illustrations a unique look that I really enjoyed. The text has that same handwritten look, too.
Forces of Destiny: Tales of Hope & Courage would be a great pick for young readers especially young girls who love Star Wars (and may be afraid that Star Wars isn't quite girly enough). Whether they've seen the animated shorts before or not, the book has some really great stories featuring their favorite characters. It's a fun read — and it'd be especially fun for young fans and their folks to read together.