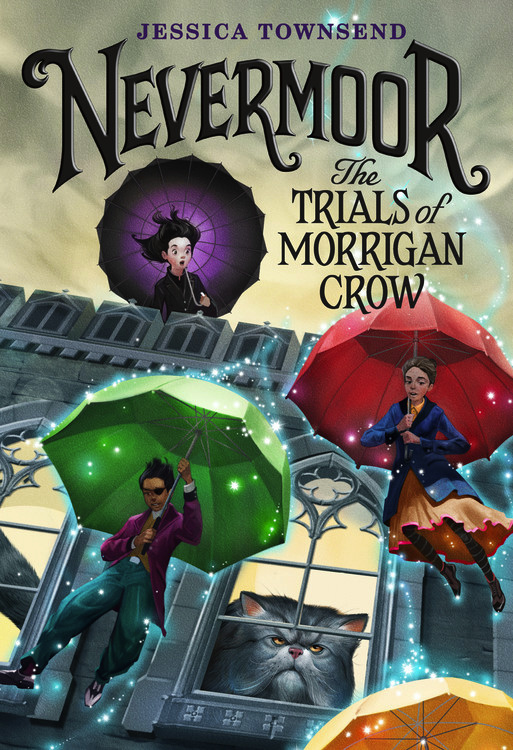 Title: Nevermoor: The Trials of Morrigan Crow
Author: Jessica Townsend
Series: Nevermoor #1
Release Date: October 31, 2017
Publisher: Little, Brown Books for Young Readers
GoodReads | Amazon
Debut author Jessica Townsend is ready to take us all on a journey to Nevermoor to join the Wundrous Society in Nevermoor: The Trials of Morrigan Crow! It is the first book in a new middle grade fantasy series following a young girl a she ventures into a strange and magical new world. After living her life as an outcast in her own world she's determined to find a place for herself no matter how harsh the competition. Because unlike the other children vying for a spot in the Wundrous Society her life depends on it and failure is not an option!
If you've been browsing Amazon's recently released editors' lists of the best books 2017 you may be familiar with this book. Nevermoor: The Trials of Morrigan Crow is one of their top picks for middle grade readers in the Age 9-12 range. Thanks pretty big praise – especially for a book that's only been out for a few weeks!
But that's one of the reasons we're so excited to share this book with you all. We're going to get a full review up for you in the next week but in the mean time I'm happy to say that we've partnered up with the publisher to host a giveaway in celebration of the book's publication!
One lucky winner will receive a copy of Nevermoor: The Trials of Morrigan Crow as well as a Nevermoor lapel pin and an in-universe Hotel Deucalion branded pen and notepad to go along with it all!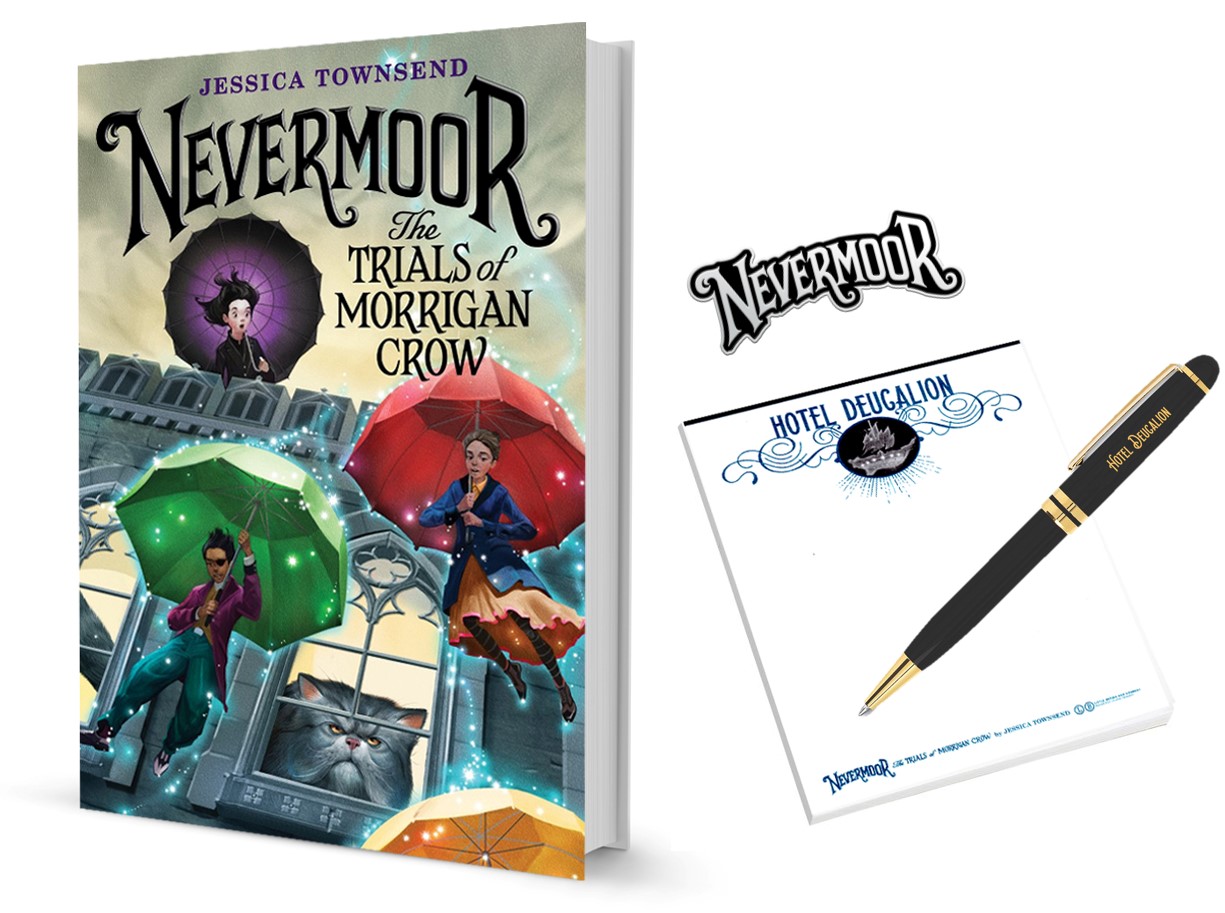 The giveaway is sponsored by Little, Brown Books for Young Readers. They've provided all samples and prizes. Unfortunately, this giveaway is only open to US residents. The giveaway will begin Monday, November 20th and end at midnight on Monday, December 4th.
Enter now while you can!
The Nevermoor Giveaway – Sponsored by Little, Brown & Co.

About the Book
A breathtaking, enchanting new series by debut author Jessica Townsend, about a cursed girl who escapes death and finds herself in a magical world–but is then tested beyond her wildest imagination
Morrigan Crow is cursed. Having been born on Eventide, the unluckiest day for any child to be born, she's blamed for all local misfortunes, from hailstorms to heart attacks–and, worst of all, the curse means that Morrigan is doomed to die at midnight on her eleventh birthday.
But as Morrigan awaits her fate, a strange and remarkable man named Jupiter North appears. Chased by black-smoke hounds and shadowy hunters on horseback, he whisks her away into the safety of a secret, magical city called Nevermoor.
It's then that Morrigan discovers Jupiter has chosen her to contend for a place in the city's most prestigious organization: the Wundrous Society. In order to join, she must compete in four difficult and dangerous trials against hundreds of other children, each boasting an extraordinary talent that sets them apart–an extraordinary talent that Morrigan insists she does not have. To stay in the safety of Nevermoor for good, Morrigan will need to find a way to pass the tests–or she'll have to leave the city to confront her deadly fate.
Perfect for fans of the Harry Potter series and Neil Gaiman, this fast-paced plot and imaginative world has a fresh new take on magic that will appeal to a new generation of readers.
Praise for Nevermoor: The Trials of Morrigan Crow
"Jessica Townsend's Nevermoor: The Trials of Morrigan Crow is more than just a spectacular debut. Exciting, charming, and wonderfully imagined, it's the sort of delightful, grand adventure destined to be many a reader's favorite book." — Trenton Lee Stewart, New York Times bestselling author of The Mysterious Benedict Society series and The Secret Keepers
"[A] spellbinding debut… Morrigan is a captivating heroine, filled with moxie and wit… Whimsical worldbuilding, humorous dialogue, and colorful supporting characters compliment an adventurous, magic-filled plot that champions bravery, self-confidence, and hope." — Publishers Weekly, starred review
"Readers, like Morrigan herself, will feel at home in this evocative novel where magic and confidence go hand in hand. An excellent and exciting work." —School Library Journal, starred review
About the Author
Jessica Townsend lives on the Sunshine Coast in Australia, but has lived on and off in London for a few years. She was a copywriter for eight years, and in a previous role, was the editor of a children's wildlife magazine for Steve Irwin's Australia Zoo. Nevermoor: The Trials of Morrigan Crow is her first novel.

ALL SAMPLES AND PRIZING ARE PROVIDED BY Little, Brown Books for Young Readers. NERDOPHILES WAS NOT COMPENSATED FOR OUR PARTICIPATION IN THIS BOOK TOUR. A HARDCOVER COPY OF THE BOOK WAS PROVIDED FOR REVIEW PURPOSES. A FULL REVIEW IS FORTHCOMING.