Cars 3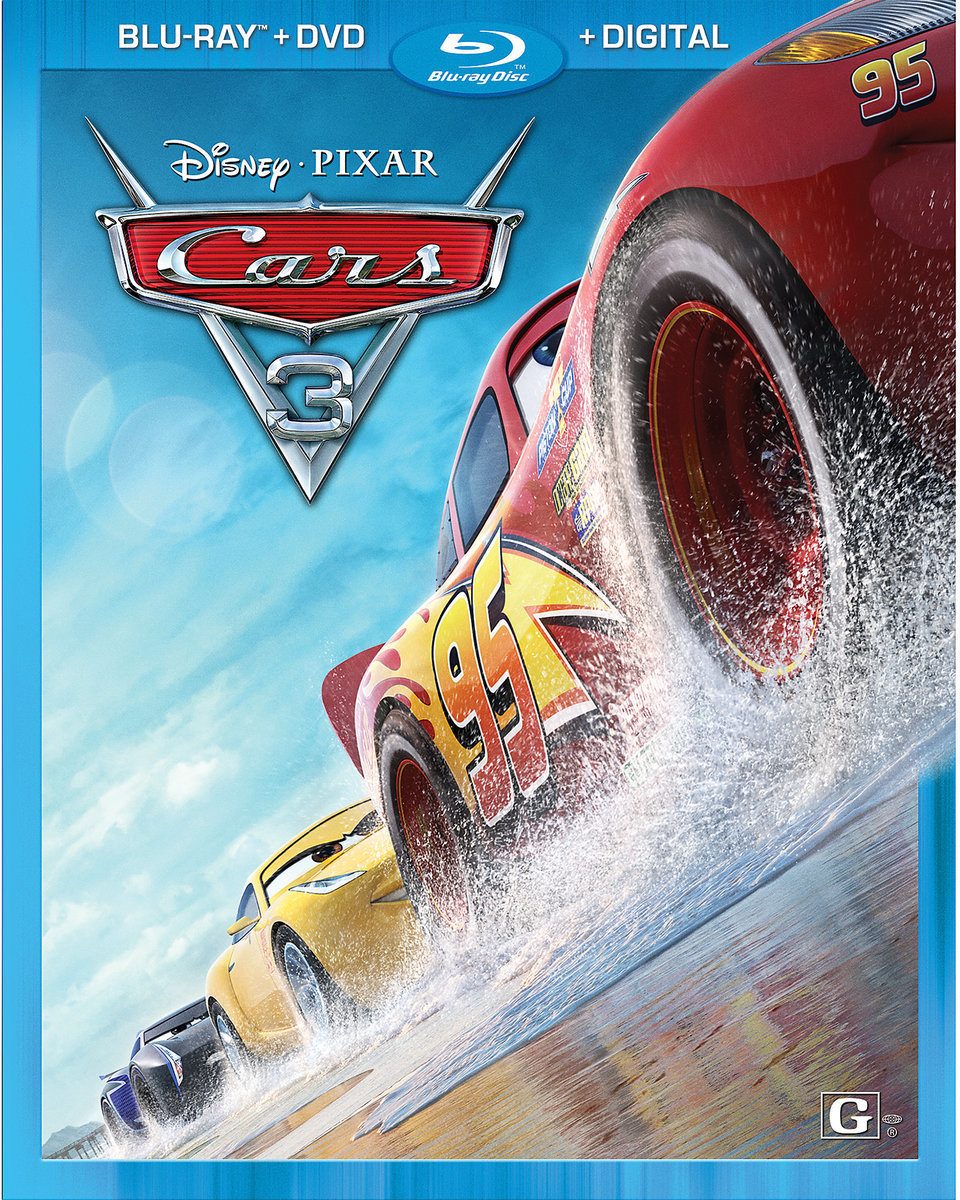 Release Date: November 7, 2017
Cast: Owen Wilson, Cristela Alonzo, Nathan Fillion, Chris Cooper, Armie Hammer, Larry the Cable Guy
Director: Brian Fee
Studio: Walt Disney Pictures & Pixar Animation Studios
Extra Feature Rating: ★★★★★
Rating: ★★★★☆
Review Spoilers:
Amazon | IMDB | Wikipedia | RT
One of Pixar's most beloved series is back once again as Lightning McQueen takes to the tracks in Cars 3. The gang is back together with a handful of new faces for an incredibly emotional journey that both kids and adults are going to enjoy. And while the kids are going to love the talking cars (like always), older viewers are likely going to take a lot more away from the film's themes and message.
Cars 3 picks up with Lightning McQueen pretty much living the dream. He's racing with all of his friends and doing what he loves. But then a bunch of suped up next-gen racers start to hit the tracks and things begin to change. His friends start retiring and McQueen has to struggle harder and harder just to keep up. After the devastating crash seen in the trailers that made everyone gasp when it was first released, McQueen will do anything he can to get back on the track.
McQueen is determined to not just to get back into racing but to hold his own against this younger group of racers. He teams up with a young trainer named Cruz Ramirez who has made a name for herself training winners. But she has her own dreams of someday being a racer. As Lightning travels around reconnecting with his roots on the journey to becoming a champion once again, Cruz starts to come into her own and Lightning learns that there's more to racing than just racing for oneself.
Review
I loved Cars 3 and I'll be honest, after Cars 2, I wasn't sure that I would. The original Cars is great but I never really got into the second one. But Cars 3 manages to really recapture the magic of the original film and breathe new life into the franchise. The introduction of Cruz Ramirez was more than welcome and I love that we now have a female racer taking center stage. If there are any more Cars movies down the line I really hope they continue to focus on her journey as a racer with Lightning there to support her.
Because Lightning – while he's still very much a racer – has shown tremendous growth over the last couple films. The emotional parallels in this film were stunning and I would hate to lose that. Seeing Lightning take on a mentor role in Cruz's life was fantastic and I loved how they revisited Lightning's own mentor, Doc Hudson, by heading back to Doc's old stomping grounds. The Cars story comes full-circle in a way as Lightning starts to see himself in the young Cruz.
This is one of the reasons that I think older viewers are going to get a lot more out of the film than younger ones. The kids are going to still love the talking cars. But their parents are going to relate a lot more to the story especially since a lot of them are going to remember the first time they saw Cars when they were younger. (It's been eleven years since the first Cars film was released so it's not so farfetched that kids who once loved Cars are becoming parents themselves.)
Now, while there's certainly a very emotional story being told throughout Cars 3 don't think that means there isn't all kinds of kooky fun to be had. The film introduces a number of new characters and brings back a lot of fan favorites. But while Mater was the breakout star of the first couple movies it's Miss Fritter who really shines in this one. She's a demolition derby school bus — and I have to imagine there's no coincidence that her name is so similar to Miss Frizzle from the Magic School Bus. Voiced by Lea DeLaria she's basically the best thing ever. And Nathan Fillion does a great job, too.
But I really just love Cruz Ramirez. She is the epitome of girl power, overcoming peoples preconceptions of her to really follow her dreams. And I think it's so much more empowering that she's taking the forefront in a series whose merchandise empire has so far catered primarily toward boys. Cruz is here to show that racing and Cars can be for girls, too. I only hope we get to see her shine even in the future.
Seriously, folks, this is a great movie.
My only complaint is that the plot of Cars 3 is very similar to the plot of Planes: Fire and Rescue. In that film – which takes place in the same world as Cars – the main character, Dusty, is a racing plane who has to retire from racing after suffering a devastating injury. He doesn't necessarily accept that well and in the end he finds a new purpose as a firefighter. I mean, I loved Planes: Fire and Rescue. I thought it was a great movie with a great story. But Cars 3 does feel like it rehashes it a bit.
All in all, Cars 3 may be my favorite film in the franchise — including all the Cars and Planes films. It's such a remarkable, emotional film and it introduces some really great characters to the series. If Disney wants to make a Cars 4 with Cruz Ramirez at the helm, I'm totally here for it!
Special Features
Cars 3 comes complete with a ton of new bonus features and you'll definitely want to check them out. There are actually so many of them that they're split between two discs. The bulk of the more standard 'making of' featurettes can be found on a dedicated bonus features disc. The short films and a couple others are on the main disc along with the movie.
There are two short films included with Cars 3.
One is called Lou and it's your standard pre-Pixar film short. Lou tells the story of a 'monster' or entity that lives in a lost-and-found bin at an elementary school. As kids lose thing recess he collects their toys to reunite them later. But when he sees a bully stealing everyone's things he finds a way to teach the boy a lesson and also reunite him with his own beloved, lost toy. It's super cute and actually really sad at times. It's definitely worth watching!
The other short is Miss Fritter's Racing School. Unfortunately, it's basically just an in-universe advertisement for a racing school run by Miss Fritter. It's funny but it's short and it doesn't add much to the film. Still, I'll take as much Miss Fritter as I can get!
Also included on the main disc is a featurette called Cruz Ramirez: The Yellow Car That Could. Cruz gave the team a lot of trouble and a lot of the bonus featurettes and deleted scenes show how much her character changed and developed over time. This particular featurette does a great job of showing how Cruz came to be and it also includes a brief discussion on women overcoming male dominated fields with is really, really cool.]
If you're interested in how the movie was made, you'll need to pop in the bonus features disc where you'll find a lot more insight into the making of Cars 3. There are actually five dedicated featurettes under a 'Behind the Scenes' heading and all of them are worth watching. I'm not kidding. I had so much fun with them!
They include:
Generations: The Story of Cars 3 which talks a lot about how they settled on the story and Lightning's journey as well as his relationship with Cruz
Let's.Get.Crazy. (hosted by Lea DeLaria) which discusses the origins of the Thunder Hollow Speedway and the demolition derby inspiration for Miss Fritter and her friends
Cars to Die(cast) For which discusses the insane number of die-cast toy cars
Legendary which highlights the real-life racing legends like Wendell Scott who influenced characters in the movie
World's Fastest Billboard which brings attention to the INCREDIBLE amounts of detail on the fake posters, billboards, brands, and more throughout the film
There are a handful of other special features including "fly throughs" of various locatiosn from the film (Thomasville, Florida International Speedway, RUST-EZE Racing Center), deleted scenes, trailers, as well as an interview with a young racer.
There's also a series called My First Car. It features three different individuals including Kerry Washington and a pair of Pixar employees who talk about their first cars. They're entirely animated and just super cute. It's definitely worth watching through them!
I'm incredibly impressed by the number and quality of bonus features on this blu-ray release!
Final Thoughts
Cars 3 is an awesome film and a worthy successor to the original Disney Pixar film. It captures all the magic of this vehicular-styled world and brings all your favorite characters back for a really incredibly story. I can't get enough of the new characters and I can only hope that we see another film or two released so we can get to know Cruz Ramirez (and, of course, Miss Fritter) even better. Honestly, Cars 3 is everything I could have hoped for and if you enjoyed Cars (whether or not you liked Cars 2) you're really going to enjoy this one.
And the blu-ray release really couldn't have come at a better time! I have a feeling that a lot of people are going to finding this one under the Christmas tree this year. Or, if you're going to have a lot of family over for Thanksgiving, this would be the perfect film to watch with everyone.
Cars 3 comes out on blu-ray combo pack November 7, 2017. You can also pick it up on DVD or Dightal HD!