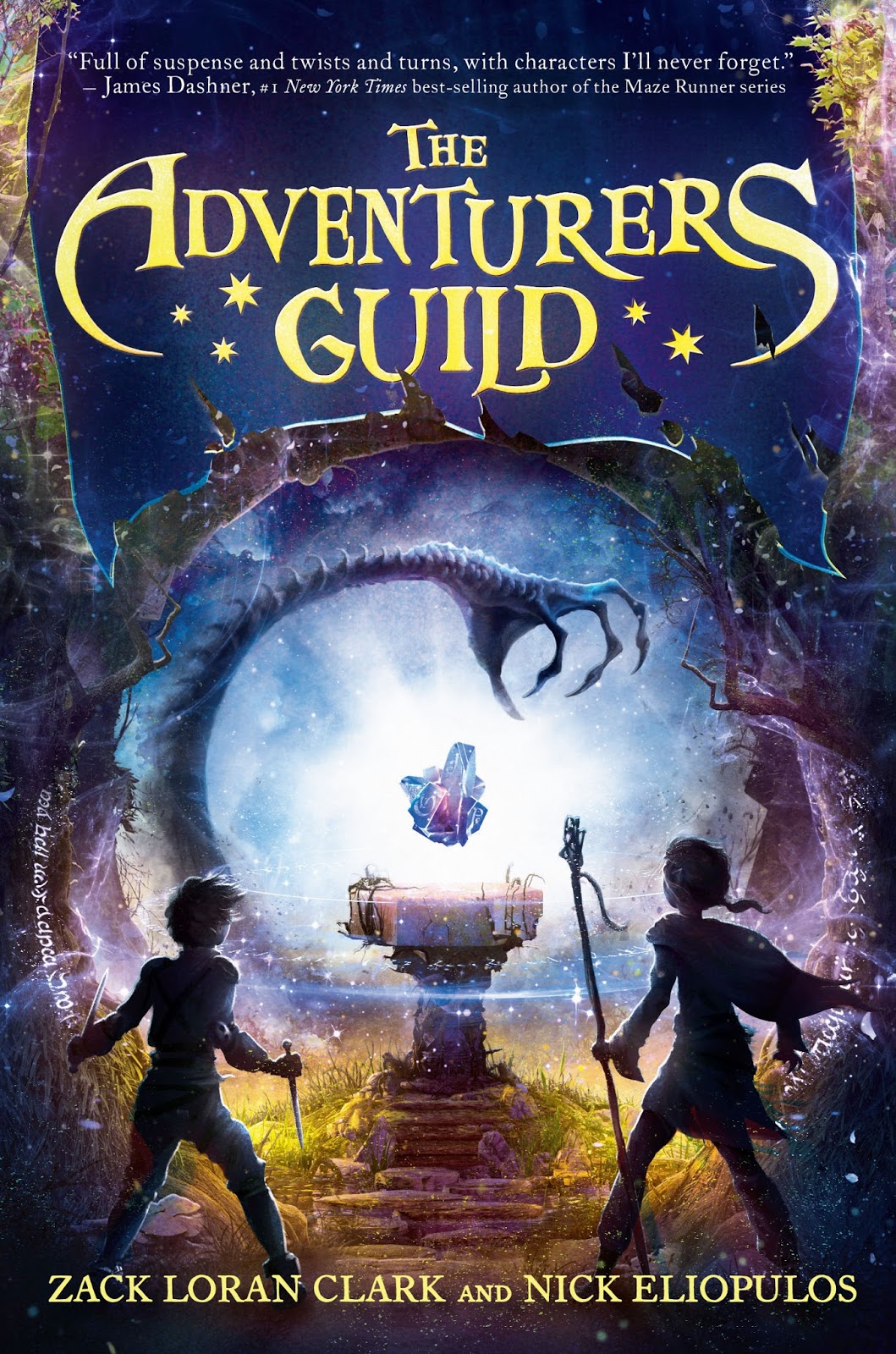 Title: The Adventurer's Guild
Authors: Zack Loran Clark and Nick Eliopulos
Series: The Adventurers Guild #1
Release Date: October 3, 2017
Publisher: Disney-Hyperion
GoodReads | Amazon
Anyone who knows me knows that I'm a sucker for middle grade books and, in particular, middle grade fantasy. So it should surprise no one that I've been looking forward to checking out Zack Loran Clark and Nick Eliopoulos's brand new (and very first) book, The Adventurers Guild. Nor should it come as a surprised that we jumped at the chance to do a giveaway for the book with our partners at Disney-Hyperion!
Our review copy is still in the mail but the official synopsis (which we've included below) is very promising. It rings to mind a number of other middle grade fantasy series that I've previously read and enjoyed which is always a good thing. The Adventurers Guild promises a daring new world besieged by monsters, a team of capable (if mismatched) young people, and a devious conspiracy.
So, really, what's not to like?
Young readers who enjoy adventure, magic, friendship, and may just find a new favorite in The Adventurers Guild!
Giveaway
While our review is still forthcoming, the book is out now if you want to check it out for yourself. Or you can enter the giveaway we're hosting in partnership with Disney-Hyperion to promote the book's release. One lucky winner will receive a copy of The Adventurers Guild as well as a series branded bookmark to go along with it!
The giveaway is sponsored by Disney-Hyperion. They've provided all samples and prizes. Unfortunately, this giveaway is only open to US residents. The giveaway will begin October 8th and end at midnight on October 22nd.
Enter now while you can!
The Adventurers Guild Giveaway – Sponsored by Disney-Hyperion!

About the Book
Few ever asked to join the Adventurers Guild. . . . Their members often died young.
In one of the last cities standing after the world fell to monsters, best friends Zed Kagari and Brock Dunderfel have high hopes for the future. Zed desperately wishes to join the ranks of the Mages Guild, where his status as Freestone's only half elf might finally be an asset. Brock, the roguishly handsome son of merchants, is confident he'll be welcomed into the ranks of the Merchants Guild.
But just as it seems the boys' dreams have come true, their lives take a startling turn . . . and they find themselves members of the perilous Adventurers Guild.
Led by the fearsome Alabasel Frond, the guild acts as the last line of defense against the Dangers—hungry, unnatural beasts from otherworldly planes. And when the boys uncover a conspiracy that threatens all of Freestone, Zed, Brock, and their new allies—Liza, a fierce noble, and Jett, a brave dwarf—must prove their worth once and for all.
This start of a thrilling new series is sure to be a hit with readers who like their fantasies clever and action-packed, with tons of humor and heart.
About the Authors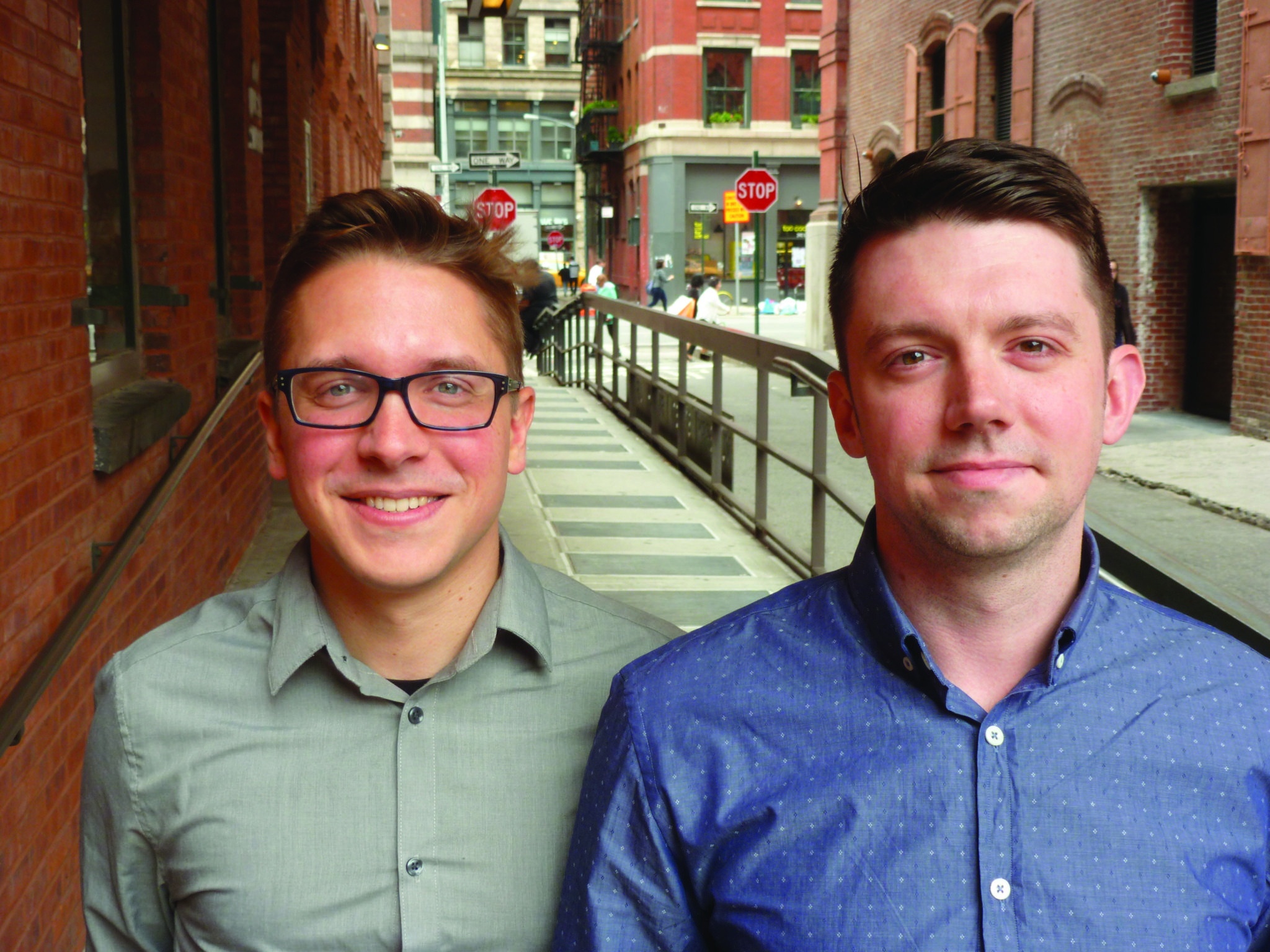 Zack Loran Clark and Nick Eliopulos are both editors based in New York. Best friends, they take a coffee break together every day and play Dungeons & Dragons every week. Zack fervently hopes that magic is real; Nick desperately hopes that monsters are not. The Adventurers Guild is their first novel.
Check out the official series website!

ALL SAMPLES AND PRIZING ARE PROVIDED BY DISNEY-HYPERION. NERDOPHILES WAS NOT COMPENSATED FOR OUR PARTICIPATION IN THIS BOOK TOUR. A HARDCOVER COPY OF THE BOOK WAS PROVIDED FOR REVIEW PURPOSES. A FULL REVIEW IS FORTHCOMING.