New York Comic Con has partnered with 2017 guest Mark Hamill to offer fans a once-in-a-lifetime chance to attend a free meet-and-greet with Luke Skywalker himself. They announced today that on Sunday, October 8th at 4:15pm there will be an onsite invite-only party with Hamill that will include a meet-and-greet and a selfie (no autographs).
It is not a free-for-all, but you can enter the lottery on behalf of you and a friend for your chance at being one of the chosen few who get to hang out with Mark Hamill in an intimate setting. This is a wonderful offer from a lovely actor and a chance for those unable to shell out the money for a photo op or autograph to make some memories.
The lottery starts today, September 21st and will run until September 25th, 2017. This is the same day that the general lottery ends too so don't forget about it.
How do you do it? We have got you covered with our handy guide below.
Who wants to meet @HamillHimself? Compliments of #hamillhimself we are proud to announce "MarksLotteryPalooza!" [thread] pic.twitter.com/kgkIj4hiOU

— New York Comic Con (@NY_Comic_Con) September 21, 2017
Step 1: Make Sure You Have Sunday Passes.
If you don't have Sunday passes you cannot enter. If the friend you submit to join you does not have a Sunday pass, they cannot enter. This is a Sunday-only event and on-site so without a badge there is no way to get to it. Since Sunday badges are sold out by this point this is only going to be an opportunity available to those who were lucky enough to snag one in advance.
If you do not have a Sunday pass you can always pre-purchase a photo op or autograph option for one of the other days.
Step 2: Find Your Confirmation Code.
For this next step you will have to dig out your New York Comic Con purchase receipt in order to enter. When you received the receipt there should have been a QR code and right above that a confirmation number. If you deleted your receipt or do not have access to it then you may need to contact ReedPop to see if they can send you a copy.
If you are entering for a friend who also has a Sunday pass then you will need to get their confirmation number too. You can request up to two tickets for you and a friend who also has a Sunday pass, but you will need their confirmation ID to do so successfully.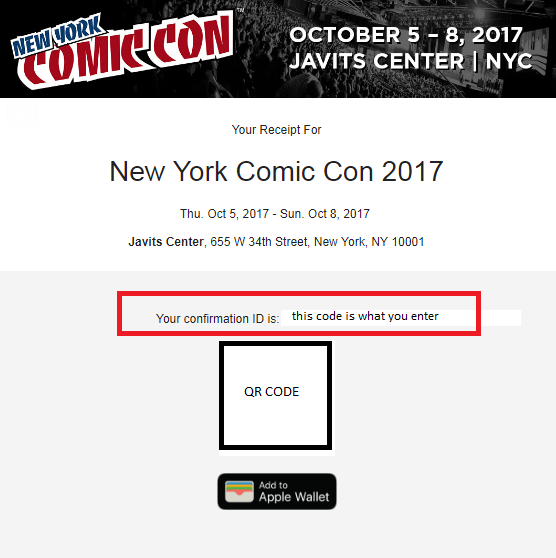 Once you have all of the above information handy you can go to the lottery application page and put in your information. You will see that it asks for some personal information first and then at the bottom asks for your confirmation IDs. Put both of them (if you are requesting two tickets to the event) in the box and select "2" for number of tickets you are requesting.
You should be able to enter for yourself and a friend and that same friend should be able to enter for themselves and you.
UPDATE: NYCC has responded to our inquiry and this was their response: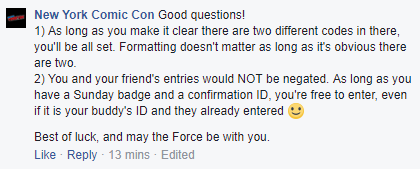 Step 4: Submit It.
Once you have checked and double checked your information, it is time to submit that puppy and leave yourself open to the kindness of the lottery gods. When we said previously that the pre-show lottery would be one of the last hurdles, we were not kidding. As we get closer to the convention there is a chance more opportunities like this may pop up and add to the tension and excitement of the convention.
Again, you will need to submit your application for the lottery by Monday, September 25th at 12pm EST. There is no rush as long as you get it in by that date and time because all entries will hold equal weight in the final lottery.
Step 5: Take a Breath, You're Another Step Closer to NYCC.
There is a lot happening this year at New York Comic Con including a lot of "firsts," such as the first time doing a pre-show lottery and a first time doing something like the Mark Hamill lottery.
It can be stressful, especially for those who have to plan travel and a hotel on top of figuring out what the heck they're doing at the show. In spite of it all, New York Comic Con 2017 looks like it is going to be an amazing time and we will be with you every step of the way.
All winners will be notified by Tuesday, September 26th via e-mail. Keep your eyes peeled and good luck.