Legends of Tomorrow:
The Complete Second
Season [Blu-Ray]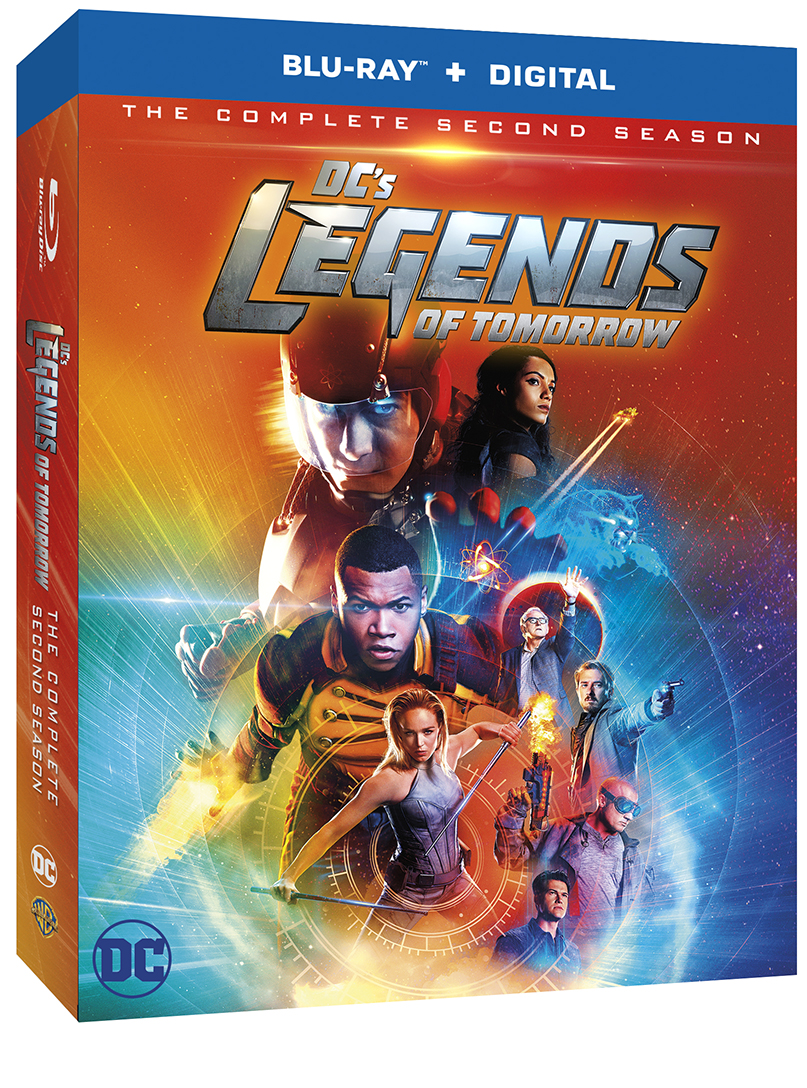 Release Date: August 15, 2017
Cast: Caity Lotz, Brandon Routh, Dominic Purcell, Victor Garber, Franz Drameh, Arthur Darvill, Nick Zano, Amy Pemberton, maise Richardson-Sellers
Network: The CW
Genre(s): Sci-Fi, Comic Book, Superheroes
Extra Feature Rating: ★★½☆☆
Rating: ★★★★☆
Review Spoilers: Moderate
Amazon | IMDB | Wikipedia | RT
Every year it seems like we get yet another DCTV program over on The CW. Last year's new show was Legends of Tomorrow and it won us over pretty quickly with it's ensemble cast of interesting, varied characters and it's more light-hearted adventures through time. The first season was a lot of fun. Even in it's more serious moments the show never really lost sight of what it was trying to be. Out of all the comic-based shows on The CW, Legends of Tomorrow is probably the most consistent.
If you enjoyed the first season as much as we did then you'll be glad to know that the second season is even better. New characters are introduced, familiar faces return, and we get to meet some surprising figures from throughout time.
But we're getting ahead of ourselves!
The complete second season is out on blu-ray today and we're fortunate enough to be able to bring you this review. We've watched every episode and gone through all the special features so you'll know what you're getting if you decide to pick up a copy for yourself. And don't forget – the blu-ray release comes with a digital copy of the season so if Netflix ever stops carrying the DCTV shows you'll always have a copy of the season to take with you!
Season Review
As I said earlier, the second season of Legends of Tomorrow is somehow even better than the first. A big part of the reason I say that is how this season played out over the course of it's seventeen episodes. The over-arching plot was much more compelling and the bad guys far more interesting than Vandal Savage ever was.
It helps that they were familiar to viewers.
Season 2 sees the Legends trying to stop the 'Legion of Doom' – a name given to Damien Darhk, Malcolm Merlyn, and Eobard Thrawne as they travel through time trying to essentially change their futures. Of course, these aren't exactly the characters we all know from the various other shows in which they appear. They're pulled from various points in their timelines and obviously from points before they've met their previously known fates.
Honestly, the best part of the whole show this season was seeing these three characters interact. They're three bad guys with a common goal and fairly complimentary personalities. Besides that, we already care about them and knowing how things end for them and how their respective nefarious plots play out, it's nice to see them all getting something of a second chance. Plus they have so much fun doing it.
Admittedly, I wasn't a huge fan of the whole 'Spear of Destiny' subplot in the second half of the season. But it does give us some pretty incredibly moments later on in the series. So I won't be too hard on it.
Another thing I loved about this season was the addition of Nate – and eventually Amaya – to the team. Sure, Nate comes off as essentially a history-focused version of Ray Palmer half the time but I like his character's enthusiasm and I his family's history plays a big part in setting up certain episodes later in the season. Both Nate and Amaya have ties to the Justice Society of America which is an obvious throwback to DC Comics pre-Justice League and a really cool reimagining of the comics' history as part of the show. Plus the two of them are just super cute together.
Sara is amazing this season and that's largely due to the fact that she has to be amazing. With Rip Hunter gone and lost to time at the beginning of the season, Sara steps up in a big way to lead the Legends team. She was an incredible part of Arrow before her character met her end and she showed a lot of character growth from the first season to the second. In a lot of ways Legends of Tomorrow had been Sara Lance's story. More than any other character she's taken center stage and grown for the better.
Of course, that said, Mick Rory is always going to be my favorite character and he struggles with a lot this season, too, living in a world without his partner, Snart. To be honest, a lot of characters see themselves challenged. Martin Stein's whole world changes in an instant after one fateful run in with his younger self. Ray Palmer has to find his self-worth when faced with the prospect of losing his powers for good. And that's just a few of the things that the team deal with.
And it all comes together in an incredibly satisfying season. While all the other DCTV shows had their ups and downs these last seasons, Legends of Tomorrow seriously nailed it from start to finish.
Speaking of the other shows, I suppose I can't do a season review of this show without discussing the crossover event. The three part event primarily focused on Arrow, The Flash, and Legends of Tomorrow – though Kara from Supergirl gets to tag along. It was certainly an interesting event though as far as Legends of Tomorrow is concerned it seemed largely forgettable in the grander scheme of the season. Some important things happened, of course, so you can't skip it when watching through the full season of Legends of Tomorrow. Just something to keep in mind!
Special Features
So how do the special features in this blu-ray release fair? I hate to say it but they could be better. While the release of the first season which came full of series-specific featurettes, the second season's blu-ray release comes off as lacking. With the history behind the Justice Society of America name, you'd think they may have done a featurette about how they decided to adapt that organization. And considering the number of big name individuals and historically significant moments that were visited this season they certainly had some great bonus feature potential.
Instead, the only featurette we're given is Allied: The Invasion! Complex which focuses on the three-episode crossover event featuring the characters of Arrow and The Flash – plus Kara from Supergirl. Here's the problem, though. Only the Legends of Tomorrow episode is included in this blu-ray release so while the featurette helps you catch up on what all happens and why it also helps you realize just how much you're missing out on by not seeing the Arrow and The Flash episodes.
Besides that, the featurette is pretty generic and I suspect it'll be included on the Arrow and The Flash release as well.
Now, one area in which the special features vastly improved over the first season's blu-ray release are the inclusion of deleted scenes. There are deleted scenes for about half of the episodes and the way the menu is organized makes them very easy to access. You can watch the episodes and then go immediately to the deleted scenes from the same menu without having to access the special features menu. It's very convenient!
The second season's blu-ray release also includes two of my favorite features from last season's release. They not only gave us a hilarious six-and-a-half minute gag reel but also the 2016 San Diego Comic-Con Legends of Tomorrow panel. As I've said before, I love that they are including these panels and making them more accessible to fans as SDCC becomes less and less accessible. That said – you may want to watch it BEFORE watching the season since the panel was from the summer before this season aired.
Final Thoughts
At the end of the day, you need to check out this second season of Legends of Tomorrow. If you can pick it up on blu-ray I highly recommend it – however it's also available on both digital and DVD. However you prefer to collect your DCTV shows, you should definitely add this one to the collection. I can't speak highly enough of Legends of Tomorrow because as much as I might like The Flash or Supergirl or Arrow they definitely have their up sand downs. But this season, I always felt like Legends of Tomorrow was consistently on target.
Besides, some of the other DCTV series get way too serious. Legends of Tomorrow, even at his darkest moments, still manages to find a good amount of humor. And at the end of the day the adventure continues!
Legends of Tomorrow: The Complete Second Season is available on blu-ray, DVD, and digital today – August 15th. The third season of the show will premiere October 10, 2017. Catch up while you can – starting with our interviews with the cast and crew at San Diego Comic Con 2017!