Jackson is all about those first issues this week, with Mech Cadet Yu from BOOM! Studios and Ghost Station Zero from Image Comics, while Renee is reading the latest issue of Sex Criminals, also from Image Comics.
Want to hear more about what we thought about these issues? Read on – and let us know what you thought in the comments below.


Jackson's Reads
Mech Cadet Yu #1
Author: Greg Pak
Artist:Takeshi Miyazawa
Publisher: BOOM! Studios
Source: BOOM! Studios DRC
★★★★☆
Mech Cadet Yu is, more than anything, a combination of the teen conflicts and human-robot cooperation of Neon Genesis Evangelion with the childlike wonder and Spielbergian sense of danger of The Iron Giant. The first issue introduces Stanford, a teen assigned to work maintenance at an academy for robot mech partners who help robots from space battle a mysterious alien threat. Read the full review here.
Ghost Station Zero #1
Author: Antony Johnston
Artist: Sharri Chankhamma
Publisher: Image Comics
Source: Image Comics DRC
★★★★☆
The second Codename Baboushka story, this week's Ghost Station Zero #1 is, ultimately more of the same, with an exciting opening action sequence that leads into a mission briefing and infiltration that has more in common with Sean Connery's Bond than anything on comics shelves. Illustrated by Sharri Chankhamma, it's an issue that emphasizes style above all else, with seductive spies dancing around one another and the loyalties of old allies coming into question in a European chalet. Read the full review here.



Jackson Adams is a staff writer at Nerdophiles. Follow him on Twitter @JacksonInACup.


Renee's Reads
Sex Criminals #20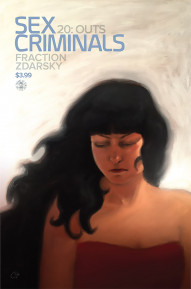 Author: Matt Fraction
Artist: Chip Zdarsky
Publisher: Image Comics
Source: Image Comics DRC
★★★★☆
Jasmine St. Cocaine and her partner are attempting to have sex, but the sex is not very good. St. Cocaine points out that to have a connection sexually and emotionally, each partner needs to have a realistic expectation of not only each other but a clear expectation of what each person wants.
The writers parallel Dave and Suze's relationship to Jasmine St. Cocaine's by showing how their emotional relationship has fizzled due to unrealistic emotional demands. Dave and Suze, meanwhile, have their 'we need to break up' talk, and farewell sex. Upset, Dave storms into the office of one of the sex police and destroys it. The sex officer takes this as a challenge, which sets up the next story arc for the comic.
Once again, Sex Criminals manages to be smutty and point out unrealistic standards when it comes to sex and relationships. Though the premise of the comic series might strike people as uncouth and may upset more conservative readers (who if offended by sex and masturbation, probably shouldn't read this), they do bring up a good point when it comes to the emotional and sexual relationships with a couple.
As strange as it sounds, it's fun to read a comic that's considered "culturally taboo" or "inappropriate," because, despite time freezing orgasms, this comic freely talks about sex and issues with sex that embarrasses most people.


Renee Marriott is a staff writer at Nerdophiles.