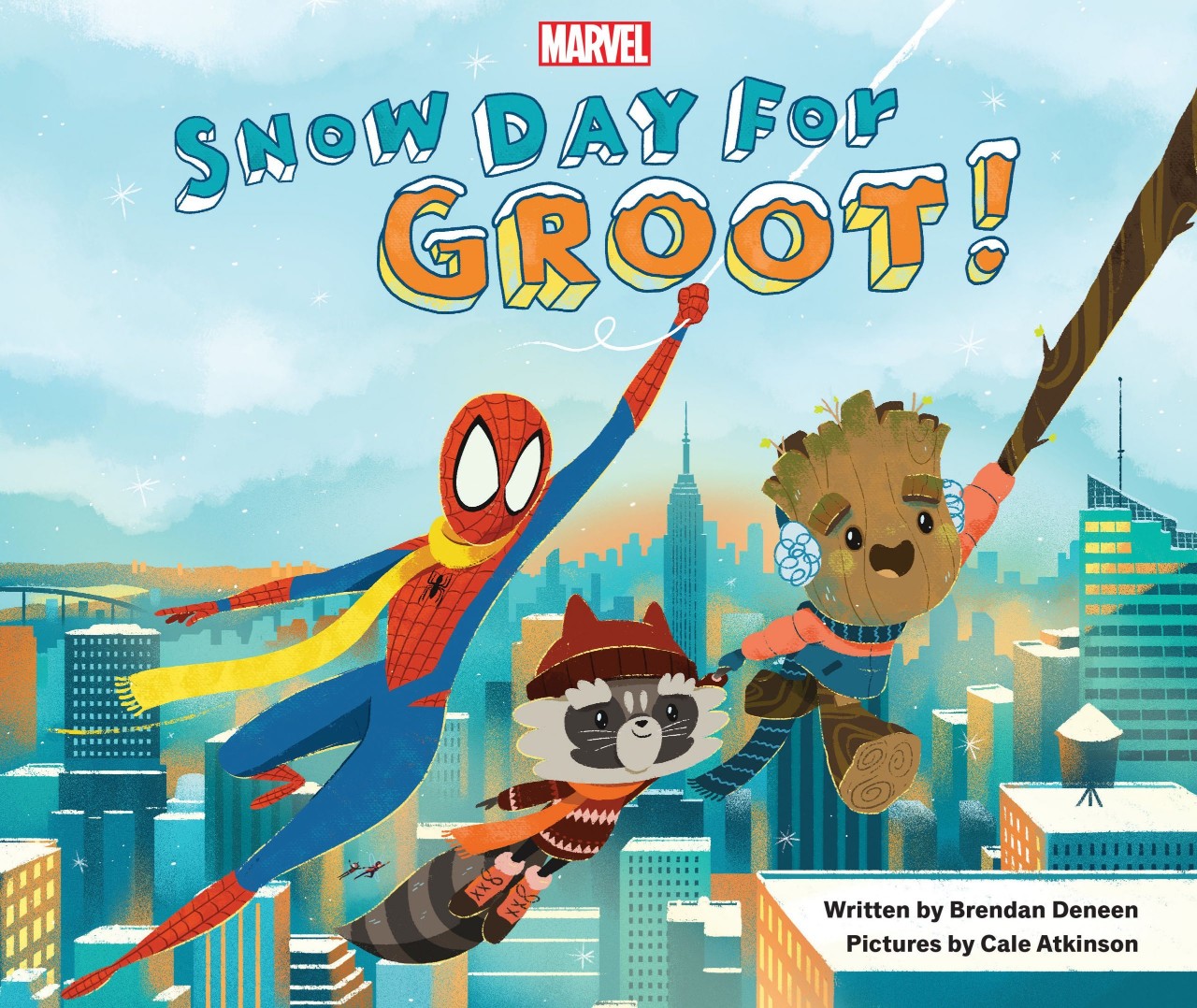 Title: Snow Day for Groot!
Author: Brendan Deneen
Illustrations: Cale Atkinson
Publisher: Marvel Press
Release Date: September 8, 2020
GoodReads | Amazon | Disney Books
Groot and Rocket bundle up and head to New York City for a day full of snow and fun in this sequel to Brendan Deneen and Cale Atkinson's Good Night, Groot and First Day of Groot! If you're familiar with the first two books you probably know what you're in for with Snow Day for Groot! – cute illustrations, adorable hijinks, and all the Marvel superhero cameos you could ever want.
For the uninitiated, the series follows Groot and Rocket of Guardians of the Galaxy fame as they have various adventures. The story is told though fun, rhyming prose with the occasional speech bubble thrown in to add dialogue or effect. Good Night, Groot is a bedtime staple in our household so we were super excited to read Snow Day for Groot! The fact that this time Groot and Rocket meet up with Spider-Man was a huge draw, too, for my little Spider-Man fan.
At the beginning of the book, Groot and Rocket head to Earth with their friends to meet up with Spider-Man in New York. Together they travel around the city doing all kinds of fun, wintry, touristy things. They travel on the subway and go sledding. They visit various landmarks like the Statute of Liberty and the New York Public Library. They even decorate a Christmas Tree in Time Square with a host of other Marvel superheroes (which does admittedly give the book a slightly Christmas-y feel).
These books are so much fun. I love the rhyming and the illustrations. The best part of the book – which is really the best part of all of these books – is seeing all the other Marvel heroes popping up here and there while Groot and Rocket go along on their adventure. Cale Atkinson's illustrations are wonderfully done and adorable. And the background details are always full of little Easter eggs. It makes the books that much more fun not just for the young readers but their parents as well.
Snow Day for Groot! is definitly worth checking out for little Marvel fans – especially if they love Groot or Spider-Man! It's undoubtedly fun to read all year round but the wintery themes make it perfect to read while cozying up to read during winter. And it's a fun, not entirely Christmas-themed read for the holiday season. Check it out!