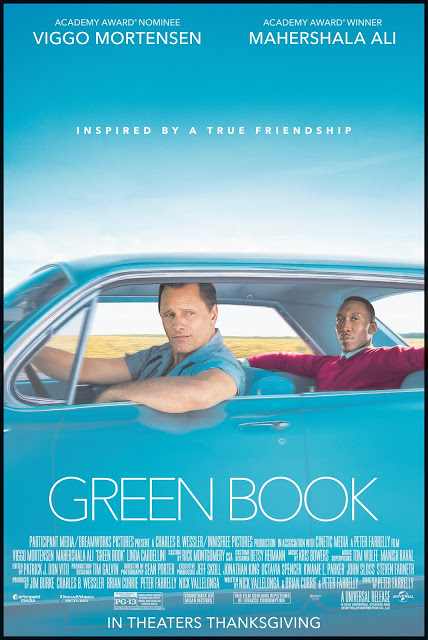 Release Date: November 15th, 2018
Cast: Viggo Mortensen, Mahershala Ali, Linda Cardellini
Director: Peter Farrelly
Studio: DreamWorks Pictures, Amblin Pictures, Participant Media
Distributor: Universal Pictures
Spoilers: Mild
IMDB | Rotten Tomatoes | Wikipedia
Green Book
is the true story of a friendship blossoming in difficult times. Tony Lip (Viggo Mortensen,) a hardworking, big eating Italian, works the Copacabana, strongarming guys and looking for a buck anywhere he can find it. Dr. Don Shirley (Mahershala Ali) is a renowned pianist and also a black man. When Don needs a driver for his two-month tour through the states, including the South, the two are thrown together for their mutual benefit.
Despite being a Peter Farrelly flick, Green Book, as you might expect, is less of a gutbuster than some might hope. Instead, the movie elicits consistent chuckles and small laughs as Mortensen and Ali trade looks, quips, and quibbles debating the finer points of speech, emotion, letter writing, and so much more. The two men, despite being so different, have much to share with one another, if they can just manage to not kill each other.
The movie doesn't flinch away from the racial injustice of the past. When Tony Lip's extended family come over to the house while black workers are there. Tony himself throws away glasses used by the men. It is clear that even our protagonist is not above the attitude of the times. But of course, that changes. Through his duty to his job, through discussions with Doc, he sees how he can be better, while Shirley finds a bit more of himself and what he is lacking on the journey.
It's nice. That's the biggest thing to be said for the film. It is nice, the characters are nice, the developments are nice. Seeing the injustice and slights done against Shirley makes our blood boil, but seeing him and Tony rise above it is empowering. Seeing other characters, from random Italian-Americans to a cop, who seems antagonistic at first glance, be kind and considerate to these men reminds us that even in terrible times, there is still decency.
It's by no means a perfect movie, by no means a masterpiece of the craft. But it is a charming reminder about the good of people in dark times.