This week, Sam took a look at the latest developments in Goldie Vance as well as the newest all-ages comic from BOOM! Studios, Brave Chef Brianna. Both Kylee and Jackson finished up series: Kingsway West from Dark Horse Comics and Midnighter and Apollo from DC Comics respectively.
Want to hear more about what we thought about these issues? Read on – and let us know what you thought in the comments below.


Sam's Reads
Goldie Vance #10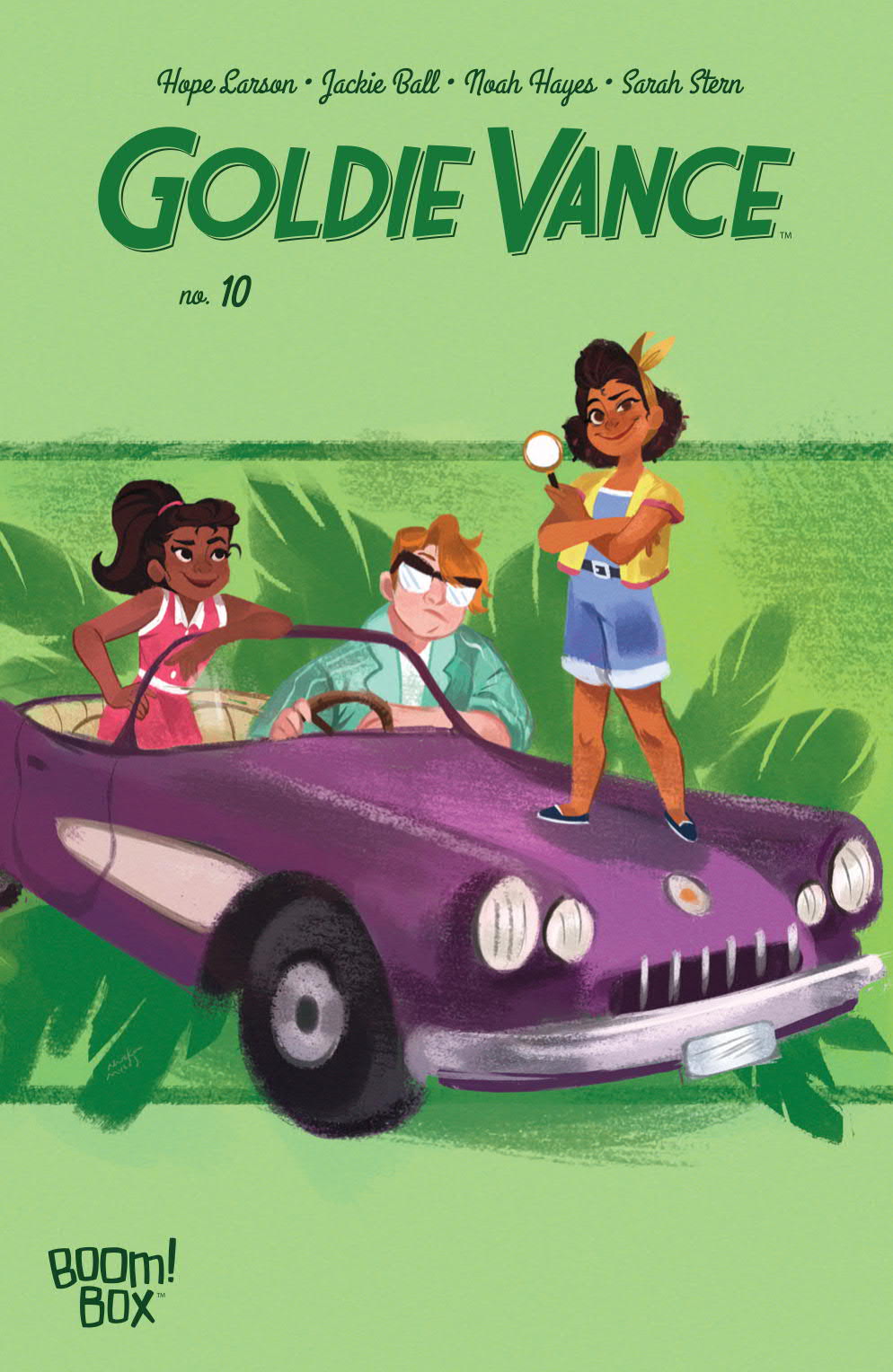 Author: Hope Larson & Jackie Ball
Artist: Noah Hayes
Publisher: BOOM! Box
Source: BOOM! Studios DRC
★★★★☆
Love is in the air with this issue of Goldie Vance – and also a healthy dose of intrigue and sabotage. We're back to trying to solve the mystery of who is sabotaging Sugar's car ahead of the big race and presumably also why. If I had to guess as to the why, I would say it's probably because she's kind of mean to everyone, but I suspect there will be more of an explanation down the line.
This issue sees Goldie falling into her 'cover' as one of Sugar's pit crew members. She gets to know all of the other girls, including the very serious crew chief who has very high expectations of everyone. It was nice to see Goldie in her element. She's a girl who loves cars surrounded by other girls who love cars and are all very good at their jobs. I like that Sugar has an all female pit crew but I liked Goldie's take on it, too: if they are working for her they can't compete against her and possibly show her up!
While working for Sugar, she discovers that someone left a paper in the garage with the name of a very dangerous, rocket fuel component on it. However, their chief suspect turns out to be a competitor who is head over heels in love with Sugar and is dead set on sabotaging himself so she can win. This whole side plot is discovered by Goldie while she's working with Diane. They're super cute on their little 'fake' date, tailing Lazlo and learning what he's up to.
Of course, this all leaves the identity of the actual saboteur unknown.
Overall this was a very solid issue. I liked Lazlo's little side plot and I love every time we see Goldie and Sugar begrudgingly almost being friends again. It was also good to see Goldie and Diane get a little bit of quality time together – even if it was mostly spent tailing someone. I'm not a huge fan of cliffhanger endings and this issue has a pretty big one. Still, I'll be back next month waiting to see whether or not everyone makes it out all right!
Brave Chef Brianna #1 (of 4)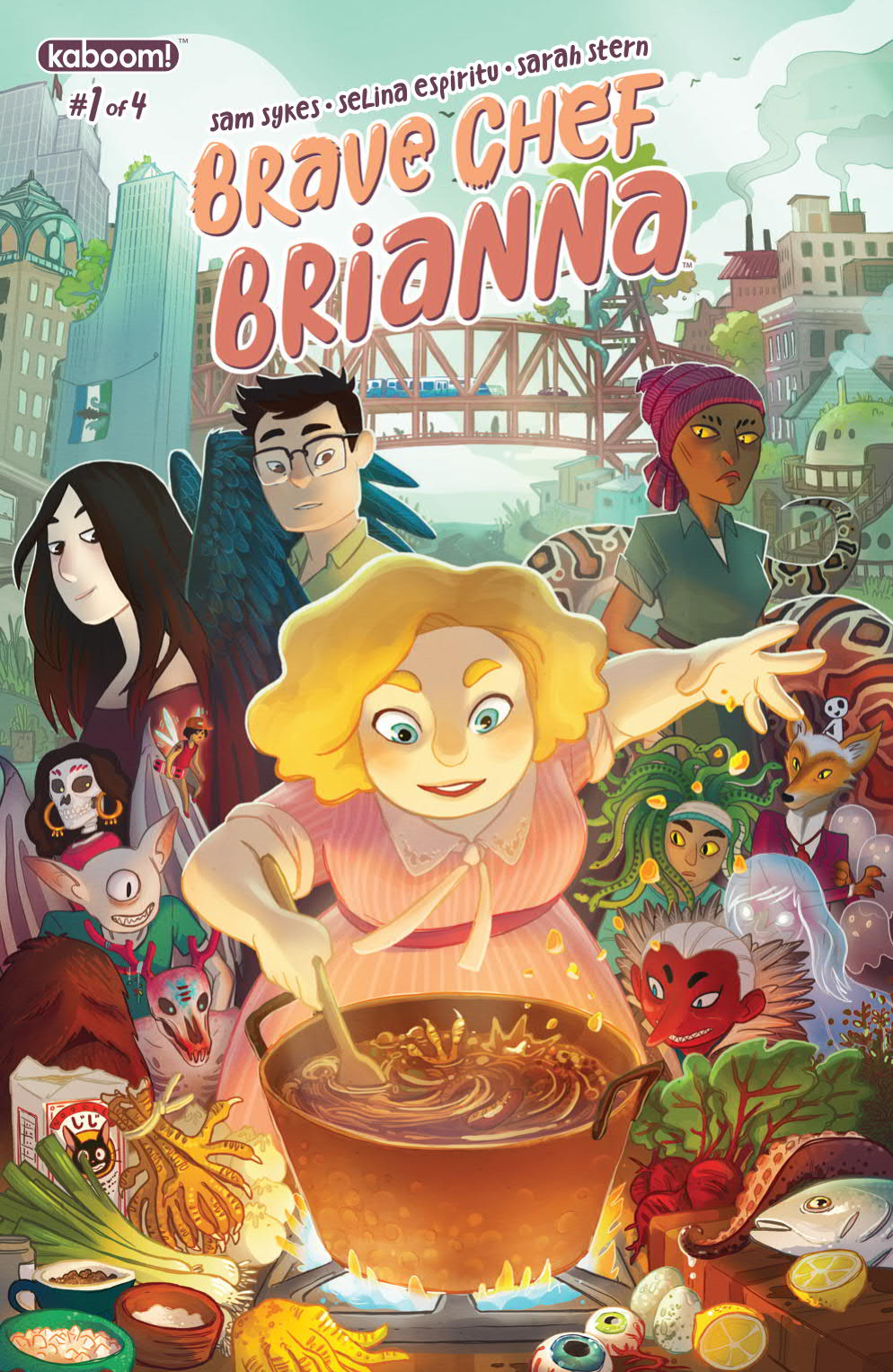 Author: Sam Sykes
Artist: Selina Espiritu
Publisher: KaBOOM!
Source: BOOM! Studios DRC
★★★★★
Love monsters but also love cooking shows? Ever hoped those two things could somehow be combined? You're in luck because that's the basic idea behind author Sam Sykes' brand new comic miniseries, Brave Chef Brianna. While the series may seem more catered towards younger audiences, there's a lot about this book that's going to resonate with older readers.
The book follows young Brianna who has just graduated from culinary school. Like a lot of twenty-something year olds she's got a lot of big plans but she's also just starting out with little direction. While she had planned to follow in her father's footsteps (just like her dozen or so older brothers) by becoming a chef, any plans she may have had get usurped by some bad news from her pops.
It turns out he's dying and while he still has a couple of years left he also has a legacy to protect. So in an outstandingly bad example of parenting, he decides to pit all of his kids against one another in a competition to see who can create the most successful restaurant. The winner inherits his entire culinary kingdom.
Low on funds and experience, Brianna heads to the aptly (if not very originally) named Monster City. She makes friends with Suzan, a flying harpy-like girl, and together they open up a restaurant. Unbeknownst to Brianna, though, the city ordinances forbid monsters from eating human food. In a surprising turn, however, it turns out that monsters find the stuff irresistible.
The first issue largely serves to set the scene. You get to meet the characters and you start to get a feel for Monster City and the craziness that the setting will bring later on. Unlike some first issues tied to short, four issue miniseries, Sykes doesn't try to force a lot of exposition on readers. We're thrown right into the action and the pace feels steady and natural. Complimented by Selina Espiritu's excellent character designs and wonderfully developed scenes (plus Sarah Stern's spot-on coloring), the world of Brave Chef Brianna comes to life and engages readers from the very beginning.
One of the best first issues I've read in a while, Brave Chef Brianna is a lighthearted read that anyone can enjoy. I loved the premise from the get go but after reading the first issue I have nothing but good things to say about the series. The story is fun, the characters quirky, and the artwork is cute and well-suited to the series. I give this issue five stars – and I can't wait to see what comes next!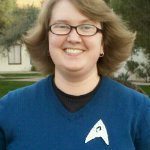 Sam Wildman is a co-founder and co-editor at Nerdophiles. She would never inherit Brianna's family fortune. She burns water. Literally.


Kylee's Reads
Kingsway West #4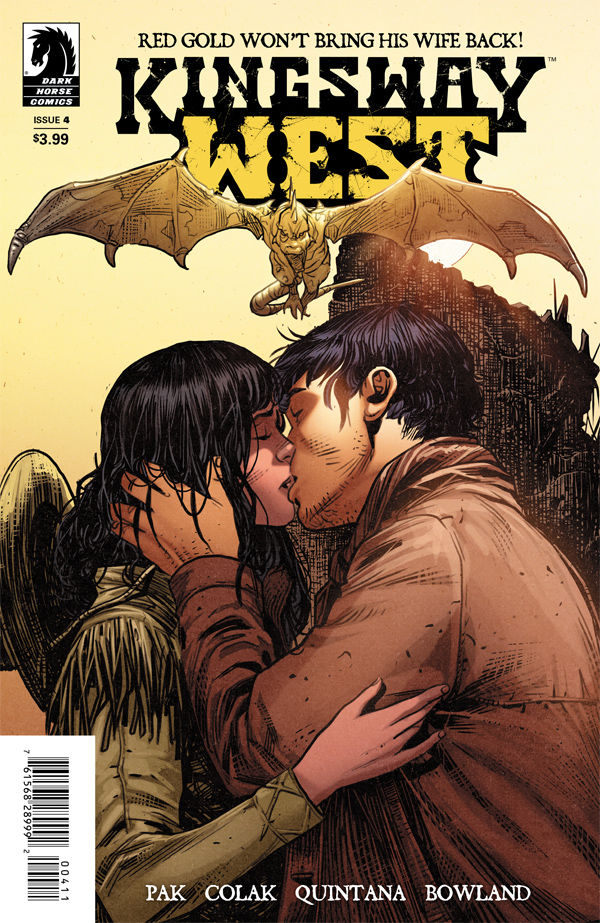 Author: Greg Pak
Artist: Mirko Colak
Publisher: Dark Horse Comics
Source: Dark Horse DRC
★★★★☆
This series goes out with more than one bang as Ah Toy, Kingsway Law, and Strode find themselves in the midst of battles more than once. Between the Engineer of New York and the Chinese scouts' first clash over the red gold deposits found, Kingsway is captured and offered the one thing he really wants: the means to find his wife. He doesn't take the deal immediately, purposefully falling into a trap that once again pits the Golden City Air Guard against the New Yorkers.
There are plenty of opportunities for gorgeous artwork to be put on display in this final issue, with full page battle spreads that are wonderfully dynamic from Mirko Colak. The colors from Wil Quintana stick to the same palette that the series has had throughout, but there are some great panels that are all white space both during the battles and through Kingsway's internal struggles.
Ultimately, Kingsway is left with a choice: to abandon his mantra of 'no trouble' and help his new friends in the defense of the red gold or return to his wife. His decision leaves the series open for future exploration while also wrapping up the first adventure nicely. With such a rich and creative alternate look at history, here's hoping this isn't the last look at Greg Pak's wild west.


Kylee Sills is an associate editor at Nerdophiles. She's not ready to leave the world of Kingsway West. Follow her on Twitter @kyleewho.


Jackson's Reads
Midnighter and Apollo #6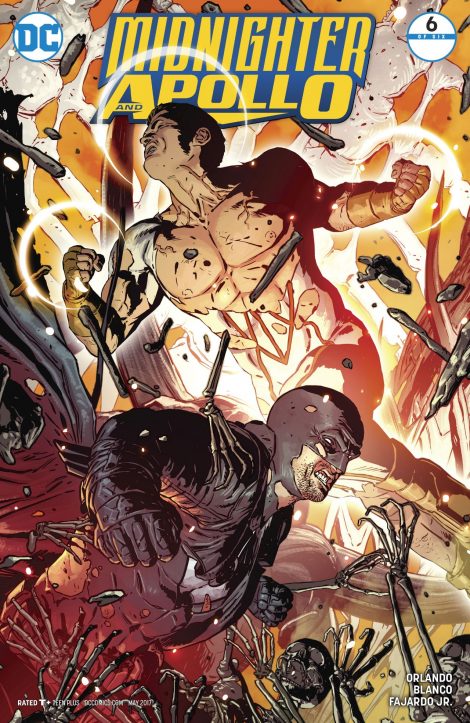 Author: Steve Orlando
Artist: Fernando Blanco
Publisher: DC Comics
★★★★★
It's hard to top fist-fighting the devil. There's just not many places to go after breaking Neron's jaw in the bowels of Hell. It's the kind of moment that's built for the last issue of a series. Steve Orlando and Fernando Blanco's Midnighter and Apollo miniseries put that fight in issue #5 of a six-part series. There are few creative teams who could top a moment like that brawl. This is one of them.
Where much of Midnighter and Apollo has focused on what these pair of characters do, Midnighter and Apollo #6 puts the spotlight on what these characters mean to each other, to their community, and to readers. After Midnighter was broken by his battle, it's left to Apollo to rescue the man that's gone to the ends of the earth to save him. After spending so much time with Midnighter, both in the character's solo series and for the majority of this one, it's interesting to see Apollo show what he's capable of. It's worth seeing in this final issue too, as he infuses the finale with a palpable sense of hope.
What's most noteworthy here though is in that relationship between characters and readers. Midnighter and Apollo's relationship has been explored explicitly and thoroughly in this miniseries, never shying away from actively exploring these two as sexual people. It's rare to have a book so frankly discuss gay sex with respect and openness and this issue does so twice, establishing just how close these two characters are, how much history and trust there is to that relationship.
It's also intriguing to see the connection Orlando's script draws between Extrano, the first openly gay character in American superhero comics, and Midnighter and Apollo, a connection establishing the slow, often frustratingly small steps gay characters have made as far as representation in comics. That attention to history, grounding Midnighter and Apollo's place in comics history as the first gay marriage in American comics, is important, particularly to a generation of readers who may not remember or have been reading when these stories took place.
As the characters' future at DC seems to be up in the air, Midnighter and Apollo #6 is a powerful tribute to how much these characters matter, as well as their place in the medium's long history. With a final page referencing one of superhero comics' most iconic moments, Orlando and Blanco are cementing these characters' place as icons as important as the characters they were once meant to parody. They pull it off with aplomb in the conclusion to one of DC's best comics of the last three years.



Jackson Adams is a staff writer at Nerdophiles. He's going to be talking about Orlando, ACO and Blanco's Midnighter run forever. Follow him on Twitter @JacksonInACup.