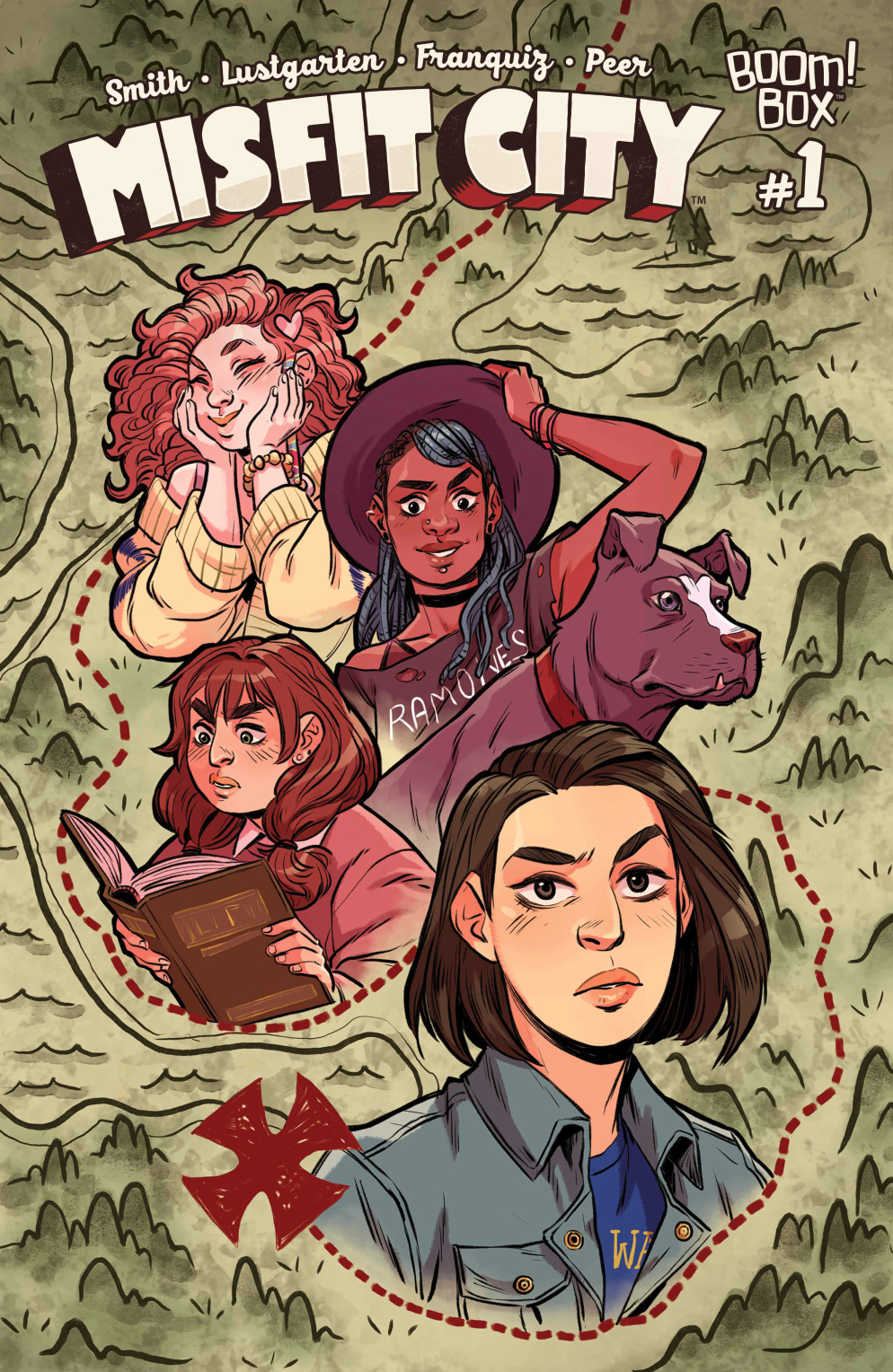 Authors: Kiwi Smith and Kurt Lustgarten
Artist: Naomi Franquiz
Letterer: Jim Campbell
Release Date: May 10, 2017
Publisher: BOOM! Box
Review Spoilers: Mild

Misfit City
is a
Goonies
-inspired comic book from Kiwi Smith, the writer of
Legally Blonde
, and Kurt Lustgarten about four teenage girls on an epic adventure – and if that alone doesn't draw you in then you and I clearly have a different definition of
awesome
.
Led by a diverse cast of interesting, realistic female characters Misfit City is a book with a lot of promise. The book has a strong nostalgia feel to it due in large part due to the Goonies-esque modern day setting and storyline. It takes place in small town in the Pacific Northwest and follows a group of teenagers more or less just getting by with their day-to-day lives. The only thing their town has going for it is that once upon a time it was the filming location for a popular not-so-subtly called The Gloomies.
In true 80s kid-friendly adventure film fashion, their lives are turned upside down when they find a treasure map. Though, to be fair, they aren't exactly ready to rush head first into a zany adventure. These are, after all, somewhat jaded teens bored with the small town life who are tired of dealing with anything remotely related to The Gloomies. But by the end of the first issue they're ready to kick things off! And the story moves forward with the promise of action, adventure, nefarious bad guys, and more.
I'm a sucker for nostalgia-fueled stories and I loved The Goonies growing up. But I appreciate that this isn't just another story set in the 1980s that hashes out familiar themes. I like that we've got a modern set of characters with all their modern sensibilities and skepticism going on a really classic sort of teenage adventure. We don't seen those kinds of stories much any more in films today so we don't really get to see how the modern settings and technology affect things.
Considering how well written this book has been so far I doubt it'll take long for the mysteries of Canon Cove – the girls' hometown – to start peeling away. The pacing is excellent and that's not something that every first issue can boast. The dialogue is clever and fits the characters well, which in turns help bring out their personalities and moves the story along. And Naomi Franquiz's artwork – especially her character designs – is flawless. It not only brings the setting to life, but our characters as well.
One of the best things about this first issue is how well the writing team introduces us to our cast of characters. Misfit City as a female-led book has some seriously awesome, quirky girls at the forefront and while the adventure might set the stage for this story, they're undoubtedly going to be the heart of this book.
By the end this issue we've got a decent feel for most of the girls – from their interests to their motivations and their personalities. But there's also still a lot to be learned as the series progresses. I can't wait to see where this book takes them all. And as long as we get more of Pippin the card playing dog, I'm down for anything.
From the moment Misfit City first hit our radar we knew it was going to be something special and, after reading the first issue, we can confirm that it's every bit as good as it seems. Great dialogue coupled with a diverse group of female characters, the book has a lot of potential moving forward. Misfit City gets a nostalgia-fueled recommendation from us – and it's especially perfect for fans of BOOM! Box's other series like Lumberjanes, Goldie Vance, and more.