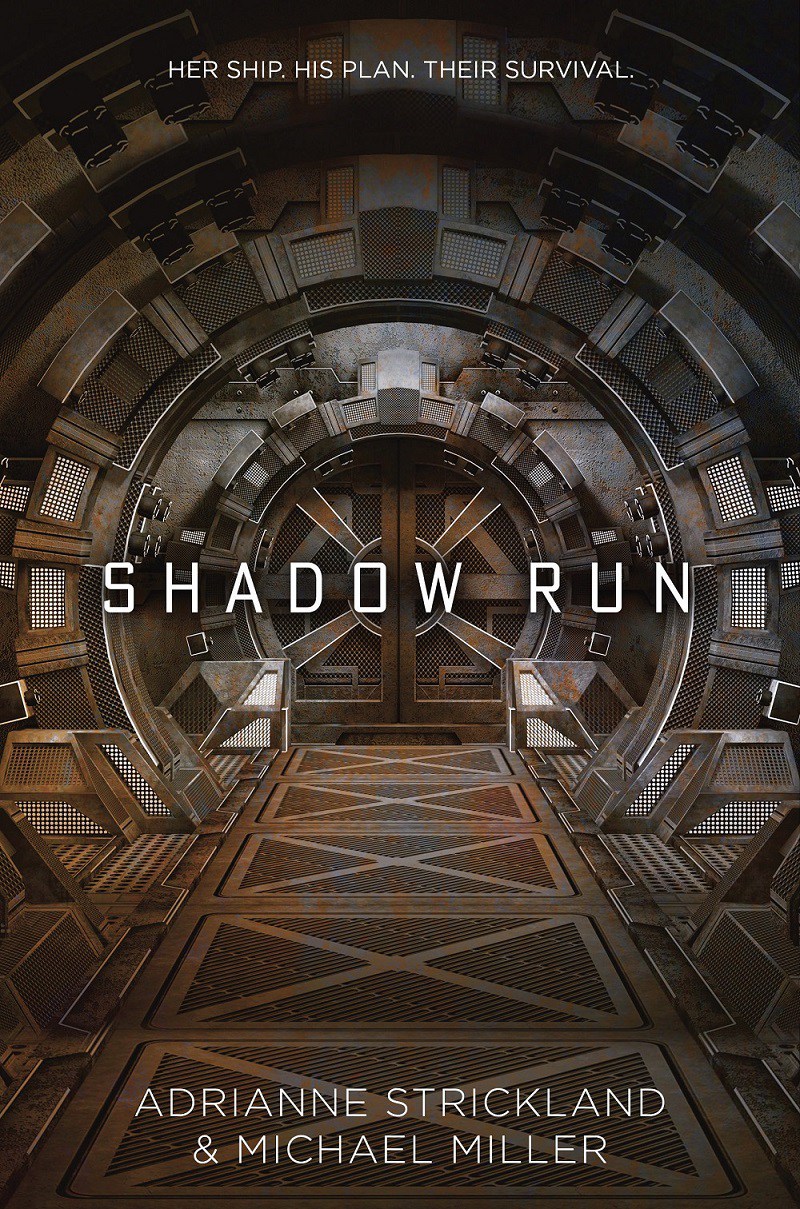 Title: Shadow Run
Author: AdriAnne Strickland and Michael Miller
Series: Kaitan Chronicles #1
Release Date: June 6, 2017
Publisher: Delacorte Press
Review Spoilers: —
GoodReads | Amazon


Rating:

Young adult readers looking to ease into hard science fiction will find a great introduction with AdriAnne Strickland and Michael Miller's Shadow Run. The first in a new series, Shadow Run features a sweeping science fiction adventure helmed by a diverse cast of young, compelling heroes. While it drags a little at times the high stakes feel of the story and the courtly intrigue will leave readers eagerly awaiting the next entry into the series.
Shadow Run takes place in an advanced future where mankind has spread across the stars. For the most part every stretch of the galaxy is controlled to some extent by corporate empires whose influence can be felt everywhere — even in the furthest 'frontier' outposts.
Shadow Run's two primary characters come from very different places. Qole is a captain harvesting a mysterious, dangerous substance called 'Shadow' that's been killing members of her family and driving them crazy at a young age for generations. Meanwhile, Nev is the heir to Dracorte empire. Qole has resigned herself to fate until Nev arrives determined to bring her – and the strange powers she has gained from the Shadow – home with him in a bid to prove his worth to his family and perhaps give them the upper hand against the other wealthy families.
The bulk of the story focuses on his attempt to win Qole's trust and get her back home. Along the way their journey hits a number of snags not the least of which being Qole's uncertainty at Nev's motives. Luckily Qole has an awesome team and in the end it's their ingenuity and love for one another that sees them all through.
Speaking of love, though, I'm going to honestly say that one of the least compelling parts of this story for me was the budding relationship between Qole and Nev. I didn't necessarily think that it was awful but it certainly didn't peak my interest much. Had the two of them remained just friends and potentially shipmates trying to find their place in this insanely dangerous future I think their relationship would have been more believable. And had a relationship come perhaps after all the craziness of this book had ended and gave way to the second I would have been more into it.
Thankfully the relationships between Qole and the rest of her crew more than make up for it.
The crew of Qole's ship the Kaitan Heritage (from which the series takes it's name, incidentally) is incredible. Each character feels real and fully developed even though some of them don't get nearly as much attention as they deserve. I loved each and every one of them and, honestly, the only romance I needed was between Qole's brother Arjan and the absolutely brilliant Basra who stole the scene every time they were on the page. Honestly, I'd read an entire novella about Basra's life before joining the Kaitan Heritage.
The Shadow angle is also intriguing and it gets a fair amount of development throughout. While the technical aspects weren't the most interesting to me I loved how much this world revolved around this dangerous, mysterious element. It added an awesome piece to the world building in what is already a very well developed, intriguing future. And I think that the effect that Shadow has had on not just Qole but her entire family and community really hammers things home. It makes Shadow less of an asset and more of a ubiquitous, ultimately unsustainable liability. The fact that she's developed these powers due to her exposure doesn't really make that any less true.
Shadow Run has some really great world building and a fabulous cast of characters with some of the secondary characters truly shining throughout. There were several points where I personally though the story dragged out a bit but I was always able to power through those moments. Strickland and Miller have developed a great world and young readers looking to explore more hard science fiction stories will definitely enjoy the story and especially the characters.
While Shadow Run wasn't my favorite young adult science fiction read of last year, I am looking forward to seeing where the series goes. I'm hoping that in the next book some of the secondary characters get more of an opportunity to shine and that Qole and Nev's relationship gets sorted out. The world Strickland and Miller have created is compelling and with the way things change by the end of this story there's a lot of potential for things moving forward. And now is the perfect time to catch up as the next book, Shadow Call, comes out in April!