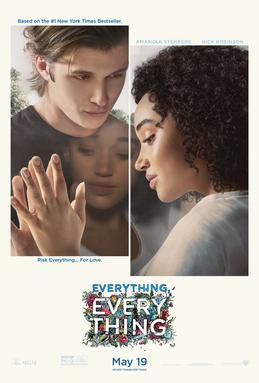 Release Date: May 19th, 2017
Cast: Amandla Stenberg, Nick Robinson, Anika Noni Rose, Ana De La Reguera, Morgan Saylor
Director: Stella Meghie
Studio: Metro-Goldwyn-Mayer
Distributor: Warner Pros. Pictures
Genre: Romance, Drama

Review Spoilers
: Medium
IMDB | Rotten Tomatoes | Wikipedia
Everything, Everything is the latest film adaption of a YA property. It tells the story of 18-year-old Maddy, who has spent her entire life cut off from the outside world. Maddy lives a sterile existence, her doctor mother protecting her lest Maddy fall ill and die due to her terrible illness. Maddy goes along with it just fine until neighborhood hunk Olly arrives.
The movie starts with a whole lot of exposition dump. Maddy narrates and gives us the skinny on her situation, her disease, and her life up to this point. Whole lots of telling, not so much showing. The movie continues hits all the twee teen melodrama you'd expect. It is often laughable, absurd, and unrealistic. But then, most of these things are. I suspect if I was in the demographic for this movie I'd be a bit more smitten by it instead of thinking, "How'd they get a car? They're not old enough to rent a car!" But here we are.
Amandla Stenberg is charming, and she plays a naive or at least… innocent character really well. So well in fact, that despite how often the movie states "THEY'RE 18!" when the love inevitably turns physical, or when Maddy recognizes her body it feels rather icky. Like the camera lingers too long or the tone of the scene doesn't fit.
The dialogue is often groan-worthy, though I suspect it comes across much less awful when read. Nick Robinson's Olly unfortunately has most of the worst lines in the bunch.
The one thing I can say this movie does well, or at the very least with some originality, is how it shoots for something different in the handling of text messages exchanges. Anybody who read my Personal Shopper review knows how I feel about those in a flick. Essentially, while realistic, it is terribly boring. To beat that, this movie puts both characters into a fantasy setting, a diner, or library where they interact. It works surprisingly well.
Everything, Everything is in theaters now… But you can wait until it hits Netflix.