Today is one of our favorite days of the year. It's Free Comic Book Day! It's the day when comic book fans and those who might have no comic knowledge at all come together to celebrate the medium. Comic book publishers release some great FCBD-specific titles each year and stores all around the country are going to be giving them away and hosting fun events. If you want to check it all out, you can find your local comic book store over on the FCBD website using their handy store locator.
Now, here are a bunch of free books up for grabs this year and you can see all of them in the FCBD catalog. So the question becomes: how do you choose!? Most comic stores will only let you pick up one or two books to ensure that everyone gets a chance to pick up a free book. So choose wisely. We've listed ten of our top picks for the best books of FCBD below.
Keep an eye out for these books!
And don't forget: FCBD is a great chance to check out some other series available for sale from your local comic book store. A lot of stores will have some pretty great sales going on during FCBD, too. So take the opportunity to support your local businesses if you see something you like!


I Hate Fairyland from Image Comics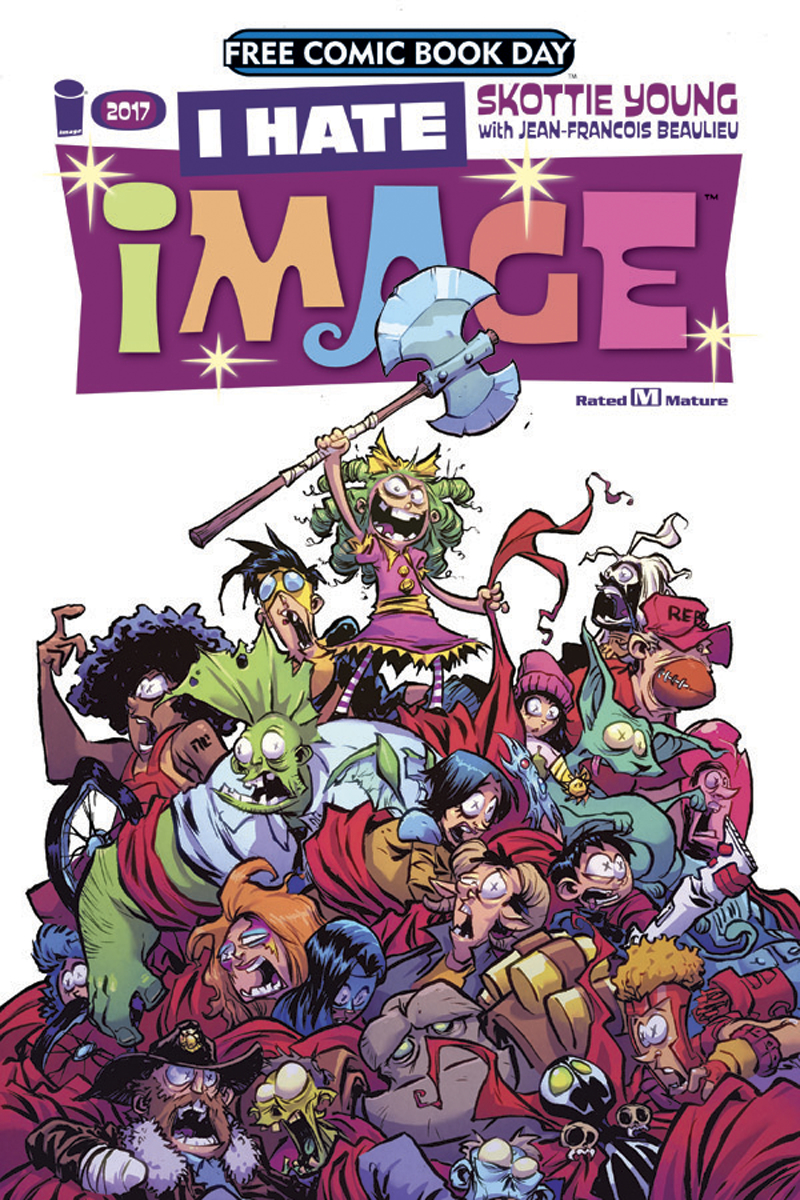 We're going to start our list of best FCBD pick ups with my top pick for FCBD 2017. Titled 'I Hate Image,' this is the perfect book for fans of Image Comics. This book sees Gert from Scottie Young's I Hate Fairyland interacting with (and kinda massacring) various characters from other Image series like Saga, The Walking Dead, Southern Bastards, Black Science, Papgergirls, and more. Even if you've never read I Hate Fairyland you'll enjoy seeing the book poking fun at the other series. Seriously, it's a lot of fun and if you pick up one book this year then this one should probably be it. Plus it's a great way to find new Image titles you might want to pick up in trades from your local comic book store!
Rick & Morty from Oni Press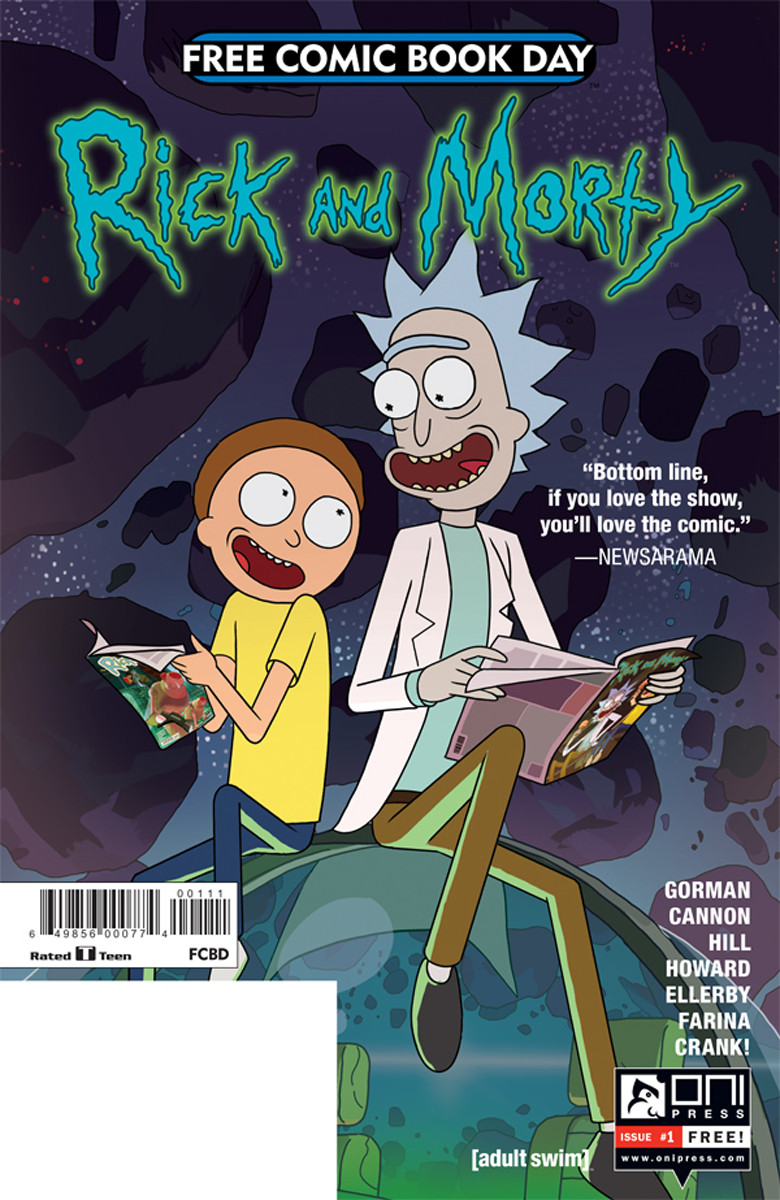 I've been a big fan of the Rick & Morty comics for a while so I was really excited to see it was included in FCBD this year. The free comic contains the first part of the series's first arc and while it doesn't tell a full story, fans of Rick & Morty are going to love it. The writers on this series do a fantastic job keeping with the feel of the original television series and as the series progresses you get to some arcs that you'll desperately wish were part of the show. At the end of the book there's also a sneak peak at the Pocket Mortys comic which is based on the mobile game and features a Mermaid Morty – so you can't go wrong there!
Attack on Titan from Kodansha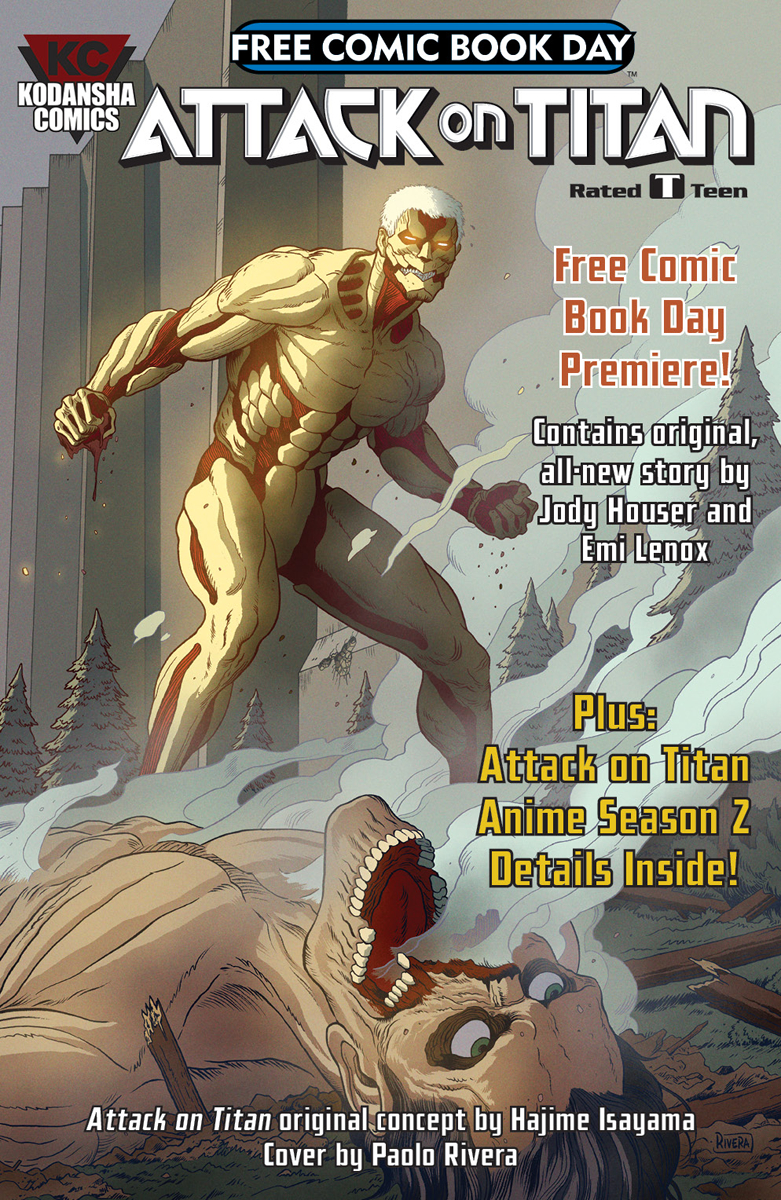 All right, the Attack on Titan book from Kodansha easily one of the coolest offerings available on FCBD this year. You're not just getting an excerpt from the first manga's first volume or something like that. Instead you're getting a completely new short story that – according to the press release – is exclusive to this FCBD release. And it's actually pretty heartbreaking. One girl tries to honor the memory of her brother who was lost serving with the Survey Corps – even if it means putting herself at risk. Out of all the books you could pick up today, this is one that will really tug at your heartstrings.
Wonder Woman from DC Comics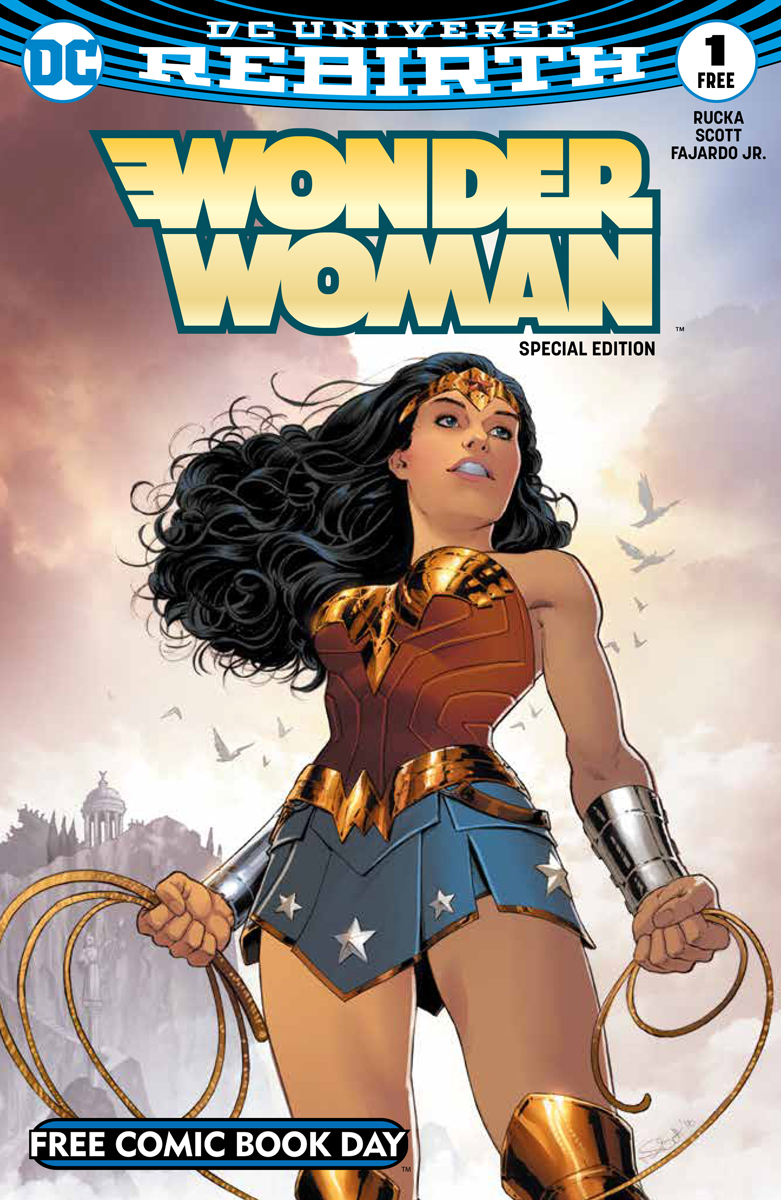 With the new movie coming out in June it was a safe bet that we'd be getting a Wonder Woman book for FCBD this year. This year DC Comics is offering up Greg Rucka's Wonder Woman: Rebirth which is actually a great place for new readers to jump into the series. The issue is a solid reimagining of Wonder Women's origins and if you haven't checked out any of the Rebirth titles yet this is a good place to start. Plus, if you like it, the first volume of Wonder Woman: Rebirth is already out and the second comes out on Tuesday. So it's a good book to check out if you're looking for something you can catch up on now.
Doctor Who from Titan Comics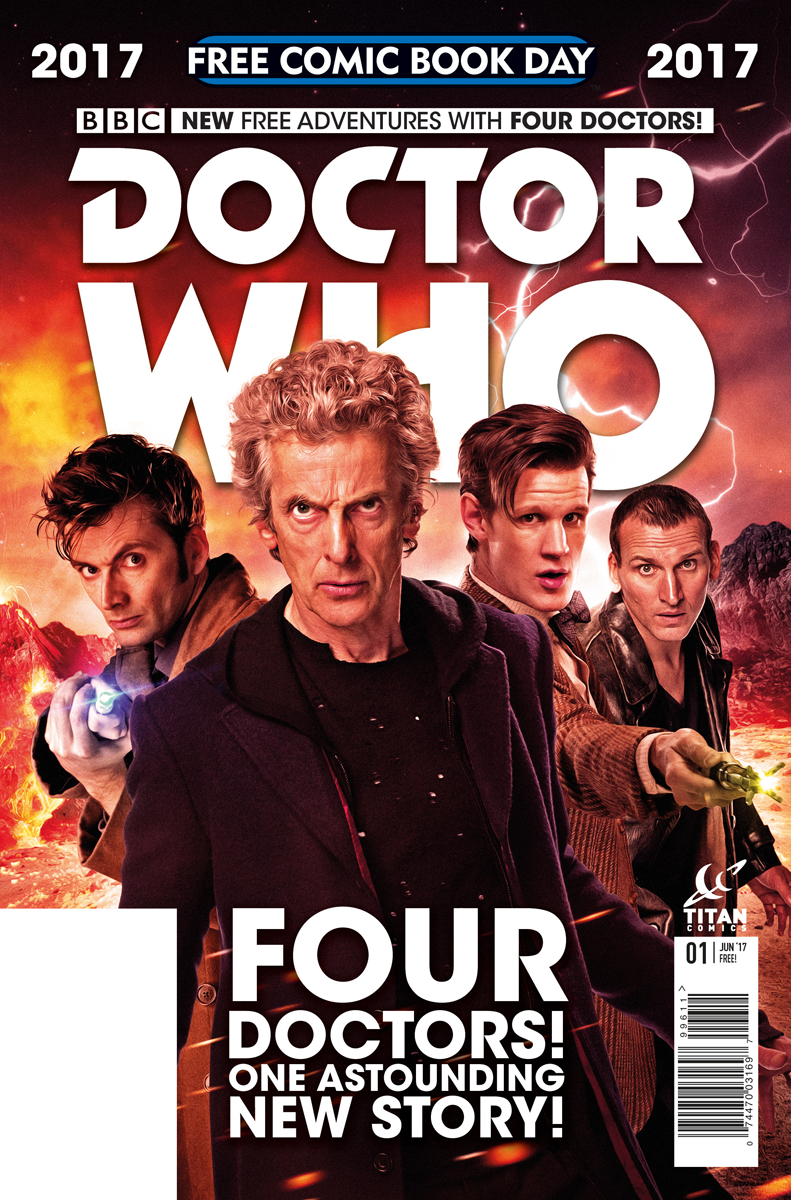 Doctor Who fans are going to really enjoy this year's FCBD offering from Titan Comics. Whether you're a fan of Nine, Ten, Eleven, or Twelve you should walk away happy. Titan's got a brand new story featuring all four of these Doctors – though it's headed up primarily by Twelve and his newest companion. It's a great way to get a first look at Titan's on-going Doctor Who series – especially for fans who have been thinking of starting starting up with the Doctor Who comics. One of the best things about this FCBD issue? It's a complete story so there's no obligation to pick up any other issues or books. (Though I'll bet Doctor Who fans are going to want to after checking it out!)
Guardians of the Galaxy from Marvel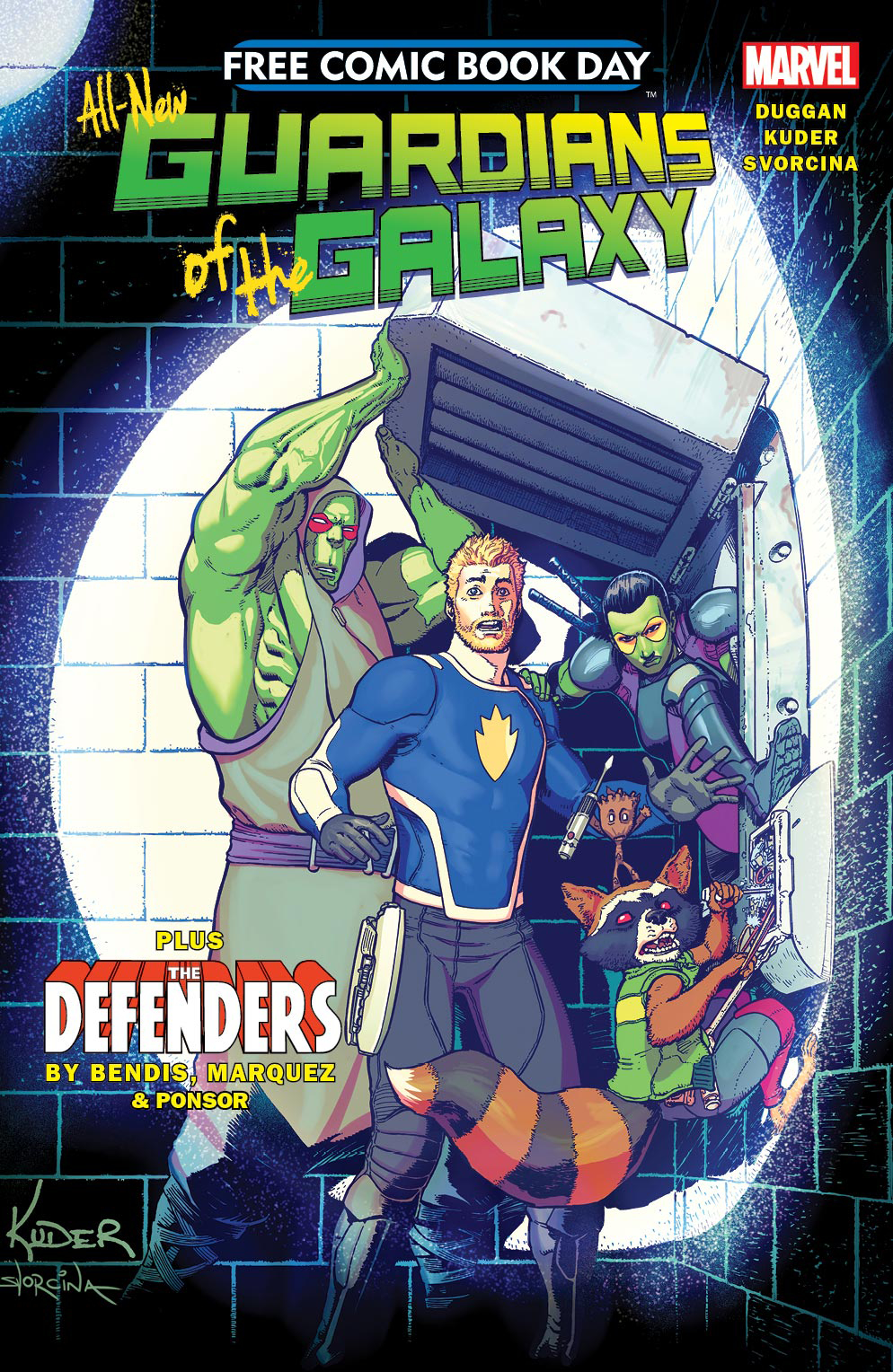 Marvel has two offerings out on FBCD this year and, unsurprisingly, one of them is a first look at their controversial Secret Empire event. If you've been interesting in all the coverage Hydra agent Captain America has been getting then you'll want to pick that one up, probably. But of the two books you can choose from I liked the Guardians of the Galaxy one more. It features a fun look at the first issue of the All-New Guardians of the Galaxy series that just kicked off this week with it's first issue. So if you like what you read on FCBD, your local comic book store should probably still have the full first issue on their shelves or at the very least they could order it for you! Also, almost half of the Guardians book is actually a sneak peek at the upcoming The Defenders title that launches in June (just a couple months ahead of the Netflix series featuring the same characters).
Comic Book Legal Defense Fund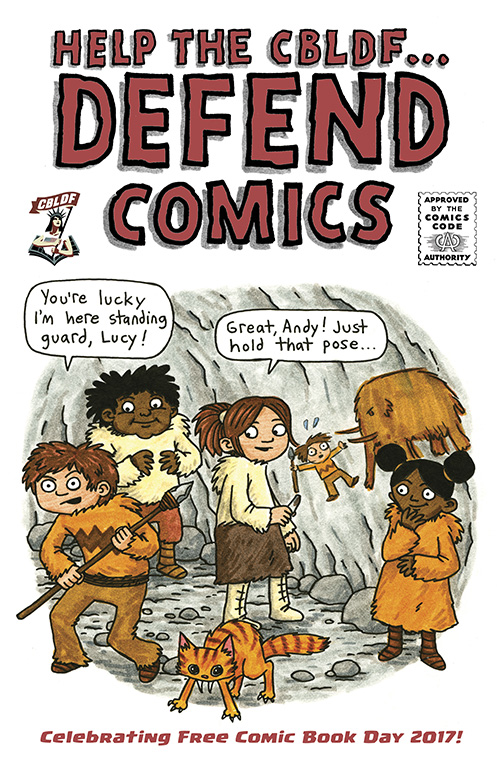 This year's CBLDF anthology issue is really great – especially for young readers. This free issue includes a number of original shorts featuring various characters from pre-existing series. Each story seeks to help young readers understand the CBLDF's work protecting creators and combating censorship. This year's stories include tales from Lucy & Andy Neanderthal and a couple of First Second books we're reviewed recently, The Time Museum and Star Scouts! (I was especially happy about those last two because I love First Second's books and the Star Scouts story is the best of the bunch.) Definitely a great book to pick up!
The Simpsons from Bongo Comics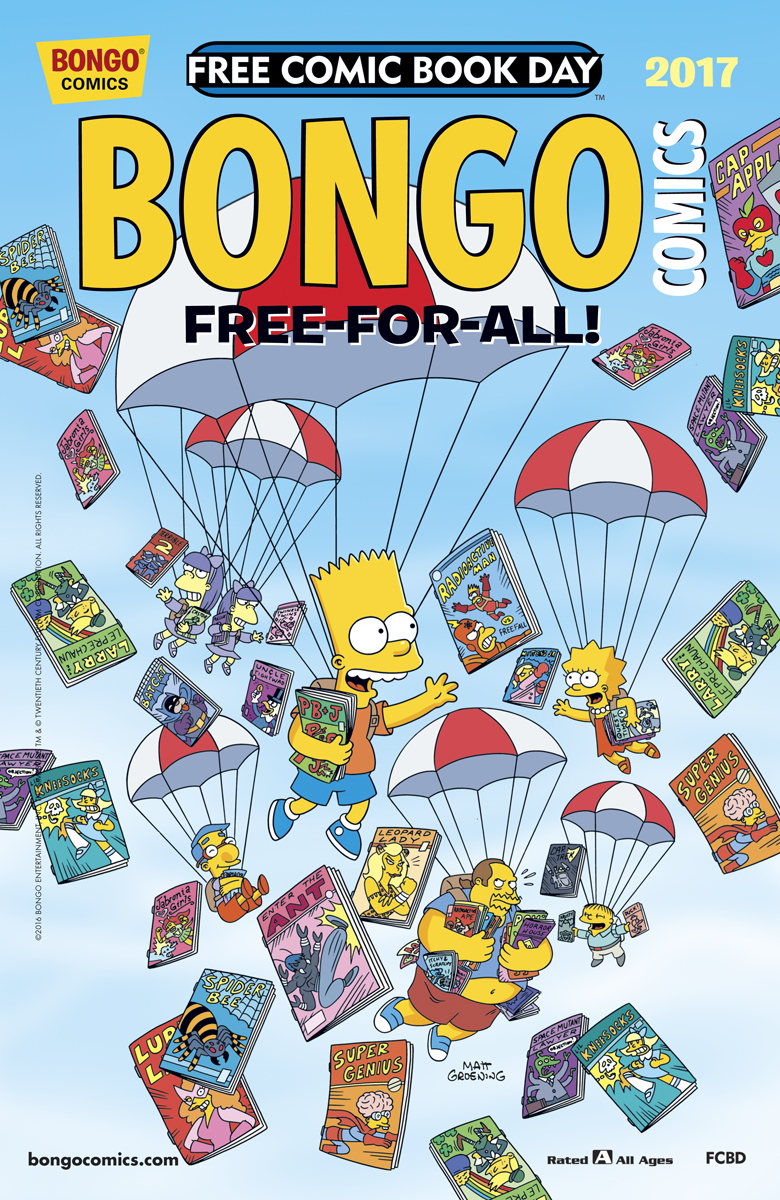 Another one of my top picks for FCBD, The Simpsons book being released for free today by Bongo is one of the best books for non- or new comic book fans to pick up. It has five short stories and all of those stories are self contained. Even if you're like me and not a huge Simpsons fans, the book can show people who aren't necessarily familiar with comics just how much storytelling potential there can be in the medium. There are a lot of laughs and you get to spend sometime with all the best denizens of Springfield. If you're looking to ease into comics with a familiar franchise, this is a great pick.
Betty & Veronica from Archie Comics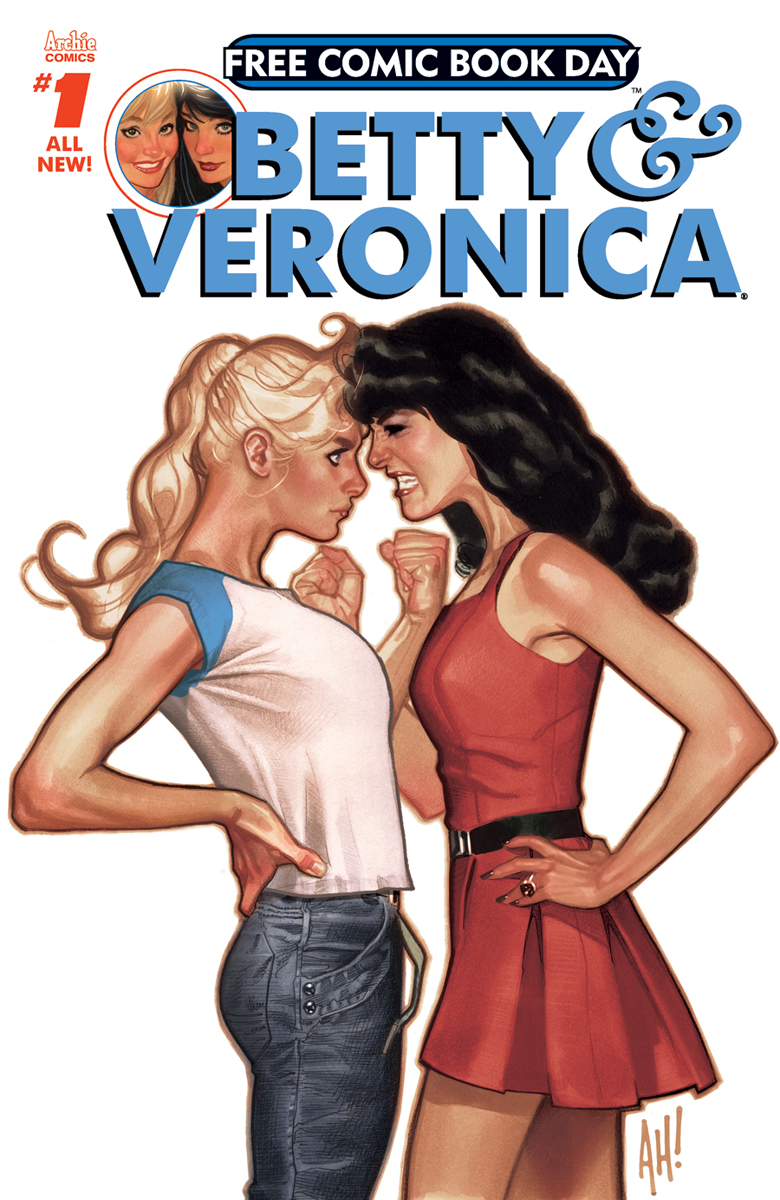 The Archie books were recently rebooted with some pretty excellent creative teams. Archie is being helmed by Mark Waid and Fiona Staples while Jughead has Chip Zdarsky and Erica Henderson. And the new Betty & Veronica series has Adam Hughes. If you're looking to get into the new Archie Comics, this might be a great way. There are only two issues of the Betty & Veronica series out so far and the third one hits comic stores this summer. So you can check this series out and if you like you can pick up the trades for Archie and Jughead to keep you entertained while waiting for new issues!
Buffy: The High School Years from Dark Horse Comics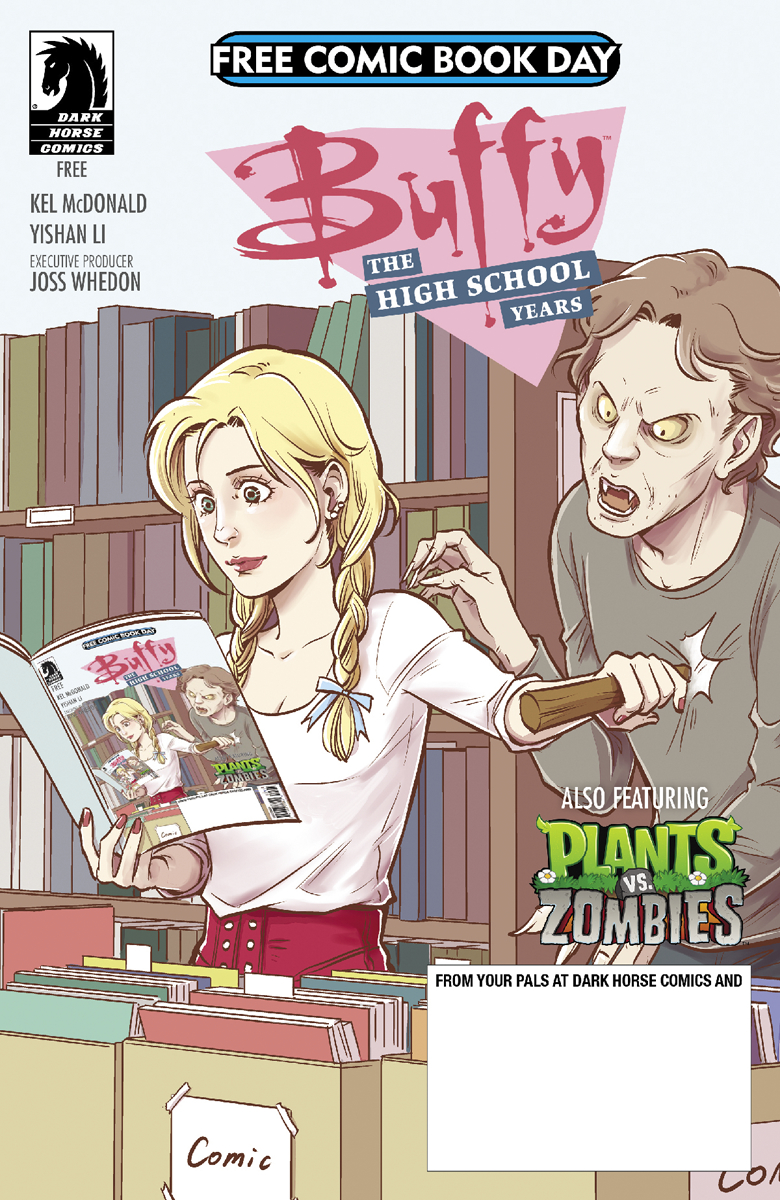 Dark Horse Comics has been home to the on-going tales of Buffy the Vampire Slayer for a while now and they've taken the Slayer's story far beyond the show's end. But recently they've been taking Buffy back to her high school roots with Buffy: The High School years. They're great stories by some really great creators – and they're being released in very affordable trade paperbacks. The FCBD story is self contained and very topical. Buffy accompanies Xander to their local comic book store where they fight vampires and save the day! There's also a backup story from Dark Horse's Plants vs. Zombies books. So this is a really great book not just for all-ages fans but parents looking to pick up a FCBD book that both they and their kids are gonna love.


Now, these are hardly the only books worth picking up on FCBD. There are tons of great books that are going to be available for you guys pick up today. For example, I think that the 2000 AD sampler definitely deserves an honorable mention here – especially for the great Judge Dredd and Judge Anderson stories it includes. And if you're heading out with your kids you can't go wrong with the Monster High or The Descendents books from Titan Comics and Tokyopop respectively.
The titles we listed are just the books that we enjoyed the most and feel like you should check out! Don't forget, you can see the full FCBD catalog over at their website.
Which books are you hoping to pick up? Let us know in the comments!