Guardians of the Galaxy Vol. 2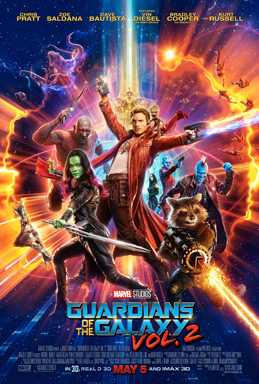 Release Date: May 5, 2017
Cast: Chriss Pratt, Zoe Saldana, Dave Bautista, Bradley Cooper, Vin Diesel, Michael Rooker, Kurt Russell
Director: James Gunn
Studio: Marvel Studios
Distributor: Walt Disney Studios Motion Pictures
Genre: Sci-Fi Super Hero Adventure
Review Spoilers: Low

IMDB | Rotten Tomatoes | Wikipedia
Man, they sure are cranking these things out aren't they?
Just six months ago we last stepped foot into the Marvel Cinematic Universe and explored alternate dimensions with our primary care provider Doctor Strange. Well, it is time for another journey, this time to the outer reaches of the cosmos! James Gunn and crew are back with Guardians of the Galaxy Vol. 2! Let's just get this out of the way real quick: it is really damn fun.
Picking up 3 months after the first film, Star-Lord, Gamora, Drax, Rocket, and Groot are known throughout the galaxy and hard at work. We see them defending some super space batteries from a tentacle beast. Feels right, doesn't it? Anywho, the job gets botched and the crew finds themselves in a bit of a bind and in need of rescuing. That rescue comes in the form of that handsome devil, Kurt Russell. And what's this? He's… Pete's dad!?
The movie ditches the need for Thanos-driven villainry and instead looks inward, as each character really gets to grow emotionally. And I'll be damned if that wasn't enjoyable! With Star-Lord figuring out his dad situation, it might seem like the movie lacks plot, but really it's cashing in on that carte blanche Gunn earned with the first stellar movie.
We get tons of laughs, psychedelic visuals, and even more space weirdness than before as if any restraints that may have been on the first film have been utterly smashed. Every lingering question from the first movie gets answered, each character builds on their previous relationships, they grow! All of this paired with another collection of great tracks. While these might not be as immediately recognizable as many on the first soundtrack, it is all very well used, and much more intertwined with the plot.
The goofs are fast and furious, in fact, there are so many that at times they fall a little flat, but when they're going for it 110% you never linger on a stinker. Perhaps this movie gets a pass in that regard, any other film you could be more critical of the bad jokes, or the bad plot ideas or what have you.
However, when the goal of the flick is to just be so fun and succeeds 9 times out of 10, it gets the pass. "Oh, that joke about Rocket being an animal wasn't as good as the first two. That's cool, because Drax just said something absolutely hysterical."
The movie benefits greatly from having established such a great chemistry amongst the ensemble that — woah, I just remembered that half the crew of the Milano is CGI. There's a CGI talking raccoon man and a dancing little tree baby and you believe in it so completely, these characters are so developed that they are as real as anyone else in the movie.
Guardians of the Galaxy Vol. 2 is in theaters now. Go see it in IMAX 3D if you have the option, it looks fantastic.