One of our slower weeks for comics here at Nerdophiles, but we did happen to enjoy most of the series we read this week immensely!
Heavily BOOM! Studios focused this week, Giant Days is only getting better, afforded more time with an expanded order for issues. Lumberjanes will never disappoint us – though, Oh, Killstrike is still pretty heavily accosting the readers with information that could be more subtly conveyed.
The lone Dark Horse offering, Ei8ht wraps up Book One in a satisfying manner and leaves us eager to see what Book Two will bring! Check out our thoughts on each issue and let us know what you read this week!


Sam's Reads
Giant Days #4 (of 12)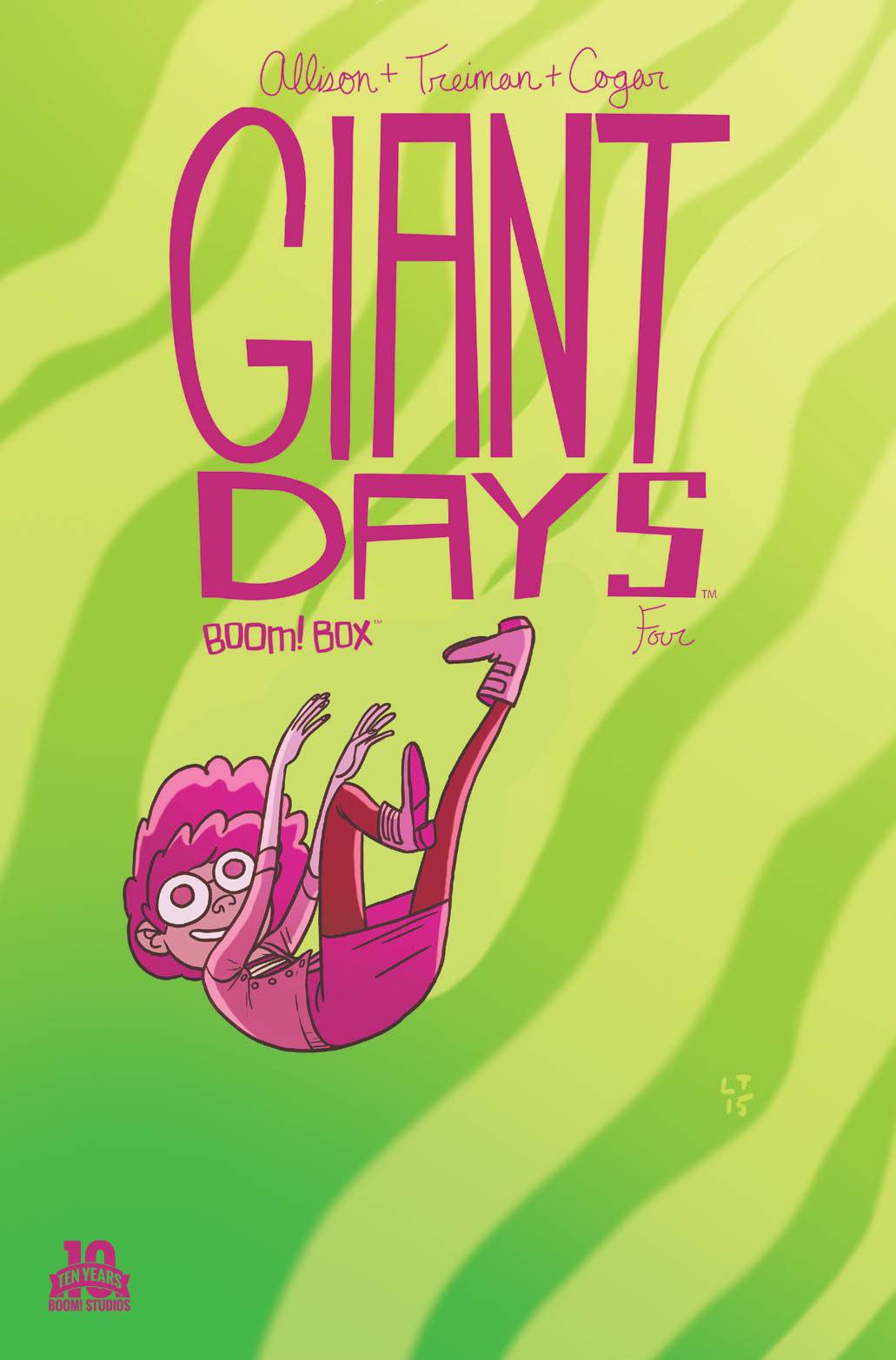 Author: John Allison
Artist: Lissa Treiman
Publisher: BOOM! Box
Source: BOOM! Studios DRC
★★★☆☆
It's Daisy's 18th birthday! And if you had forgotten that this series apparently takes place in the UK then you'll be very confused by her friends taking her out drinking. Not that she wants to drink. Instead, she goes clubbing with Nadia and winds up taking some really psychedelic drugs. Luckily the girls are able to keep her from making a fool of herself in front of her grandmother. They aren't, however, able to stop her from asking Nadia out or from that whole thing crashing and burning (poor Daisy).
Meanwhile Susan is at odds with McGraw again now that her feminist magazine has made the rounds and we find out some backstory about their failed friendship – and her failed attempt at asking him out. It turns out she's the one that ended their friendship when he decided to date another girl instead. It's probably a good thing Ed still hasn't asked out Esther – the odds of it working out in his favor this issue were very slim based on everyone else's rate of success.
I'm glad there was more continuity between this issue and the last. The first couple issues were kind of 'so-so' because it didn't really seem like there was a truly overarching narrative. but now that the book has been extended to 12 issues it seems like some things are going to be able to be better developed moving forward. Ultimately, it's a great comic and really nostalgic for those who are looking back on their freshman days. I'm still digging it's quirkiness.
Lumberjanes #15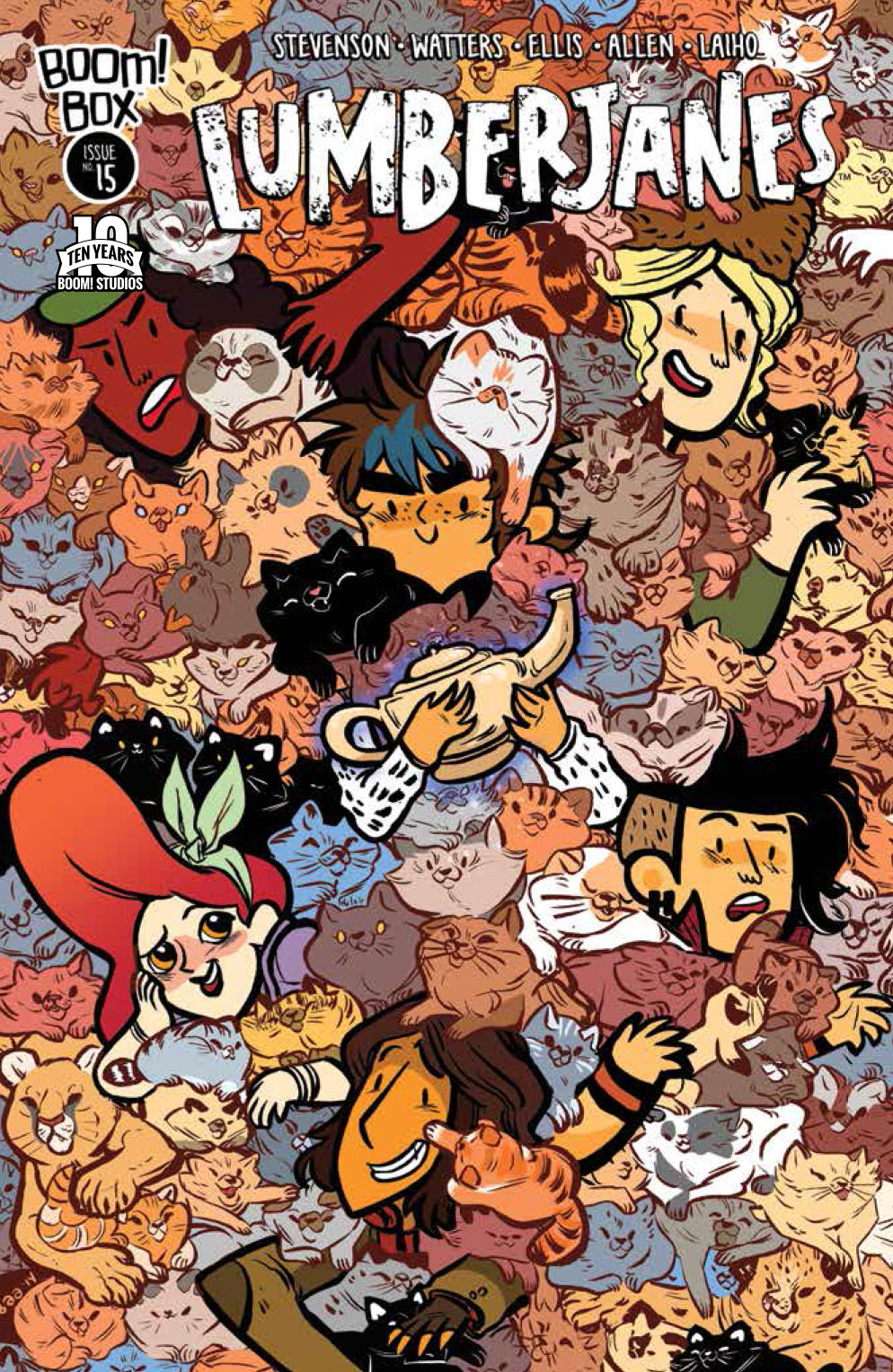 Authors: Noelle Stevenson & Shannon Watters
Artist: Brooke Allen
Publisher: BOOM! Box
Source: BOOM! Studios DRC
★★★★☆
Jen spends a bit more time getting to know Abigail though every moment that passes makes you really question Abigail's motives. Guess Jen isn't finding herself a friend right now. And when Rosie finally arrives Abigail basically loses it. A former Lumberjane, she's supposed to be dedicated to saving the forest but her warped ways have her out there hunting down and killing anything remotely supernatural in the interest of 'safety.' She traps Rosie and Jen in her little dungeon and goes after some mythically massive beast that roams the forest. Meanwhile, the Lumberjanes are trying to find Jen with Barney's help but they continue to realize how woefully unprepared they are to survive in the wild. Rosie – it seems – has been keeping a lot from a lot of people.
No issue of Lumberjanes will ever disappoint me. It's impossible. I'm really glad we go some background on Rosie and Abigail this go around and I'm really looking forward to seeing what comes next. Will Rosie finally prep the girls for all the supernatural shenanigans going on and tell them all the truth? Hopefully. That would be nice.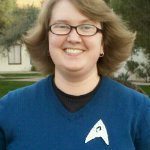 Sam Wildman is a co-founder and co-editor at Nerdophiles. @samaside


Kylee's Reads
Oh Killstrike #2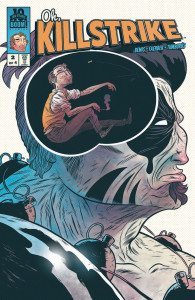 Author: Max Bemis
Artist: Logan Faerber
Publisher: BOOM! Studios
Source: BOOM! Studios DRC
★★☆☆☆
You know when someone can't wink, but they try anyway? And it turns into some awkward one-two blink-slash-eye-spasm where no one's face really knows what to do? That's kind of how Oh, Killstrike #2 feels to me. Jared and Killstrike make it to New York City with relative ease, get into the building of the company where his father used to work with the same convenience, get their information, and then… Jared decides it might be time to go home. Killstrike, however, disagrees.
As a four issue mini-series, I have no problem with how quickly the plot is progressing. The art fits the tone of the comic well. It's the blatant speaking to the audience that has me rolling my eyes hard – you can lead a horse to water, but please don't drown it in the stream of over-information. The dialogue of Oh, Killstrike continues to be less of a wink-wink-nudge-nudge and more a sledgehammer to the frontal lobe.
Ei8ht #5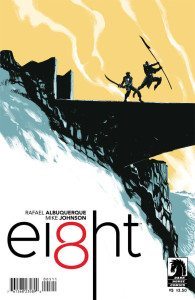 Author: Rafael Albuquerque & Mike Johnson
Artist: Rafael Albuquerque
Publisher: Dark Horse
Source: Dark Horse DRC
★★★★☆
Book One of Ei8ht ended and it's clear that there's more story to tell, so I can't wait to see what happens to this series moving forward. That being said, this was the first issue without any real time twists and I found myself somewhat… disappointed by how linearly and straightforward the information was being presented. The big battle we've been leading up to for five issues took up very little time – though I did enjoy the subversion of trope there – before almost everything was wrapped up nicely.
Dr. Hamm and Nila get to the Meld, leaving behind a heroic Collins, after the final showdown. There is still the question as to Nila and Joshua's relationship, where he ultimately decides to go home to his wife (who is kind of but not really Nila…). The second half of the issue sets up a lot of the storylines for a second book, but I'm hoping the time twists weren't the only thing keeping my attention with this series. Overall, it was a solid outing with the potential to continue an intriguing and unique concept. I can't wait to see what Book Two has in store for readers.


Kylee Sills is an associate editor at Nerdophiles. A color-coded past, present, and future (and something else) would be awesome once time machines are invented. @kyleewho